Robotics-Themed NYC High School Fills Roster in Inaugural Year
Students who spent their childhoods picking apart their toys to see how they worked find new home in program aimed at growing STEM skills.
By Jo Napolitano | April 4, 2023
Viktor Chtcherbinin, Roman Gonzalez and Amir Bristol — all ninth graders at Gotham Tech, a new Queens-based school focused on robotics — spend each Friday tinkering with their creations inside Cornell Tech's Roosevelt Island campus. (Jo Napolitano)
Like many students at Gotham Tech, a robotics-centered high school that welcomed its inaugural class in September, Veronica Fraczek, 14, felt a pull toward engineering at a young age, spending her childhood building cars from Legos.
So when the new school opened, Fraczek was eager to sign on, in part because of its connection to Cornell Tech's campus on Roosevelt Island: That's where students spend a portion of each Friday designing, building and coding up to 18-inch-tall aluminum-based robots to enter into city-wide competitions.
"It's where you can be very creative and no one will judge you for it," said Fraczek, standing inside the robotics laboratory on a Friday afternoon, the hum of a laser printer and the buzz of several palm-sized motors filling the room. "They will just give you advice on what to do, how to fix it or make it better, which is very helpful."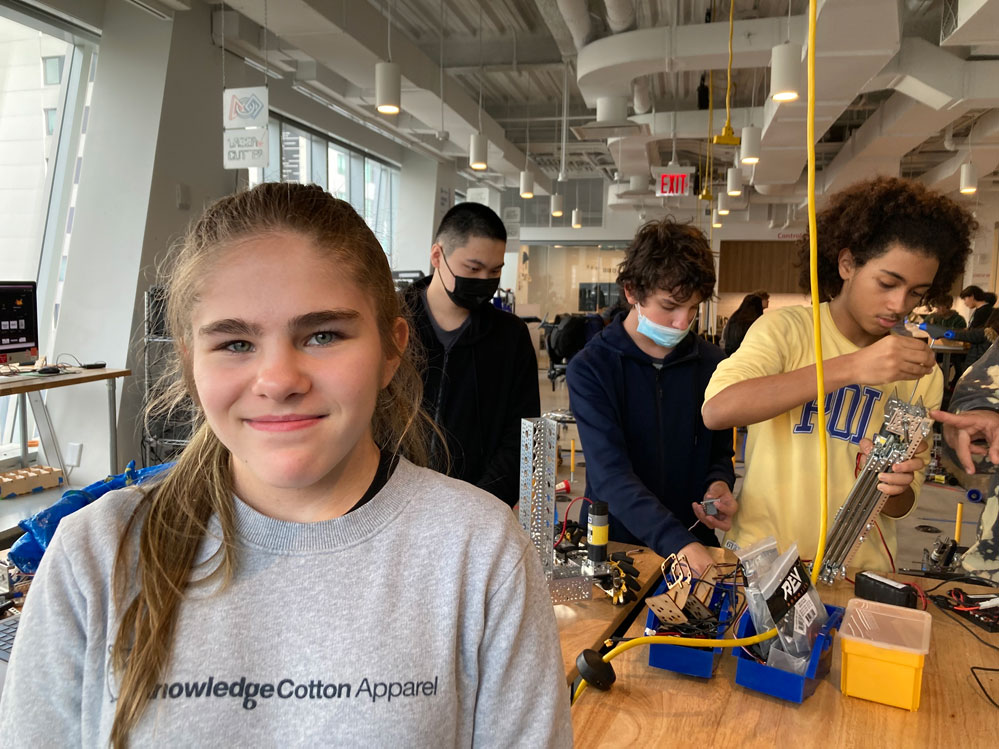 Gotham Tech, designed by NYC FIRST, a nonprofit that's been running the city's robotics competitions for more than 20 years, is located in Long Island City but will eventually take its spot inside a six-story, state-of-the-art facility currently under construction in Woodside, Queens.
Northern Boulevard High School, which will bring 3,066 seats to the long overcrowded borough, is slated to open in the fall of 2025 at a cost of around $178 million. It will include 94 classrooms, six resource rooms, a 550-seat auditorium, a library, full kitchen complex, and a competition-size gymnasium, according to the New York City Department of Education.
The 93-student Gotham Tech could grow to up to 1,500 in its new home. The school is slated to receive hundreds of thousands of dollars as part of a $10 million, five-year grant agreement with XQ under the Imagine NYC Schools initiative. XQ is Laurene Powell Jobs's effort to promote high school innovation nationwide. Jobs inherited much of her wealth from her husband, Apple cofounder Steve Jobs, who died in 2011.
Those enrolled at the current campus say they are thrilled with what the program offers because it's helping them build on long-held interests — and not just during the school day. They can visit the NYC FIRST STEM Center located on Cornell Tech's campus seven days a week to work on their projects.
Amir Bristol, 14 and from Woodside, aspires to study software engineering or computer science at Stanford University.
"I've been working my butt off to get good grades for it," he said, adding he has a 95 average.
While NYC FIRST CEO Michael Zigman wants all students to reach their full academic potential, he made sure to open the school to nearly every child: There are no tests and no prior knowledge of robotics required for entry. He was overjoyed to beat the projected enrollment of 90.
"A big part of it is the joy and the fun and engagement around robotics," he said, adding the partnership with NYC FIRST and Cornell Tech allows students, "a safe space where they can take whatever is in their heads … and create it any day of the week, virtually any time."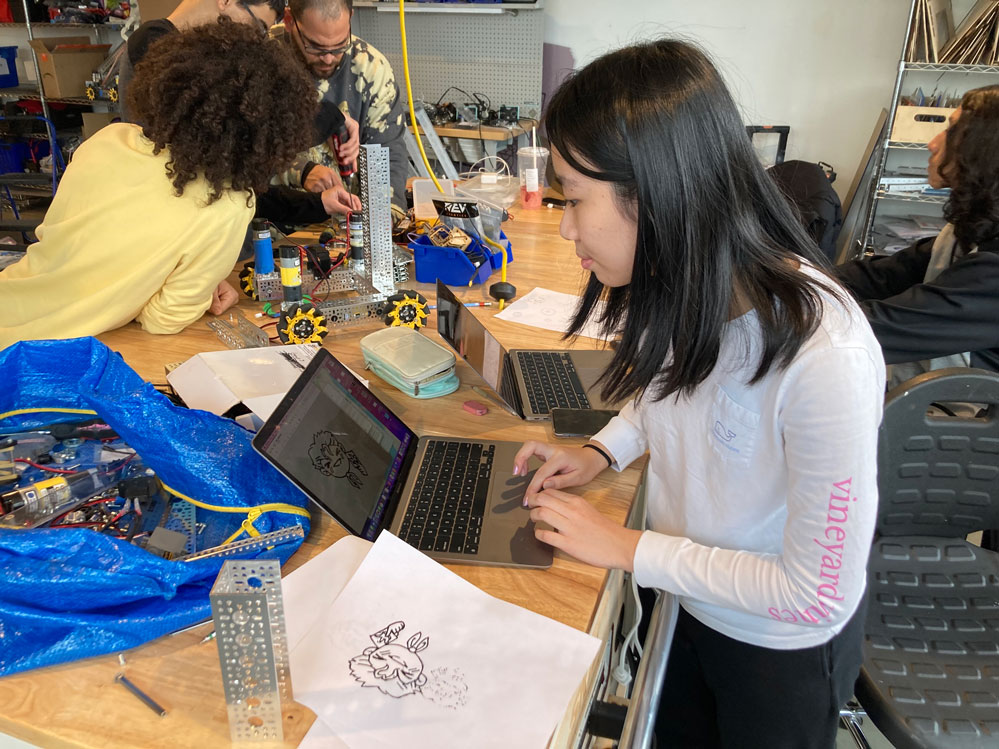 While some students are more focused on the mechanics of their project, Audrey Lu, 14 and from Forest Hills, Queens, is far more drawn to design. And Alex Lopez, 14 and from Astoria, who started tinkering with robotics kits during the pandemic when school was largely closed, enjoys the programming element, reveling in the moment he can make a robot complete a task.
Each has a critical role in robotics, their teachers said.
Dana Schwimmer, lead teacher with NYC FIRST at Cornell Tech, said the program offers students the chance to develop skills that will help them no matter what field they pursue.
"A team in this competition works like a startup," she said, adding students work on design, mechanics, programming and outreach for fundraising, among other tasks. "You need to do a lot of things around it. There are many groups inside that team, so you can find your place — even if you are not into engineering."
Eclipse Carbon, 14 and from the Mott Haven section of the Bronx, wasn't entirely new to the robotics laboratory: She had participated in Cornell Tech's winter AI program for middle schoolers and was looking forward to building on that experience.
"Having the chance to come here to a place I'm familiar with but also put forth skills I've never been able to use before — such as learning how to code and learning how to take apart or put back together phones and computers during my free time … Once I saw that I could do that here, I knew this place was going to be the best learning experience," she said.
Carbon, who hopes to one day attend Cornell University and become an IT specialist or plant biologist, was well aware of the more prestigious and established schools in the New York City system, including Stuyvesant, Brooklyn Technical and The Bronx High School of Science. All are among the eight specialized NYC high schools where admission is governed by a single test.
But they were not for her.
"I want to be somewhere I know will help me with my future goals… and also be fun," she said, which is why she never truly considered the more highly competitive campuses. "I don't have to be sad while learning."
Gotham Tech, listed last year in an online guidebook for New York City students and their parents, also offered site visits at the NYC FIRST STEM Center.
Kevin Bristol, Amir's father, discovered the program while searching for specialized high schools for his son.
"We were looking for something that matched his ambition," he said, adding his son took computer and coding classes in middle school. "Looking forward to what the future holds, it looks like AI and robotics will be a field that will be great."
The school's relationship with Cornell Tech would only further his son's chances to succeed in STEM as an adult, his father said. He wasn't worried that the program didn't have more of a track record: He saw its newness as an advantage.
"You are automatically a part of history if this school goes to where I think it should go," said the boy's father, who attended Brooklyn Tech. "I really see how it is helping him grow as an individual. The school I went to had so many kids: You get lost in that. His school is a lot smaller and he gets a lot of individual attention. I really like what I'm seeing."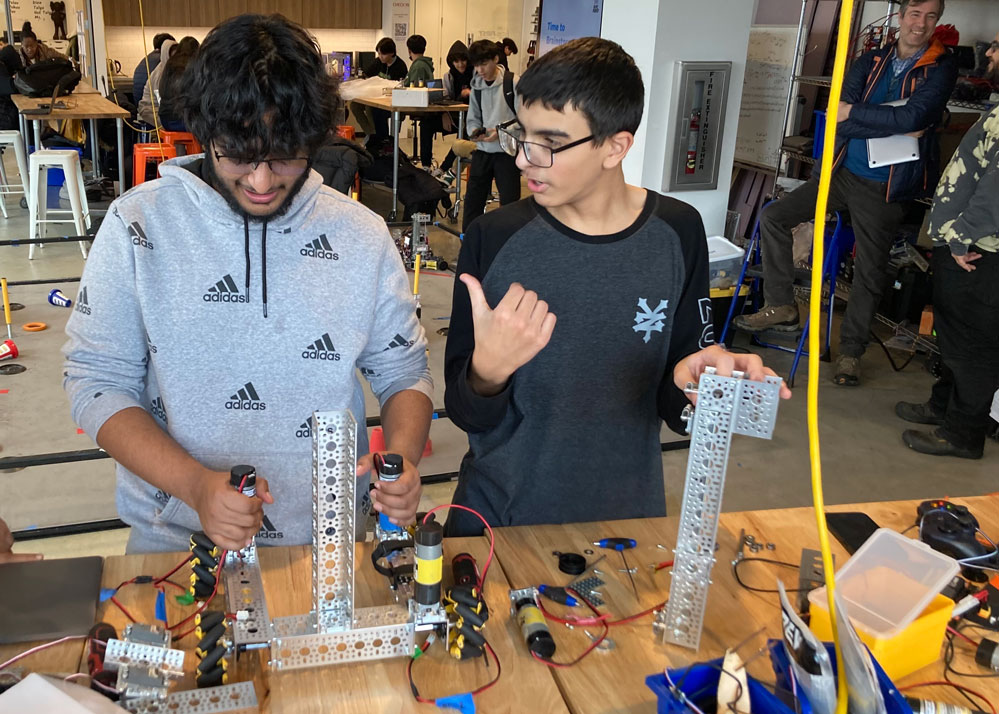 Lisa Freed, STEM program manager at iRobot, a 1,100-person company based out of Bedford, Massachusetts, was delighted to hear about Gotham Tech, saying it will no doubt help students grow and discover their talents.
"I think that's fantastic," she said. "The focus on robotics is super cool: It will give them a lot more skills than they realize."
iRobot, creators of Roomba, the robot vacuum, has run its own student outreach program since 2009, working with children from pre-kindergarten through college.
While Freed applauds the creation of Gotham Tech, she said students should be introduced to robotics at a far younger age: Many high schoolers have already determined, often incorrectly, that they do not have a place in science, she said. They don't know that not everyone who works in the field must graduate valedictorian or from the nation's top colleges.
Already, Gotham Tech students have faced — and overcome — serious challenges. Pandemic-related shutdowns left their social skills rusty, according to their teachers. Students in this first class had difficulty working together at the start of the year. And they didn't have the benefit of older, more experienced classmates to teach them how to cooperate — or how to conceive of or build their robot.
Few knew how to make the best use of their time in the lab: It wasn't until their first competition in November, just two months after the school year began, that they started to take ownership of their work, their teachers said. 
"It was this awakening moment," said Talya Stein, NYC FIRST STEM Center senior program manager. Coaches, she said, are required to have only a limited role in the competition. "The students are forced to step up and are a part of a very dynamic community that is very engaged and really cares about the competition. The students now are showing more autonomy, taking charge and taking ownership."
They've had months to learn each other's strengths and appreciate what every participant has to offer. A recent Friday class showed students were comfortable in their roles, whether they were tinkering with an engine, correcting a programming flaw or refining a logo. Students placed well in February competitions: Gotham Tech advanced from the city-wide semifinal to the final.
One of Gotham Tech's teams, Demon Dogs, was the only rookie team from the entire city to make it to the NYC FIRST Tech Challenge championship. They earned the highest score of 251 points — aligned with Metrobotics, the best team in the league.
"It's a good shot in the arm this first year of the school's existence," Zigman said.
Disclosure: XQ provides financial support to The 74.
Support The 74's year-end campaign. Make a tax-exempt donation now.