Retirement Toast: Why Eli Broad Was a Philanthropist Without Peer in Advancing American Education, by Sandy Kress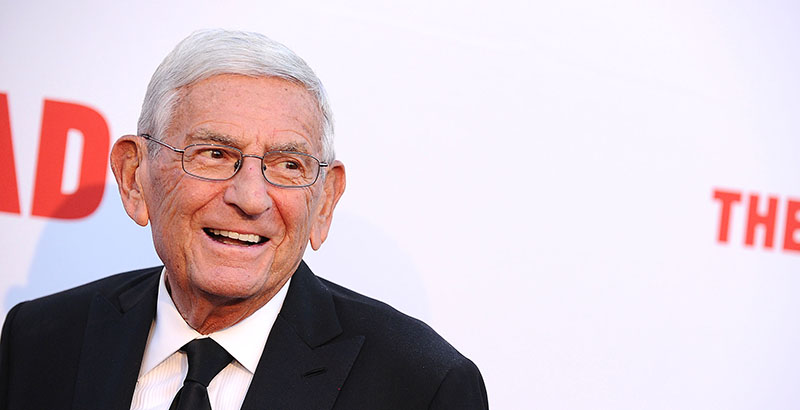 Updated Oct. 19
Eli Broad has announced his retirement from his foundation. I want to use the occasion to pay tribute to him and express gratitude for all he has done to improve the nation's schools.
In my view, he was without peer among major philanthropists in making a positive difference in this arena.
First, I want to focus precisely on his dedication to the reform effort and his decision to be a partner with others in the cause, rather than being merely a "lone ranger." This is no small thing. I recall with sadness the many instances in which very rich benefactors came on the scene with "magic bullets," their own solutions to fix the schools. They'd throw millions, if not billions, at implementing favored solutions. And, of course, needed talent and energy would go flying in the direction of dollars, weakening and diluting the energy that was required to stay on course in sustaining effective reform.
Not so with Eli Broad. Don't get me wrong, he had a mind of his own and could be tough in pushing his ideas. But he always worked with a sense of mutuality within the scope of the overall reform movement.
I'll never forget his hosting a dinner in honor of Rod Paige during the period of President Bush's inauguration. Though an extremely active Democrat, he made clear to me that night that he wanted to work closely with us to promote shared visions of education reform.
He was always true to his promise, during both the Bush and Obama presidencies.
I know of no one who did more or better work at pushing improvement in his own district. Los Angeles is one of the most difficult districts, yet Broad fought for the good, with both smarts and tenacity. He didn't always win, but he won more often than virtually all others who took on similar campaigns. He tried and kept trying, which is rare.
And, because of him and others, we actually saw two forward surges in Los Angeles, one with Governor Romer and the other in recent years.
The Broad Foundation's Prize for Urban Education represented one of the most inspired school reform strategies that emerged during the peak of the reform movement. From 2002 to 2014, urban districts that made the greatest academic progress, especially for disadvantaged students, won recognition and additional funding for scholarships.
For most of its existence, the Prize did exactly what Broad's theory of action expected. Leaders in many districts made changes to drive better results, by keeping their "eyes on the Prize."
The program wasn't perfect and was suspended when it appeared it was no longer sufficiently having the intended effect. Nevertheless, the Broad Prize provided an unmatched single boost to encouraging attention to data and the use of data to strengthen decision-making and policy-setting in our nation's urban districts.
Eli Broad saw that effective charter schools were becoming one of the most successful ways to lift the education of children in need. So he and the Foundation became prominent and significant boosters of effective charter schools. This happened in many ways, including the creation of a separate Prize for the best charter systems as well as major grants to the best charters.
One special feature of Eli Broad's leadership was his insistence on getting results in the form of improved achievement. It wasn't about funding things he simply conceived of as good. Broad was atypically rigorous in establishing the theory of action of what he funded and demanding in its execution. This was so in his charitable work as it had been earlier in his commercial career. He did this because he thought student success in his "new business" was as crucial as profits in his "old business."
A good example is the Broad Academy. So many other philanthropists fund professional development for teachers or leaders based on favored training strategies. But however nobly motivated, they invariably don't work. Broad concluded rightly that the people he supported must be effective leaders in their own right, even from nontraditional settings. Once especially promising people were identified, quality training could begin.
As a result, the Broad Academy has graduated some of the very best state chiefs, superintendents, and other district leaders we have in the nation.
I have two distinct emotions in the wake of Eli Broad's announcement: One is profound gratitude for his extraordinary contributions — and the other is a sadness, that those who fight to improve education have just lost one of their best leaders.
Disclosure: The Eli and Edythe Broad Foundation funds The 74.
A version of this essay appeared at Sandy Kress's personal blog.
Support The 74's year-end campaign. Make a tax-exempt donation now.