Regenstein: Early Learning Is the Best Way to Close the Achievement Gap. 5 Reasons Districts Prefer to Play Catch-Up Instead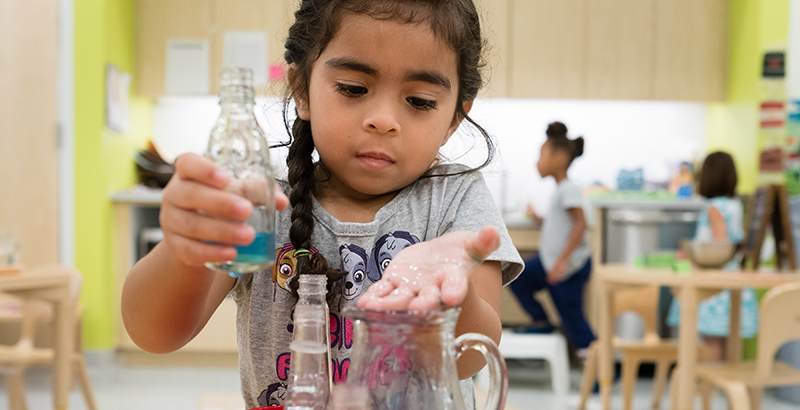 Here's the dirty little secret of how school districts go about improving outcomes: Precious few of them are working on the strategy most likely to bring dramatic progress. Why? Because a combination of policy and cultural impediments inhibits them from doing so. With a new wave of governors, state superintendents and legislators being installed in states around the country, now is the time to start breaking down the barriers that keep districts from focusing on the years before third grade — including early learning — when they have the best chance to make a meaningful difference in students' lives.
The stakes could not be higher. School improvement data show that for cohorts of children who are a year behind in third grade, only the best districts in the country can get them caught up by the end of high school. That means the best opportunity for improving performance on federally mandated assessments is to focus on the years before third grade. Of course, these exams are far from the only metric that matters. But regardless of the metrics states are using to measure end-of-high-school success, high-quality experiences in early learning and grades K-2 are essential to helping children achieve these goals.
To be sure, some school districts have embraced a leadership role in early childhood education: Boston, Omaha, and Fresno, California, among them. But these districts stand out because they have benefited from unusually strong leadership, targeted philanthropic support or both. My recent paper, Why the K-12 World Hasn't Embraced Early Learning, highlights the obstacles that trip up districts, including:
● Many school administrators have little to no background in early learning or even early elementary, meaning that they don't fully understand its importance or how to execute it effectively.
● State accountability systems for schools and districts focus exclusively on third grade and up. The metrics of success in these systems are primarily assessment results, and the assessments are given in third through eighth grades and in high school. This places superintendents and principals under constant state pressure to improve those assessment results, with no emphasis from the state on the K-2 or early childhood years. Moreover, superintendents in high-mobility areas know that many 4-year-olds will have moved somewhere else by the time they start taking those tests.
● States reinforce their accountability systems with improvement processes for the lowest-performing schools that focus on the assessed years.
● Preschool funding often comes from the federal government (Head Start) or the state (state pre-K) without requiring district investment. That can lead districts to treat early learning as a side project rather than a core part of their instructional approach.
● When districts do look to invest in early learning, they sometimes face pressure not to do so from key constituencies: their existing staff (who want the money spent on raises) and existing early childhood providers (who don't want the competition).
These problems are all surmountable, but they are real. And because of these factors, districts are behaving completely rationally when they choose to focus their resources elsewhere. That's why it's not enough for states to simply issue guidance to school districts on how to collaborate with early learning programs, or to make early learning an allowable use of discretionary funds. Only changing the incentives affecting district choices will lead to different decisions.
So what can be done? States can include early learning and K-2 in their accountability and school improvement plans, to signal that these years are an essential part of the educational continuum. They can collect better information about how students are progressing in the birth-to-third-grade years to help inform improved instruction and policy. They can focus on building the capacity of school leaders and teachers to understand child development and partner more effectively with early learning providers. And they can rethink their early learning governance and funding structures to strengthen the ability of the early childhood community to work well with K-12.
None of this is easy, and none of it will happen fast. But the early years are of enormous developmental importance, and to date they have too often been poorly connected to state efforts to improve educational outcomes. For states to help students reach their full potential will require doing the work needed to improve those connections. There's no time like the present to get started.
Elliot Regenstein is a partner at Foresight Law + Policy, a national education law firm based in Washington, D.C.
Get stories like these delivered straight to your inbox. Sign up for The 74 Newsletter