Rabbitt — 3 Critical Conversations We Must Have Around the Future of Personalized Learning: Equity, Technology & Balancing Individual vs. Collective Learning Experiences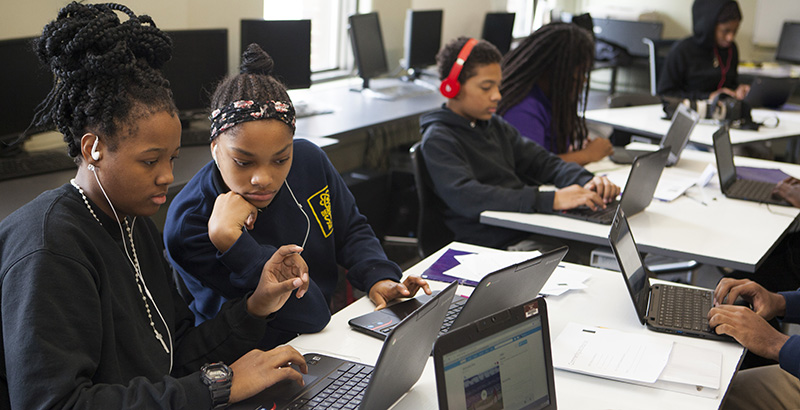 This is one in a series of articles and essays we're publishing around the annual South By Southwest Education conference. See our other SXSWedu posts; get our latest coverage delivered straight to your inbox by signing up for The 74 Newsletter.
Beth Rabbitt will be appearing at SXSWedu at The Learning Accelerator's "Blended & Personalized Learning Toolbox" on March 4 and "CEO State of Play in Personalized Learning" on March 6.
Interest in personalizing learning continues to grow. A recent survey by the Center for Digital Education found that 9 out of 10 responding school districts are directing professional development and technology efforts toward personalization. More anecdotally, attendees navigating the convention halls of this year's SXSWedu have their pick of nearly 30 sessions focusing on the topic.
At the heart of this educator interest is the drive to do a better job of building approaches and systems that put students at the center of learning, recognizing and differentiating instruction to the unique strengths, needs, interests, and goals that individual students bring to the classroom daily. As we navigate the many discussions about personalized learning, what are the most important questions to ask? Here are three conversations I'm eager to have.
1 What are we learning about how digital technology can support our efforts to personalize, and where might it be hurting?
It's my deeply held belief that technology provides critical support for teachers and students, unlocking new ways of working and bringing new resources to bear. But our efforts to bring in ed tech must live in service of enabling and amplifying the very human work of learning, freeing up capacity for things like one-on-one conversations, small-group instruction, and peer collaboration. So, as we try to personalize, where are we finding technology most helpful and effective? In our work at The Learning Accelerator, we've documented numerous instances where digital tools are helping teachers and students collect and reflect on formative data, as well as track mastery of learning. They are also offering greater opportunities for student reflection and choice-making. Everyone should be documenting these uses and sharing them.
On the flip side, where might some of our hypotheses about how tech might help have led us astray? In my own work, I've seen many. For example, removing pen-to-paper tools might seem like a good way to encourage students to get comfortable with digital assessments and note-taking, but long-form writing has big advantages for student note-taking. Similarly, while technology can help provide English learners with content in their home language, time spent alone on a computer can reduce critical peer-to-peer time for rich dialogue. How do we share these findings, either to help avoid negative impacts or to create the opportunity to tackle challenges together? At The Learning Accelerator, we're collaborating with our networks to share stories of learning focused on what participants have tried and what hasn't worked along the way. We're figuring out how to generalize these lessons for broader dissemination.
2 How do we balance the individual with collective experiences of learning?
Personalizing, by its nature, requires thinking about individual students as the level of analysis and planning. In doing so, we move away from devising approaches that aim for the middle or for broad groups. It's easy, however, in highly individualized environments, to forget that so much of learning is social. When we don't zoom out to the bigger picture of the classroom, and all the interactions — or "valuable points of convergence," as Paul France writes — between the learners within it, we lose out. We run the risk of "tak[ing] away the very things that make the human condition of learning utterly personal in the first place."
In our conversations about personalizing, we need to talk about how to strike a balance between targeting education toward individual students as well as toward the collective — and how to amplify the benefits of both. This should happen in the day-to-day decision-making of teachers, who should make sure they're creating opportunities for students to learn across skill levels, as well as collaborate deeply. Partners we bring into the work can't be let off the hook either. A question to ask every instructional supporter or tool designer is, how will this solution help students engage in their personal, proximal zones of development, individually as well as with a group? If the answer isn't clear, then either we've got the wrong approach or the solution needs to be looked at as one very small piece of a personalized learning puzzle.
3 Where might our efforts to personalize potentially widen gaps in equity?
Few seeking to personalize aim to do so inequitably, but seeking equity is a complex task. Some inequities, such as access to tools like broadband, hardware, and curriculum, are easier to spot and relatively straightforward to remedy. Others live at the level of instructional choice-making and require close monitoring and balancing.
Take, for example, self-pacing. Giving students greater opportunity to move at their own pace is often a core element (though hardly a defining or complete one) of many personalized learning programs. Educators seeking to implement competency-based models in which students work toward mastery at varying speeds, whether on technology or in more analog formats, have a lot of tensions to manage. How slowly might we allow a student to work before intervening? Conversely, how far ahead might we allow others to go without destroying the complex group-learning environment of the classroom? (Or, as one leader put it more eloquently, "At what point does our desire to 'accelerate' the learning of some get in the way of achieving equitable outcomes for others?")
I'm just scraping the surface here, but there's a lot to think through in just this example. Those of us who work in the technology and innovation space obviously believe it's possible for educators to meet the needs of learners working at both ends of the mastery spectrum, providing the crucial support for students at beginning levels as well as allowing for opportunities for others to go further and deeper. But we have to balance this desire with a critical eye toward closing gaps rather than broadening them. We can't do that unless we create spaces for nuanced, deep conversations about the choices to navigate.
Put together, if we want to produce better — more equitable and deeper — learning outcomes, we've got to engage in critical questions like these. It's OK if, at this stage of the game, we don't have easy answers or consensus. Disagreement and constructive inquiry, in the name of learning together and figuring out how to navigate challenges, are some of the best tools we have to improve outcomes together.
Beth Rabbitt, Ed.L.D., is CEO of The Learning Accelerator, a national nonprofit that connects teachers and leaders with the knowledge, tools, and networks they need to enact personalized and mastery-based practices to transform K-12 education. She will be at SXSWedu at The Learning Accelerator's "Blended & Personalized Learning Toolbox" on March 4 and "CEO State of Play in Personalized Learning" March 6.
Get stories like these delivered straight to your inbox. Sign up for The 74 Newsletter