Providing a Good Education Means Moving Beyond Outdated American Method of Schooling, Senator Says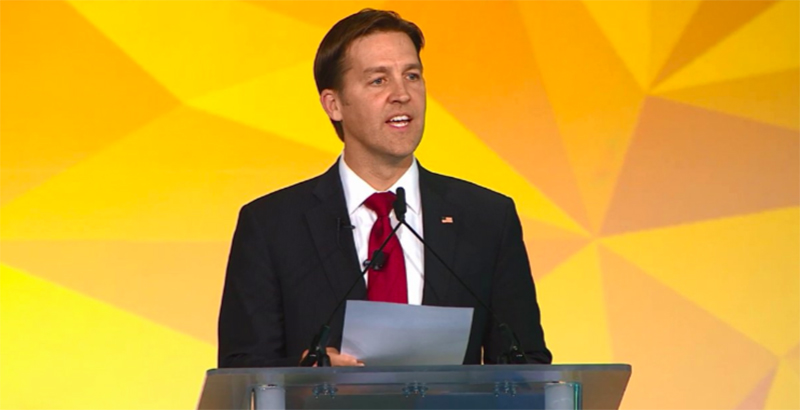 Washington, D.C.
Education reformers must draw a distinction between education and schooling as they face opposition to changes to the traditional school system, Sen. Ben Sasse said Thursday.
"Education is a goal. Schooling is one of many means to the end, or to that goal," Sasse, a Republican from Nebraska, told an estimated 1,000 attendees at the Foundation for Excellence in Education Conference.
If education is the true goal, there can be new ways to achieve it, beyond the traditional methods of schooling that have long dominated in the United States, he said. If the two remain synonymous, then any changes to the current system of schooling can be spun as undercutting education.
"I think it's really important that we do a better job of catechizing ourselves [to this belief] … and that we learn to tell that story publicly. Until we do, critics are going to be able to misrepresent what this movement is about," he said.
Sasse, who holds a Ph.D. in American history, also portrayed the current public education model — that is, 25 or 30 students, of the same age, sitting in a classroom learning mostly by lecture — as the product of a particular set of movements in American history, and one that should be open to change.
"This system wasn't ordained by God. There wasn't some moment where this form of educational delivery was inscribed on tablets" and delivered to the U.S. Department of Education, Sasse joked. He and his wife homeschool their three children.
Those historical trends resulted in a homogenized school model that reduced, if not entirely eliminated, the role of families in children's upbringing and aimed to produce workers for factories, Sasse said.
But education shouldn't be about producing those assembly line workers anymore, at least in part because those manufacturing jobs are rapidly disappearing, Sasse said.
"Families and local communities should have the freedom to explore different modes [of education], because the souls of our students require it," he said. "I think that a lot of what we do in some of those homogenized institutions is quite literally soul-crushing, but it doesn't have to be that way."
Former Florida governor Jeb Bush, who founded the group, was scheduled to give the opening keynote, but he was instead attending services for his father, the late President George H.W. Bush, in Texas.
He recorded a video that was played for attendees, urging them, in this 35th anniversary year of the seminal A Nation at Risk report, to undertake bold reforms.
"Our country can't afford another 35 years of hyperbolic rhetoric that disguises real-life complacency," he said.
Disclosure: Walton Family Foundation, Bloomberg Philanthropies, Bill & Melinda Gates Foundation, Triad Foundation, Doris & Donald Fisher Foundation, and William E. Simon Foundation provide financial support to the Foundation for Excellence in Education and The 74.
Get stories like these delivered straight to your inbox. Sign up for The 74 Newsletter