Prevention Key to Ending School Shootings, House Dems Argue, in Contrast to GOP Calls for Armed Teachers, 'Hardened Schools'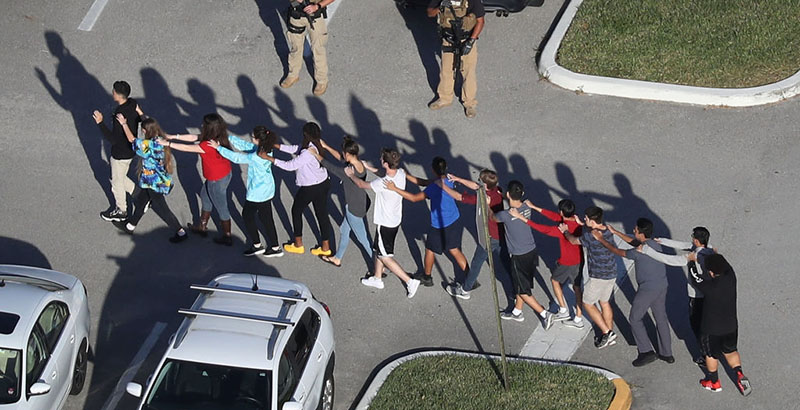 Washington, D.C.
Prevention is key to ending the rash of school shootings in America, House Democrats and witnesses said Tuesday, in sharp contrast to Republican calls to arm teachers and harden schools.
"I think the real solution is, how do you get to these children before they become school shooters?" said Rep. Frederica Wilson of Florida. "There's so much that we can do, but our elected officials don't understand prevention, so they don't want to fund prevention."
Democrats, led by House Education and the Workforce Committee ranking member Bobby Scott, called a hearing with school leaders, researchers, and a teacher from Marjory Stoneman Douglas High School. Their testimony, which emphasized ideas like social-emotional learning, threat prevention, and avoiding exclusionary discipline, diverged from provisions put forward by the Trump administration and congressional Republicans.
"Solutions presented so far in Congress are not enough," Scott said.
Underscoring a mounting sense of urgency, Rep. Steny Hoyer, House Democrats' No. 2 leader, was scheduled to attend the event, but he was called back to his district to deal with a Tuesday morning shooting at Great Mills High School in Maryland.
Beyond ideas like more counselors, witnesses also discussed programs such as threat assessments for schools, ninth-grade academies that offer more mentoring, and anonymous tip lines to report concerns about students.
In Connecticut after the 2012 Sandy Hook Elementary School shooting in which 26 people were killed, lawmakers put $50 million into increased school security, but $500 million into social-emotional learning, restorative discipline, and other mental health programs.
"We really have made the investment on the front end in our kids and their future," Dianna Wentzell, the state's education commissioner, said.
Most prevented school shootings have been averted because someone shared concerns about the likely shooter with authorities, said Dewey Cornell, a researcher at the University of Virginia.
"We have prevented school shootings, and we can prevent more school shootings," he said.
There were multiple warnings shared with the FBI and local law enforcement that claimed gunman Nikolas Cruz, 19, was a threat. The Marjory Stoneman Douglas teacher who testified Tuesday said she was grazed by a bullet from the gunman's AR-15 assault rifle and the window of her classroom door was shot out.
The Democrats had invited Education Secretary Betsy DeVos, but she did not attend, nor did any Republicans. DeVos testified to the House Appropriations Committee earlier Tuesday and was questioned extensively about the school safety commission she will lead.
'Nothing bad ever happens in Parkland'
The most harrowing testimony came from Stacey Lippel, an English teacher at Stoneman Douglas. Several members of Congress and the audience were in tears by the end of her remarks.
Lippel said she heard the shooting after teaching her creative writing classes how to write love letters, and thought of a number of possible scenarios, from an accident in a nearby culinary class to firecrackers being set off. It never crossed her mind, she said, that it could be a gun.
"I never, ever thought this was a result of gunshots, because the context wouldn't make any sense," she said. "We live in Parkland. Nothing bad ever happens in Parkland."
Authorities have said Cruz set off the fire alarm before the rampage and Lippel said she initiated standard evacuation protocols before her students came running back to get away from the shooter, who was in a nearby stairwell. Her quick thinking to make sure the door automatically locked after all the students ran back into the classroom and she closed it saved lives, she said.
She was grazed by a bullet, and the gunman shot through a window in the classroom door but, for some reason, didn't reach through to unlock the door and take aim at the students hiding inside, she said. When the SWAT team came to evacuate Lippel and her students, they passed the body of geography teacher Scott Beigel, who was killed in the classroom next door trying to get students to safety.
In the weeks since the shooting, about 10 percent of her 219 students, on average, have been absent, she said: "They don't feel safe in school."
Get stories like these delivered straight to your inbox. Sign up for The 74 Newsletter