Pilot Program Gets St. Louis Students Thinking About Careers — in 9th Grade
Next Prep exposes high schoolers to a wide range of postsecondary options, then helps them figure out what they want to do and how to get there.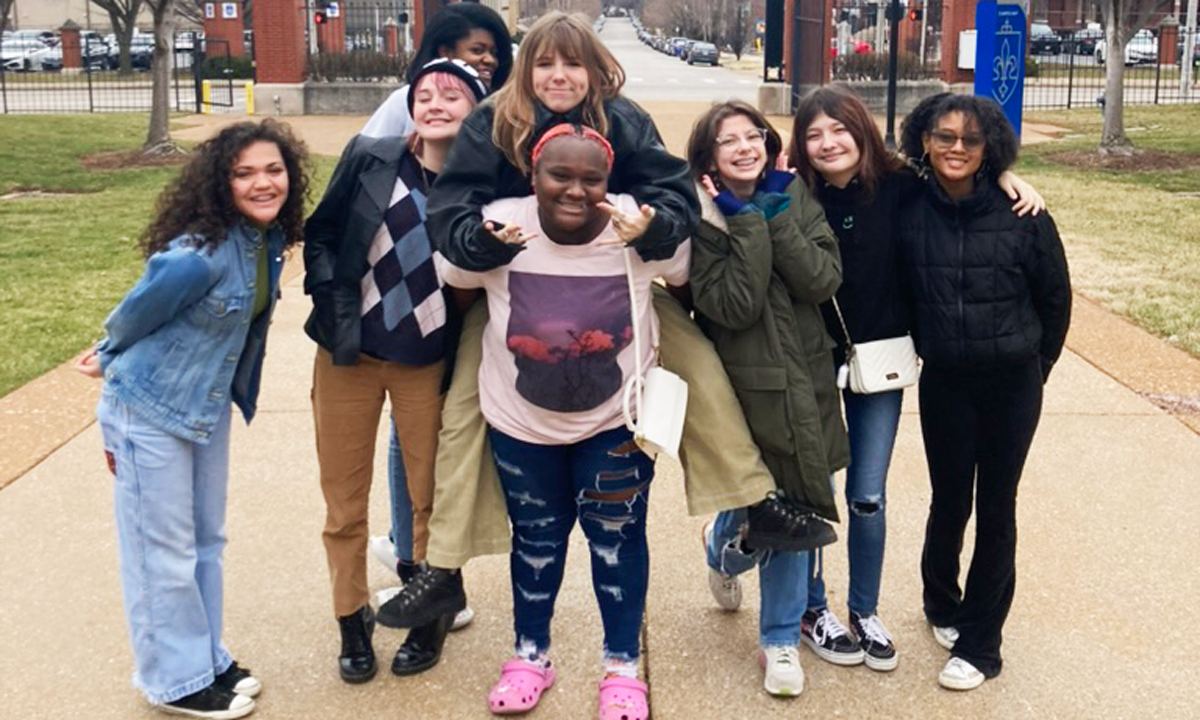 Get stories like these delivered straight to your inbox. Sign up for The 74 Newsletter
When Alyssa Wagner started ninth grade at Kairos Academies in St. Louis, she knew she liked math. Science, not so much.
But during the first semester of an elective class called Next Prep, the 14-year-old found she has an interest in medicine.
"I probably like science more than I thought I did," she said on a Zoom call from the Next Prep classroom. Like all ninth-graders at Kairos, a public charter school, Alyssa meets with an academic coach at least once a week. "Me and my coach, we talk about the short term, like my grades. My Next Prep class is about the future."
Offered in two St. Louis high schools, Next Prep is a pilot program that helps teens start early in figuring out what they might want to do after graduation. The class starts in ninth grade and begins with exploring each student's strengths and talents. Later, the class dives into learning about careers by visiting employers and talking directly with professionals. Hands-on and personal, the course is meant to lay out the stepping stones from high school to a meaningful career.
In just about any other public high school, Alyssa and her classmates wouldn't begin talking about their postsecondary options until junior year. Discussions about internships and other types of career preparation might not happen at all.
This approach may contribute to concerning postsecondary outcomes for many students. According to federal data, of the class entering college in 2010, only 21% of Black students graduated in four years, compared with 32% of Hispanic, 45% of white and 50% of Asian students. Separate data collected by the National Student Clearinghouse shows that 65% of Black students who entered college in 2020 returned for their sophomore year in 2021, versus 75% of students overall.
In Missouri, data released last year showed that only about 30% of Black students who started college in 2016 completed an undergraduate degree. Data collected in 2016 showed that Black St. Louis residents over 25 who enrolled in college were over 40% more likely than white students not to graduate.
"Part of our work is to help students understand themselves, what fires them up and what they like," said Jesse Dixon, a partner at the St. Louis-based education nonprofit Opportunity Trust, which launched in 2019 and since developed the Next Prep curriculum. "Whether a student is choosing four-year college or not, if they have a plan, they're much more likely to persist."
But before students can make a plan, they have to attend school. After the pandemic, high school absences increased, mostly in districts where classes had been conducted remotely. This trend demonstrates declining student engagement, Dixon said. While developing the Next Prep course, he spoke with students, many of whom had taken jobs during the pandemic. Students said their high school class content didn't seem important once they were working.
"The disconnect between relevant job preparation and what they were doing in high school was hard to ignore," Dixon said. Attendance rates dropped because students didn't feel that high school was relevant to their lives. "Next Prep is intended to try to address this gap that students have become more aware of."
The pilot course aims to expose students to the range of postsecondary options and explain precisely how they need to prepare in order to pursue specific plans.
"I taught for five years, mostly at high schools, and one thing that always stood out is the information gap," said Riley Foster, an education innovation fellow with the Opportunity Trust and the Next Prep instructor at Kairos Academies, where the student body is almost 60% Black. "Students didn't know what people in specific careers did and how much school they'd need to have that career."
Some also often didn't know the difference between an associate and a bachelor's degree, Foster said, or that many careers require additional schooling after graduation from a four-year college.
During the first semester of Next Prep, students take personality tests to figure out what interests them — whether they prefer helping people, building or fixing things, or working alone with data, for example. The second semester is all about career exploration, including health, business, education and engineering. It's a brand-new program at Kairos, which started with a middle school and expanded to offer high school this year. Half of the 140 ninth-graders were randomly assigned to Next Prep, but next year all ninth- and 10th-graders will participate.
Nilesh Patel, principal of Kairos Academies High School, welcomed the idea of starting early to help teens figure out what they want to do.
"The reality we see in high-performing charters is that we have great college acceptance rates, but our college retention rates are terrible," said Patel. "If we get kids into college without the skills to stay in, what's the point?"
Beyond learning about education and training, Riley said, her students are hungry to know more about real careers and hear directly from working people, so she asks speakers to come to class and talk about their jobs. That's how Alyssa Boehle discovered a passion for counseling. When six therapists visited the class to share their work, she learned about a type of counseling she'd never heard of before.
"There was an art therapist who started her own business," said Alyssa. "I found it really interesting to hear how she made the connections to start her own business."
Students have also gone on field trips to visit big employers. Barnes-Jewish Hospital, for example, offers paid jobs for high schoolers and college tuition assistance.
Tenth-graders will dig deeper into their identified career interests, shadowing people who work in the field. They'll also focus on soft skills, including interviewing and conflict resolution. Eleventh-graders will do internships in their chosen area. During their senior year, students can take dual-enrollment courses in a local community college, pursue a professional certificate or dive deeper into an internship.
"The important thing is to start with self-awareness," Foster said. "Students need to learn a vocabulary to express their strengths and interests and that those things map to careers." 
Get stories like these delivered straight to your inbox. Sign up for The 74 Newsletter