Black Girls Do STEM Opens Worlds of Opportunity for St. Louis Middle Schoolers
With hands-on activities, mentoring & field trips to Boeing, engineering labs and a veterinary clinic, organization builds connections and confidence.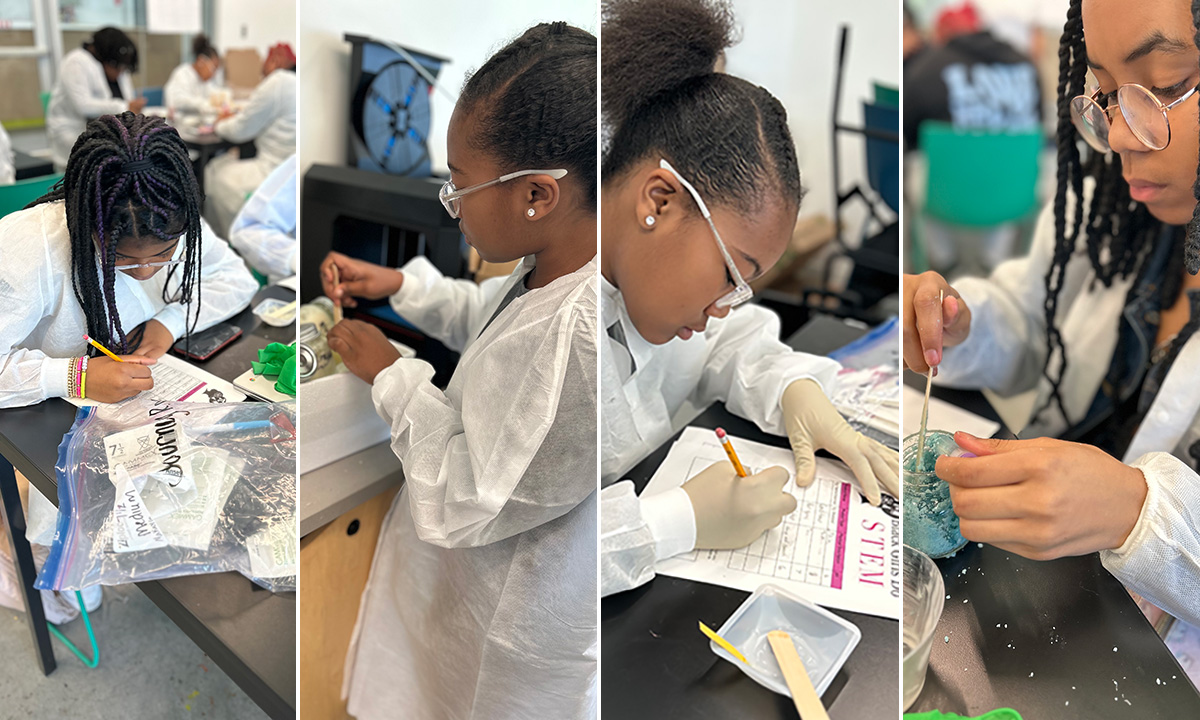 No paywall. No pop-up ads.
At Ferguson Middle School in St. Louis, female engineers from Boeing sat down with 75 girls for breakfast and an introduction to the world of science, technology, engineering and math. An opportunity to engage hands-on with STEM activities, such as building lava lamps and creating an engineering design for a mobile robot, followed. The event was sponsored by Black Girls Do STEM, a St. Louis-based organization focused on connecting young girls of color to science.
"We know that there are obstacles at every stage of the educational system in America, especially for urban youth and Black girls," says Cynthia Chapple, founder and managing director. "Students need to feel supported, seen and heard in certain spaces."
Since launching Black Girls Do STEM in 2019, Chapple has engaged students at five partner middle schools in St. Louis. Monthly Saturday activities bring students together with mentors to work on projects and experiments in materials science, engineering, technology, cosmetic science and more. The girls also go on field trips and meet Black women who are leaders in the STEM community.
This year, more than 100 girls are participating, guided by over a dozen volunteer mentors. In the first year, the students are introduced to a variety of STEM fields, engaging in a new activity each month. In the second year, they choose from one of five tracks — aviation and aerospace, cosmetic science, cybersecurity, agriculture technology, and construction and civil engineering — helping to anchor their STEM interests. When the students reach high school, the organization can provide tutoring, with the goal of supporting them throughout their STEM pursuits while encouraging them to stay focused on advanced math and science.
"It is so powerful to sit with someone who you feel like you connect with on personal levels," Chapple says. "You build trust with them and relationship. When you tell them something is possible, they start to believe it more than if a random stranger told them. I think it is tremendous, and why our mentoring network is so critical."
The program focuses on creating a space that prizes curiosity and exploration — and the girls start to value that in themselves, Chapple says. "We will be successful if girls walk out of this with a renewed sense of who they are," she says. "The core is how do we develop this young person into believing big of themselves and a mindset to push through challenges and building resilience that doesn't come from trauma."
At Ferguson, Sam Brotherton, a math instructional support leader, says Black Girls Do STEM has proven "extremely valuable" for his students. "The girls who attend the Saturday program get to experience science in ways that are relevant to them, while developing a support network in addition to what the school offers," he says. "Overall, our girls are more interested in the STEM field and get the opportunity to meet more local professionals to extend their network and knowledge of STEM careers."
Chapple left her job in applied sciences — she has worked in forensic, food and materials science — to focus on Black Girls Do STEM. The community-based program has target demographics and identifies school partners in areas of St. Louis where the occupations of the community's adults do not commonly fall within STEM fields.
The organization comes into the schools through hands-on learning experiences or special events to introduce the program and invite students to join the Saturday sessions. Representatives are also present at community fairs and festivals. About 75% of the girls are students at target schools, but Black Girls Do STEM also accepts students from across greater St. Louis.
Chapple focused on middle schoolers because students at that age are at a pivotal development stage where they form their identity, yet are curious enough to ask questions and try new challenges. "That is the best age to get them to develop their confidence and awareness around things that are challenging and finding the fun and joy in doing things that may not come to them super easily," she says.
The program mixes activities and field trips — students have visited Boeing, Washington University's engineering labs, the Saint Louis Zoo veterinary science clinic and more — to expose the girls to a wide range of STEM worlds.
Black Girls Do STEM is funded by grants and community support. During the pandemic, much of the program went virtual, and the organization has retained a small cohort of students from across the country who access the program virtually. Chapple says her dream is to keep building the program, offering new opportunities for students while expanding its networks and reach beyond St. Louis.
"We are real people right here in front of you, investing our time in you and belief in you," Chapple says. "This is possible. We have done it. I have made products on the shelf that people use every day, that go into devices you use every day. This is regular, everyday stuff."
Get stories like these delivered straight to your inbox. Sign up for The 74 Newsletter