Photo Tour: Inside a Redesigned D.C. Elementary School, Partially Open For the First Time Since March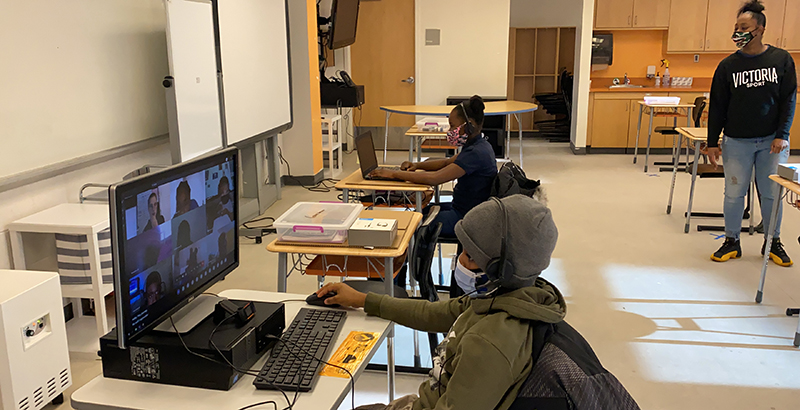 On a Friday morning in late November, three classrooms with a handful of masked students at Savoy Elementary School were silent — but also more alive than they'd been since March.
D.C. Public Schools Chancellor Lewis Ferebee was touring one of the first 25 schools to partially reopen on Nov. 18 for 'CARE' classrooms since schools shuttered last spring. These classes allow small groups of young students — armed with masks, laptops, headphones, even surgical gloves on one occasion — to continue virtual learning with their teacher while an adult is in the room supervising.
It marked a victory for those like Savoy's principal Lisa Rosado to better serve students who've struggled with remote learning. Seventeen of her third through fifth graders at the southeast D.C. school had accepted CARE seats in the first phase of the reopening plan, out of 270 students enrolled, she said. About 400 students accepted seats districtwide.
It's a necessity "financially, for parents going back to work. For nutrition, for our students to get breakfast and lunch. And for a safe, quiet environment for students to engage in work with our teachers," she said.
Just a few streets over, though, was a reminder of the ongoing pandemic: Dozens of people snaking around the block for a COVID test. D.C., as with much of the nation, has seen a rise in cases in recent weeks —  a 4.5 percent positivity rate at the time of the tour, now at 3.9 percent — with some districts like in New York temporarily reverting back to all-virtual learning. (New York now plans to reopen next week for elementary schoolers.)
DCPS confirmed there are no reported COVID cases to date affecting "students or staff in a CARE classroom."
Reopening, though, hasn't been seamless: In-person attendance in CARE classes has hovered around 50 percent, according to the district. Ferebee last month attributed this to some families needing to "complete their vaccinations."
Mayor Muriel Bowser confirmed Monday that, "Our plan to expand our CARE classrooms continues." Seven additional schools are scheduled to reopen on Wednesday, and another six will offer programming to more grades, a DCPS spokeswoman said.
Ferebee previously said the goal was to provide 900 additional seats in the next phase if parent interest was there and staffing permitted.
Opening the CARE classes gradually is allowing the district to "learn about what is working and what's not working. … [D.C. Health] will continue to guide us," Ferebee said during the tour of Savoy. He added that Bowser has made clear that, "schools are our priority, and the types of services that we're providing in our CARE classrooms are paramount."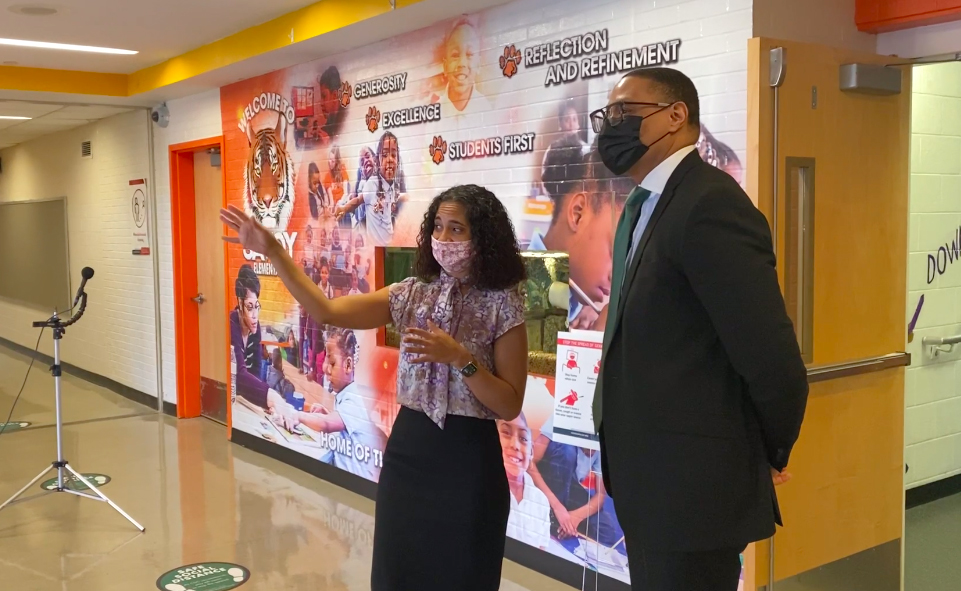 A tour of Savoy
There were about 10 kids in class at Savoy the morning of the tour, spread out among three classrooms on the same floor. At the front of each class was a HEPA filtration unit.
There was pindrop silence; every student was wearing a set of headphones, eyes glued to their laptop screens. Some students' gear had a personal flair: One girl, wearing blue surgical gloves, donned a cat face mask and a purple headset.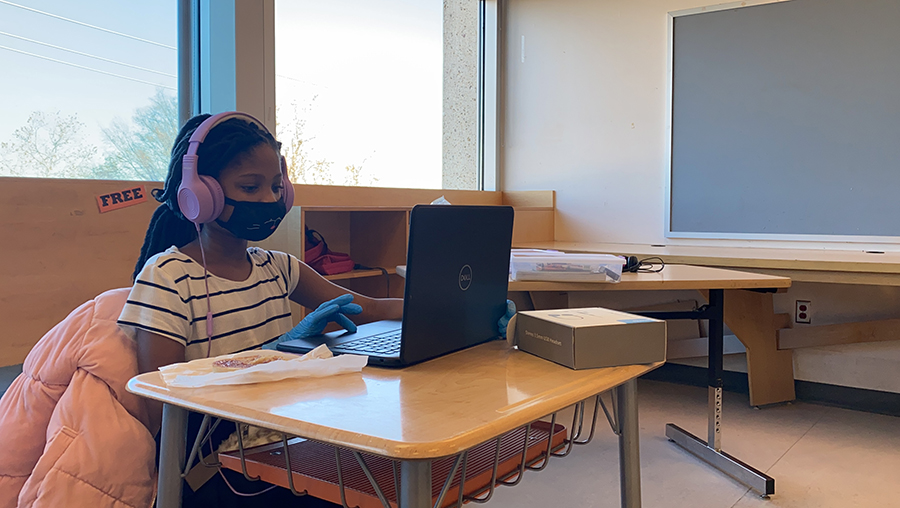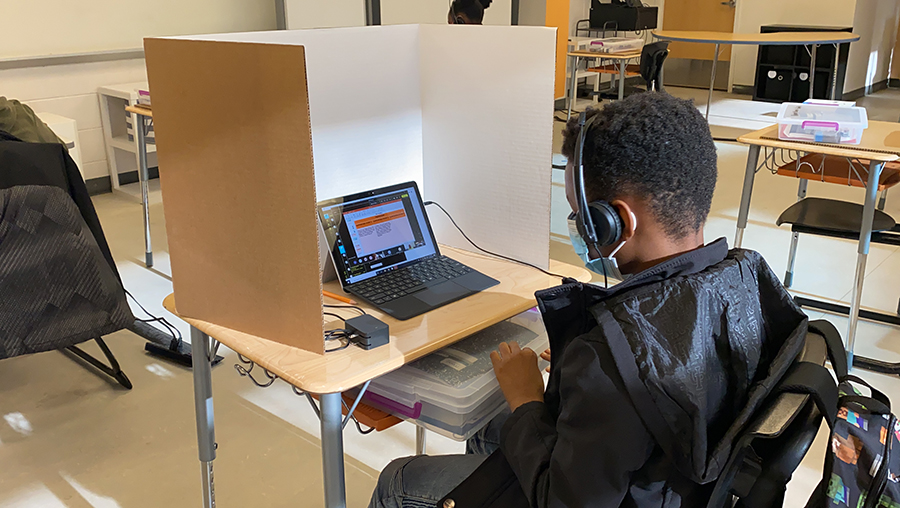 Many looked like they were tuned into different lessons. A boy in one classroom was video conferencing with his teacher and at least eight other students. Another was following a slideshow presentation, presumably for English, on character traits. Yet another was watching a video of three people dancing — a "movement break" for his class.
The transition from working on paper in classrooms to being on a laptop "is a little challenging [for them]… I've never seen nothing like this," said Nailah Derr, a before-and after-care teacher monitoring one of the classrooms. But she called it "wonderful. Beautiful."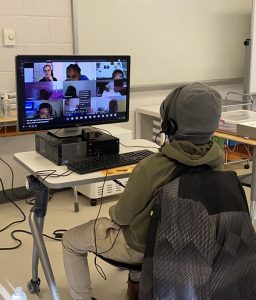 "They do good," she said. "In the morning they get on, when we ask them to log in, they log in, they have their assignments, and when they need help they call me [over]."
She added they find some time to still socialize.
"There's a break at around 10:40 [a.m.] so we get a chance to get to know each other a little better," she said. "And after the 10 minutes is over they got to get back on their virtual learning. … We talk during recess and lunch [too]."
The school's recess areas are dotted with social distancing stickers, as are the hallways. Students are given bottled water, rather than using a water fountain.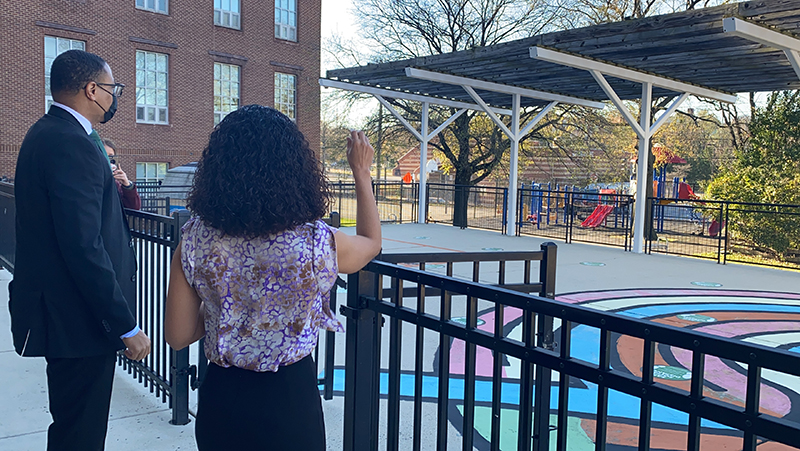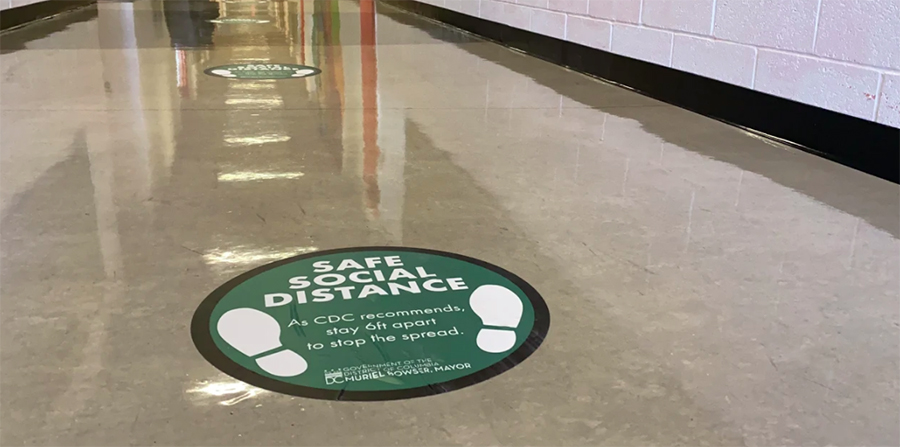 'There are Zumba activities" — typically 15 minutes long— "and aerobic activities so when they come out to do recess, they are engaged in something physical yet productive," Rosado said. The stairwell doors are left open during the day so students don't have to touch them.
Much of the tour centered on highlighting safety protocols like these.
Everyone's temperature, for example, is checked before they enter the building. Breakfast and lunch are delivered to, and eaten in, class.
The school's isolation room — where a student would go if they began experiencing COVID symptoms during the day — is on a separate floor than the active classrooms. Rosado noted there are plenty of other empty rooms available to turn into additional isolation rooms if more than one student or staffer were to start showing symptoms.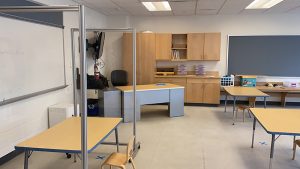 Bathroom breaks, too, are coordinated. Only two students are allowed in at a time — there's a hall monitor to assure this — and allocated breaks for each classroom are staggered every 15 minutes.
Once students in one class have a chance to use the bathroom, "the custodians go in right afterwards to clean up, and then the next classroom" can go, Rosado explained. "Our bathrooms are always being wiped down and cleaned in between every class."
Asked if her third to fifth graders have been able to follow these protocols and correctly wear a mask for the entirety of the school day, Rosado said they've "been doing a great job."
"During parent orientation we talked through all the safety protocols that needed to occur prior to their child coming," she said. "So the expectation was already set when the kids came in."
One third grader, Elijah Lee, seemed particularly committed, opting to keep his mask on when a reporter on the tour asked if he wanted to remove it to answer questions.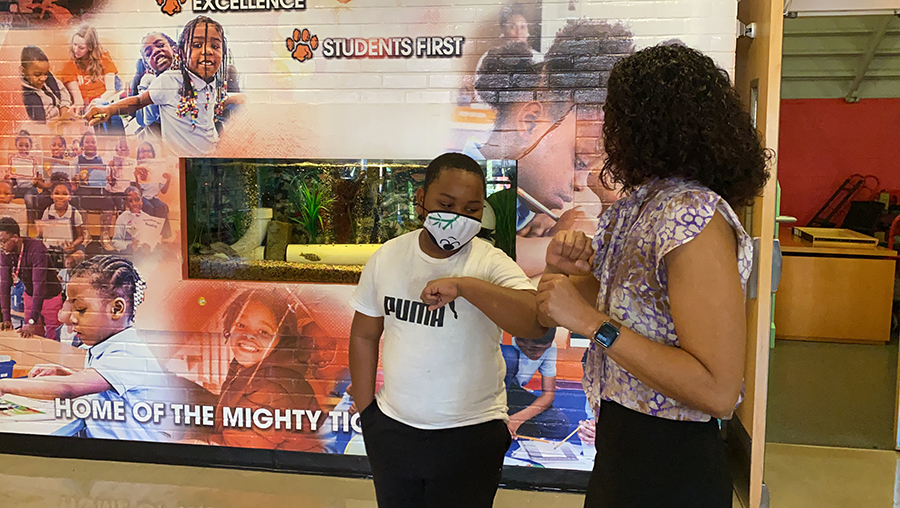 So far, he's loving being back. "I hope [other students] come to school because it's best for me so I can learn better," he said.
Rosado is eager to get more families on board, too. The goal is to have up to 60 students in Savoy's CARE classes by the end of December, with grades K-2 included, she said. Savoy is expected to add three more CARE classrooms starting Wednesday.
"As long as we're keeping socially distanced and keeping to the heath standards and guidelines, I would like to have more children here. That's what a school should be," she said. "I've kept saying [these past few days] our 'Savoy joy' is here in our building now."

Get stories like these delivered straight to your inbox. Sign up for The 74 Newsletter