Pandemic Seriously Altered Teens' Relationships, Pew Survey Finds
After more than two years of disrupted learning, many adolescents say they're closer to parents but more distant from teachers and classmates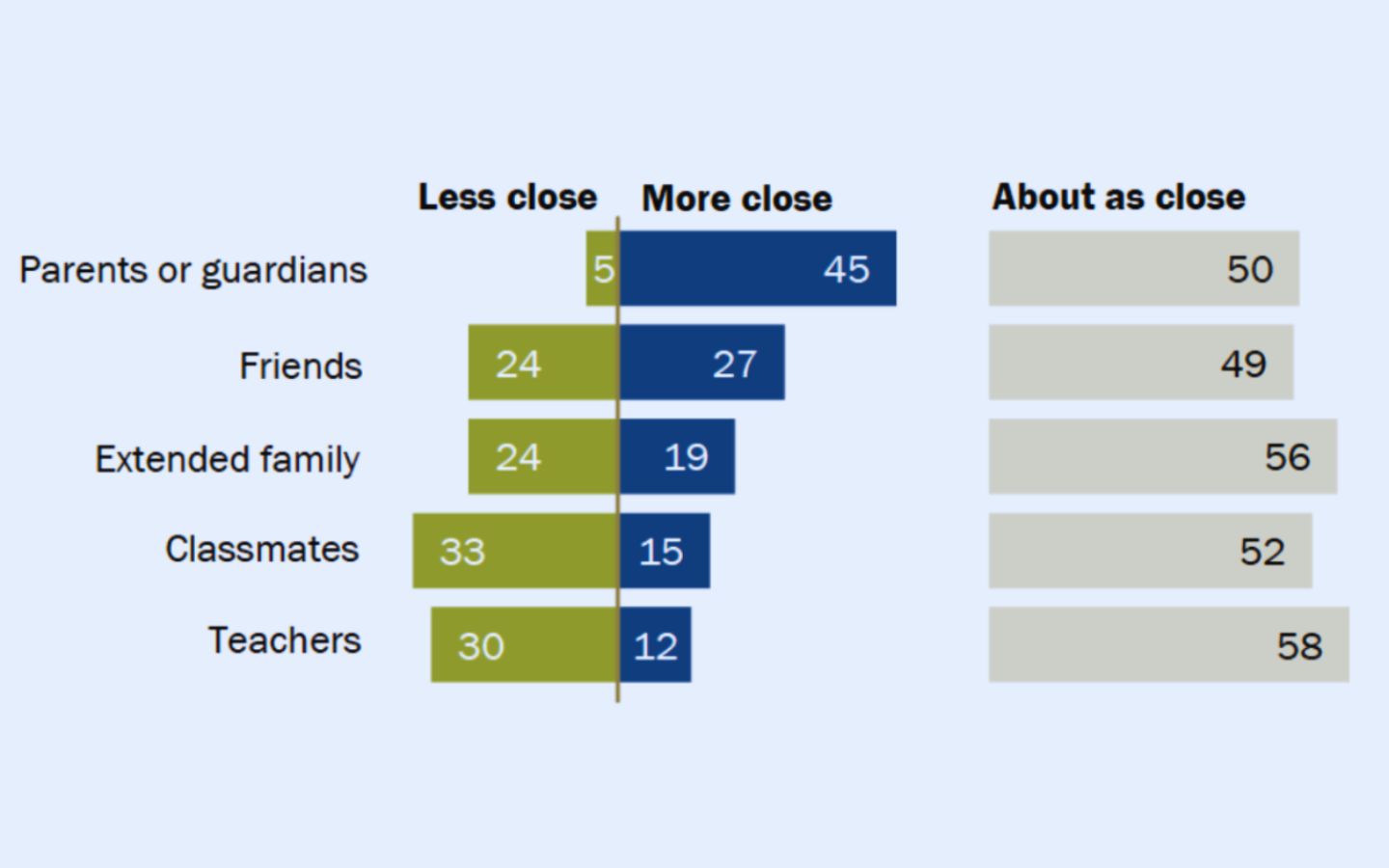 No paywall. No pop-up ads.
A new poll of both teenagers and their parents suggests that the COVID-19 experience has substantially altered the way students relate to their families, friends, and peers at school.
Nearly half of all adolescents surveyed said they felt closer to their parents after two years of disrupted learning, but a sizable group grew more distant from classmates and teachers than they were in February 2020. A strong majority also said they wished school would be delivered fully in-person from now on.
The polling report, released last week by the Pew Research Center, pointed to some of the same trends that have been on display in other public opinion data released over the last two years: A plurality of parents said they were "very satisfied" with the way schools handled online learning, but a large minority were also concerned their children would fall behind academically. Teenage respondents generally did not share that concern, but were also more likely to describe themselves as unhappy with virtual instruction at their school.
Colleen McClain, a Pew research associate and one of the report's lead authors, said the findings offered a "complex picture" of how the pandemic affected teenagers' academic and social realities.
"I think it really paints a nuanced perspective of what teens have been through during the pandemic, what they're still going through, and how it varies depending on a lot of factors."
The survey, conducted between April 14 and May 4, queried over 1,300 pairs of U.S. teens (between the ages of 13 and 17) and their parents about their experiences at school and attitudes toward learning. Responses were disaggregated by both race and family income to show how families of different backgrounds were weathering the late stages of the pandemic.
Somewhat surprisingly, only about 80 percent of students in the nationally representative sample said they had attended school fully in-person over the previous month (i.e., between mid-March and early April). Conversely, in a public letter circulated in May, U.S. Education Secretary Miguel Cardona said that "more than 99 percent of schools and colleges are open." Both statements could simultaneously be true, with K-12 schools remaining "open" for in-person learning even as significant numbers of students studied remotely during a time of elevated COVID case rates. But the large group of students either learning completely online (8 percent) or in a hybrid model (11 percent) indicates a wide variety of school experiences in the spring of 2022.
The persistent, if periodic, absence of teenagers from school campuses could help explain the impact that the pandemic has left on their personal relationships. On the positive side, fully 95 percent of teenagers said they felt as close, or even more close, to their parents or guardians as they were before the pandemic began — a notable development after long months spent in much closer proximity than was previously the norm.
But even as it gathered household members closer together, COVID also seemed to wall off teenagers from their more peripheral social ties. This was especially true in school communities, where about one-third of respondents said they felt less close to classmates and teachers than before the coronavirus outbreak.
Across all categories of relationships, McClain reflected, most students said they were "about as close" as they were three years ago. "But when you get to friends, extended family, classmates, teachers — people that teens probably wouldn't have seen quite as much during the pandemic — you do see these larger shares saying that they feel less close to them."
The growing feelings of isolation from school peers are perhaps unsurprising, given the exigencies of remote instruction. Still, they are notable in the context of child socialization: The early teen years are when children typically become more free of their immediate families and more dependent on relationships with their peers. Earlier pandemic research has indicated that while depression and anxiety increased among young adults in 2020 and 2021, many found solace in connecting with their friends on social media.
The study authors did note "modest" differences in these trends, with African American students being somewhat more likely than whites to describe themselves as becoming more distant from friends.
Among the report's other findings:
Asked what kind of schooling they would choose in the wake of COVID-19, about two-thirds of all students said they wanted to attend classes entirely in-person. Nine percent said they would prefer completely online coursework, and 18 percent would opt for a hybrid.
Black students were the demographic group least likely to favor a full return to in-person schooling, with just 51 percent backing that option. Over 40 percent said they would welcome either a hybrid or fully online experience.
A plurality of parents — 39 percent in all — said they were either "very" or "extremely" satisfied with their local schools' approach to virtual learning. By comparison, just 28 percent of students themselves said the same, while 30 percent said they were "a little" or "not at all" satisfied.
Just one-in-six teenage respondents said they were very or extremely worried about falling behind in school, compared with 28 percent of parents. Hispanic respondents were the most likely to voice this concern, with 28 percent of Hispanic teens and 42 percent of Hispanic parents saying they were very or extremely worried.
Get stories like these delivered straight to your inbox. Sign up for The 74 Newsletter