Our 14 Most Memorable Interviews About Students, Schools, COVID Learning Loss & Classroom Equity From 2020
By The 74 | December 28, 2020
This is the latest roundup in our "Best Of" series, spotlighting top highlights from this year's coverage as well as the most popular articles we've published each month. See more of the standouts from across 2020 right here.
Every month at The 74, we showcase a number of new "74 Interviews" — deep and insightful conversations with teachers, families, experts and policymakers that aim to broaden our understanding of the challenges and innovations shaping school districts across the country. (You can bookmark our full archive here and sign up to receive new interviews straight to your inbox via The 74 Newsletter) The pandemic has made these interviews about the crisis, its implications and educators' evolving practices even more urgent and revealing. Throughout 2020, both before and during the pandemic, we published dozens of such eye-opening conversations; below are 14 of the most memorable exchanges.
Arne Duncan: The Former Secretary of Education Urges 'Empathetic Leadership' Through 'Brutal' Coronavirus Crisis — and Toward a New Normal
Coronavirus: Arne Duncan is experiencing the novel coronavirus like the rest of us: worried about his family, his community and our country as a whole. But he's also experiencing it as a leader in working to reduce gang violence in Chicago, as a managing director at Emerson Collective — one of America's leading philanthropic organizations — and, of course, as a former urban school leader and U.S. secretary of education. That's why Andy Rotherham and Emmeline Zhao set out in April to hear from Duncan about what he's seeing as schools and the country scramble to react to the COVID-19 pandemic. They sat down with him via video conference to talk about all that, as well as his assessment of the Trump administration's handling of the crisis and his vision going forward. "My goal here is not just to return to normal," Duncan said. "Normal didn't serve millions of kids before this crisis hit. We have to have the courage to envision a new normal where we fundamentally address huge inequities." See the full interview.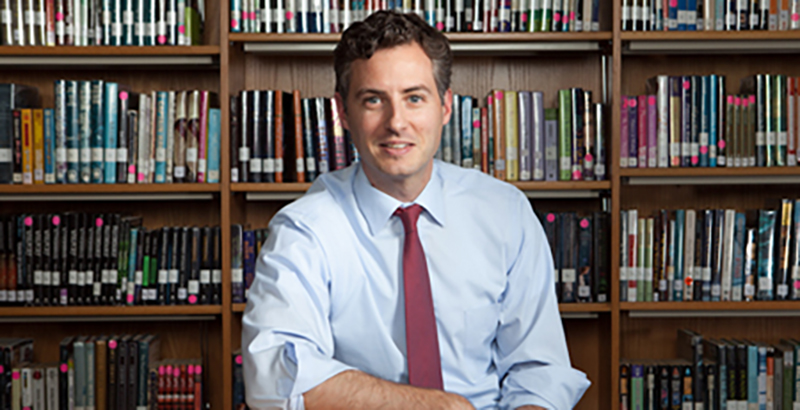 John White: Louisiana's Outgoing Schools Chief Talks the New Orleans Experiment, His Longevity and What It Means to Be Well Educated
Exit Interview: When John White announced he would leave his post as Louisiana state superintendent of education earlier this year, the news was received with the kind of fanfare typically reserved for name-brand politicians. The architect of numerous policies that have driven rapid improvement in schools, White somehow navigated ever-changing political winds to become the longest-tenured state education chief in the nation. His departure — he's a new father and the co-founder of an innovative career-readiness program — has the education advocacy grapevine humming: What will White do next, and can the state's Board of Elementary and Secondary Education, now in the unenviable position of seeking a replacement, be persuaded to stay the course? Beth Hawkins has an exit interview.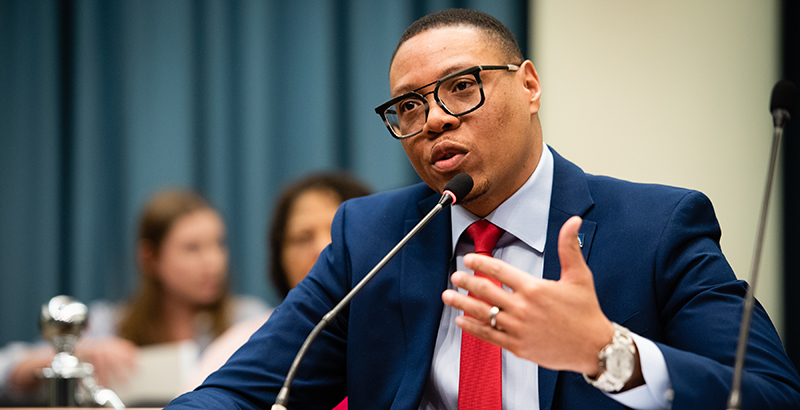 Lewis Ferebee: The D.C. Public Schools Chancellor Talks COVID-19 Recovery Plans, With an Eye Toward Returning to In-Person Instruction
Reopening Schools: D.C. Public Schools' 2019-20 academic year ended May 29 as social unrest and a continuing global pandemic gripped the capital and country. So Chancellor Lewis Ferebee is determined that come fall, schools will remain a stabilizing force for students. "Our presence, purpose and commitment" are a constant, he said in June, as he expressed early hopes of geting students back to full in-person instruction for the 2020-21 school year — though he acknowledged the decision hinged on parent feedback and health officials' guidance. The district faced other hurdles, too: how to "creatively" test for learning loss, how to ensure internet access for all students and how to meet the ballooning mental health needs of educators and students. But Ferebee said a rare increase in per-pupil funding, a "summer bridge" program and mentoring for graduating high schoolers, should help. Read Taylor Swaak's full interview.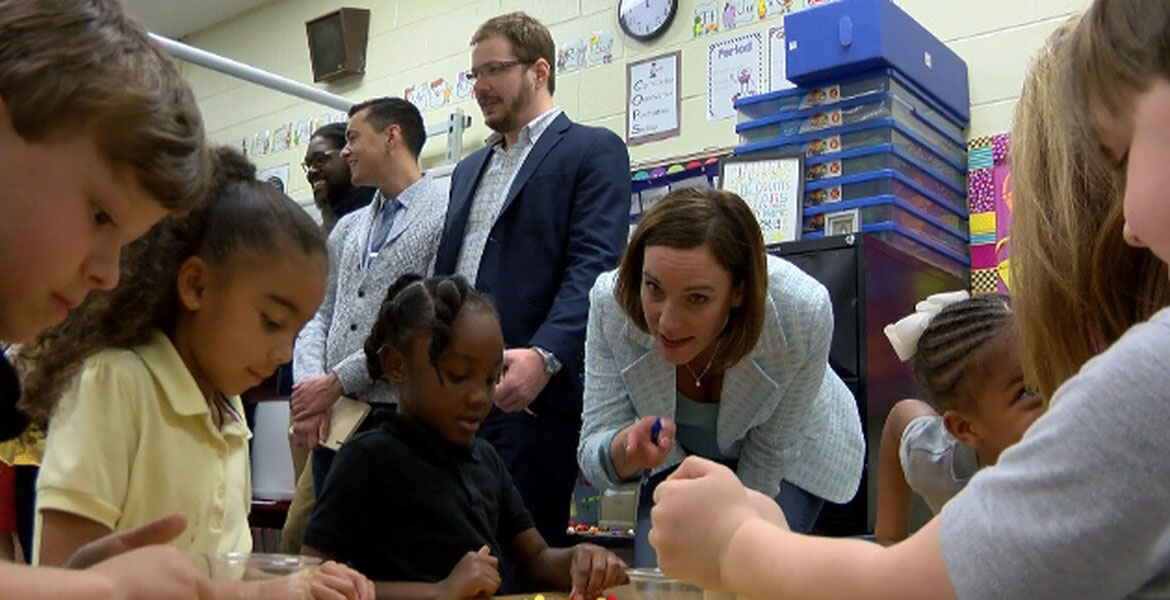 Rebecca Sibilia: Exit Interview — The EdBuild Founder Talks America's 'Jacked Up' School Funding System & the Coming 'Tsunami' in Ed Finance
School Funding: When Rebecca Sibilia founded the nonprofit EdBuild with the goal of making America's education funding system more equitable and efficient, she had no clue that a pandemic would throw the education community into a "tsunami like they've never seen before." In an exclusive exit interview with The 74's Mark Keierleber, Sibilia discusses the impact of the virus on education finance as she departs the organization she founded five years ago. Looking back on her tenure, Sibilia said her organization had been "very effective" in raising awareness around inequity, but wishes it had been able to go further. "In some ways, EdBuild is a story of failure," she said. "The way we were trying to fix school funding at the local level was not the way that it works." But she isn't stepping away from efforts to reform how American taxpayers pay for public schools. As the education community braces for steep budget cuts due to the pandemic, equitable school funding models are more important than ever, she said. She has a plan to help states find the right path. Read the full interview.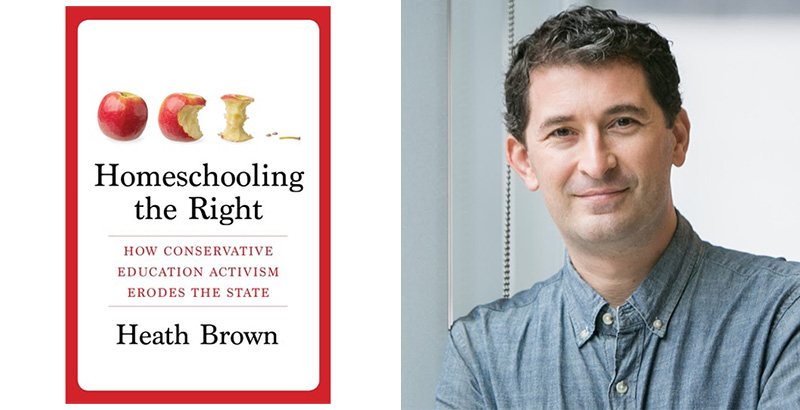 Heath Brown: The Political Scientist Talks COVID-19 and the Politics of Homeschooling
Remote Learning: The number of homeschooled American children has doubled over the last few decades, reaching 1.7 million in 2016. The growth of the movement has been rapid and virtually unchecked since its emergence in the 1970s — but no one was prepared for the advent of the coronavirus, which effectively foisted a version of homeschooling onto every family in the country. So what lessons can millions of parents take from committed homeschoolers, many of whom have spent years curating curricula and perfecting field trips? Not much, according to political scientist Heath Brown. A professor at the City University of New York's John Jay College of Criminal Justice, Brown will soon release a book studying the politics and history of the homeschooling movement. The shape of that movement — multifaceted, politically engaged and vigilant against threats — is perennially misunderstood, he says. But its string of policy victories over several decades provides evidence that homeschooling isn't going anywhere. Read Kevin Mahnken's full interview.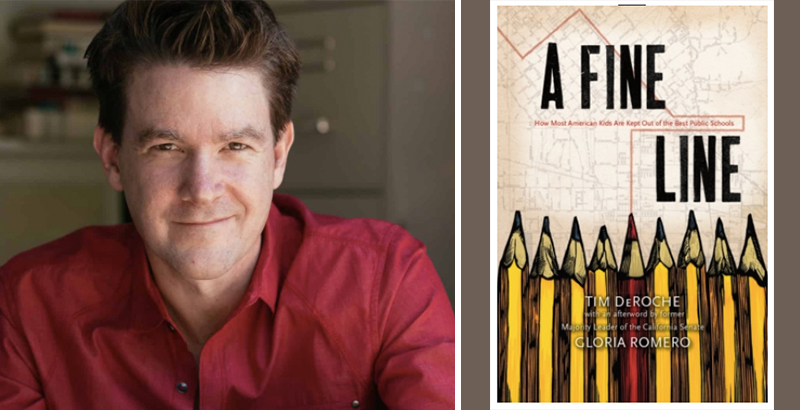 Tim DeRoche: Education Author Spotlights the Inequity of School Attendance Zones, the Flaws of Open Enrollment and Why the Government Should Drive Down Housing Prices
Segregation: In conversation with Conor Williams, author Tim DeRoche explains that he always knew about the inequities in America's public schools, but it wasn't until he set out to write a book about school attendance zones that he learned how stark they are. DeRoche examines pairs of schools: one that is thriving, with high academic performance, and another, a mile away, that is struggling or outright failing. What keeps these schools apart in most American cities, he says, are attendance zones — rooted in the outright segregation that was rendered illegal by Brown v. Board of Education and often following the same shape as the 1930s redlining maps that were drawn to exclude poorer neighborhoods of color. And the decision to tie school quality to zip code — and, by extension, housing prices — makes wealth king. "What we've done is we've capitalized it into home prices so your access is dependent on your wealth, and wealth to an even greater degree is correlated with race in this country. It's the absolute worst way you would want to do it." Read the full interview.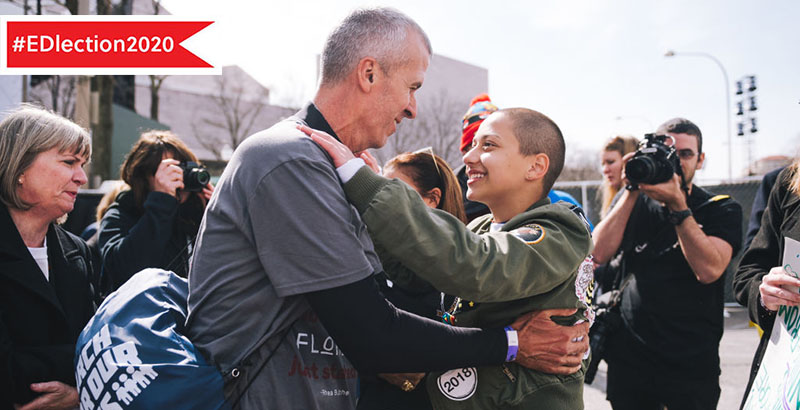 Jeff Foster: The Parkland Teacher Reflects on the Power of Student Protests and Talks About His New Mission to Inspire the Next Generation of Voters
Civics: On the day gunshots rang out at Florida's Marjory Stoneman Douglas High School, Jeff Foster was lecturing his AP government students about the political power of special-interest groups — including the National Rifle Association. After the mass school shooting left 17 people dead, his students created their own special-interest groups to challenge the gun lobby. For two decades, Foster has used his classroom to incubate new generations of active citizens; now, he hopes to empower an even younger cohort. Through his new book, For Which We Stand: How Our Government Works and Why It Matters, Foster aims to impress upon children ages 7 to 12 the power of civics, offering a roadmap for how young people can become change agents. Ahead of this year's presidential election, Foster spoke with The 74's Mark Keierleber about his new book and how he's working to inspire the next generation of voters.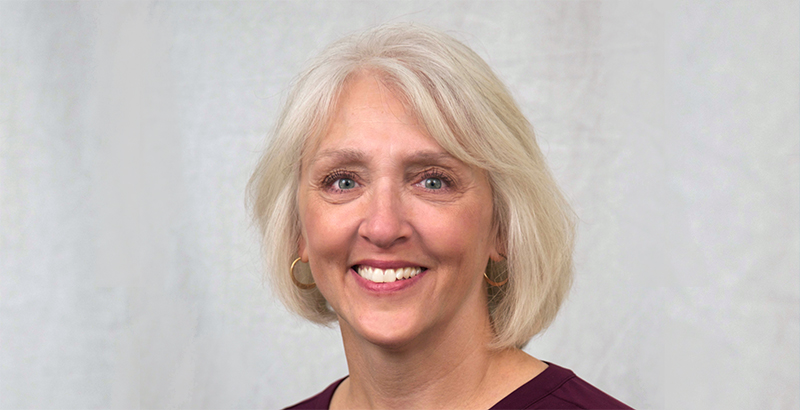 Michele Gralak: The National Student Clearinghouse Analyst Talks About Helping Schools and Districts Put Data to Work for Their Kids
College Persistence: School districts in high-income neighborhoods assume almost all their graduates will succeed in college. But often, their alumni fall short of expectations. Districts serving students in low-income neighborhoods cite their success in enrolling more students in college. But the number who actually persist to earn degrees can be dismayingly low as well. The only way for school districts to learn about actual college graduation rates for their alumni, and take steps to boost those rates, is to gather the data. And there's only one source for that data: the National Student Clearinghouse, a nonprofit located in Herndon, Virginia. In this 74 Interview, Richard Whitmire speaks with Michele Gralak, a senior business analyst for the clearinghouse who works with K-12 schools, about the data the organization collects and the various ways schools use it to help their students. Read the full interview.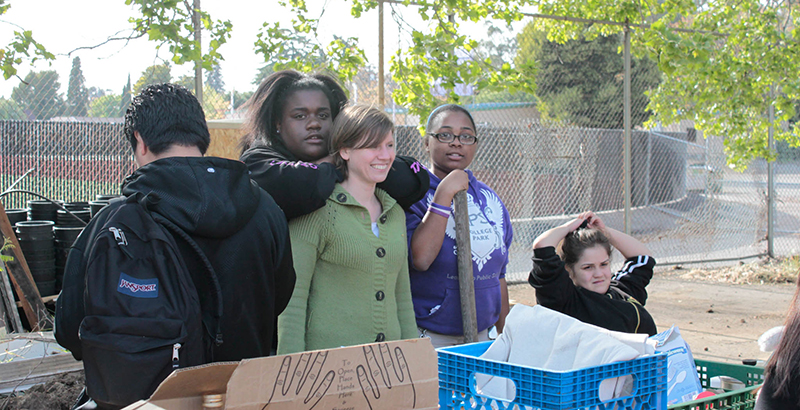 Sarah Johnson: Teaching Lab CEO Talks the Importance of One-on-One Interactions, What Not to Ask Students on the First Day of School, and Why Less Is More With Tech
Student Relationships: Before the pandemic, the nonprofit Teaching Lab ran professional development for educators around the country, helping them to implement anti-racist curricula in historically undeserved communities and to focus on forging relationships with their students. Both are still very much needed in the current climate, and Teaching Lab intends to use a recently announced $100,000 grant from the Chan Zuckerberg Initiative to move its operation online and increase its footprint. The four-year-old organization has already reached 6,000 educators and 500,000 students, and plans to train an additional 1,000 teachers in 30 districts as the ongoing coronavirus forces most K-12 systems to begin the new school year online. The 74's Zoë Kirsch talked to CEO Sarah Johnson about building relationships with students and families that teachers have never met in person, how to make the most of hybrid learning and how administrators can support teachers. "Don't ask teachers to do everything. They already do everything. As the teacher, you make your own copies. You're the secretary; you're the counselor. You're everything." Read the full interview.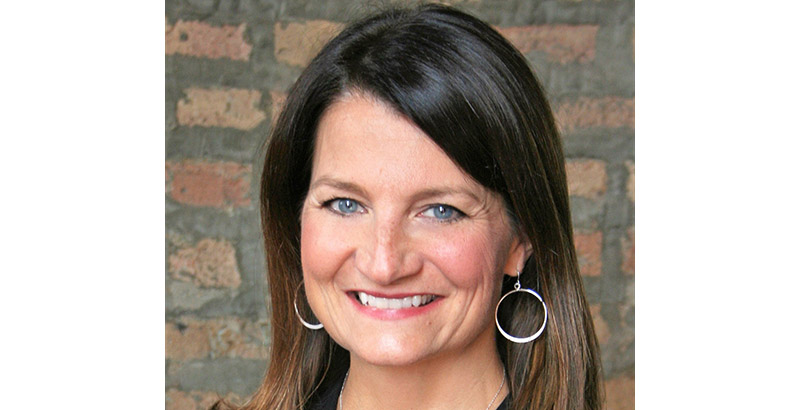 Karen Niemi: CASEL President on the Importance of Maintaining Quality in Social-Emotional Learning, Paying Attention to the Adults and Work as the Next SEL Frontier
Social-Emotional Learning: Karen Niemi heads the Collaborative for Academic, Social and Emotional Learning (CASEL), which last year marked its 25th anniversary by gathering some 1,500 researchers and practitioners from around the world to share innovations and confront challenges in the SEL field. The size and scope of the first-ever "Social and Emotional Learning Exchange" signaled how far SEL, which focuses on teaching students skills such as self-regulation, persistence, empathy, self-awareness and mindfulness, has come. 74 contributor Bekah McNeel attended the Chicago conference in late 2019 and spoke to Niemi afterward about a range of topics, including the most pressing challenge (maintaining quality as SEL demand grows), the link between social-emotional well-being and academic performance (rigorous evaluation shows it improves grades and test scores) and what the next SEL frontier will be (the workplace). Read the full interview.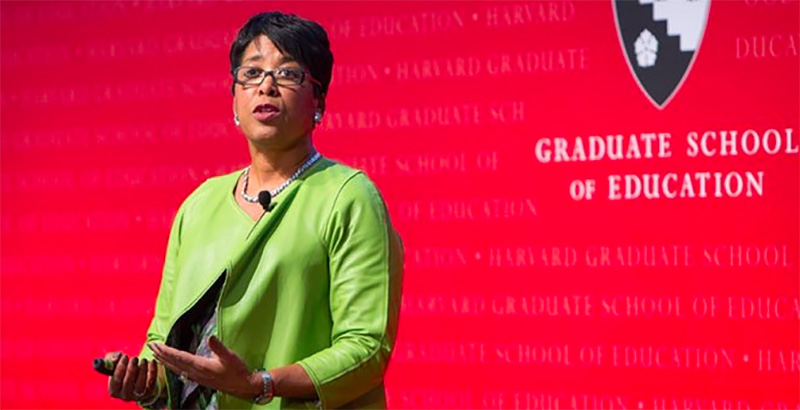 Karen Mapp: The Harvard Lecturer on the Every Student Succeeds Act, Family Engagement, and How Schools and Communities Can Partner to Help Kids Succeed
Family Engagement: The Every Student Succeeds Act created a subtle but important change when the new federal education law was passed a few years ago. It replaced the phrase "parent involvement" with "family engagement." The idea behind the shift was to engage the whole family in a child's education, making them true partners with schools in a student's learning. That's according to Karen Mapp, a senior lecturer at the Harvard Graduate School of Education, who worked as a consultant with the U.S. Department of Education in 2013 to help rethink the place of family engagement in schools. Read the full interview.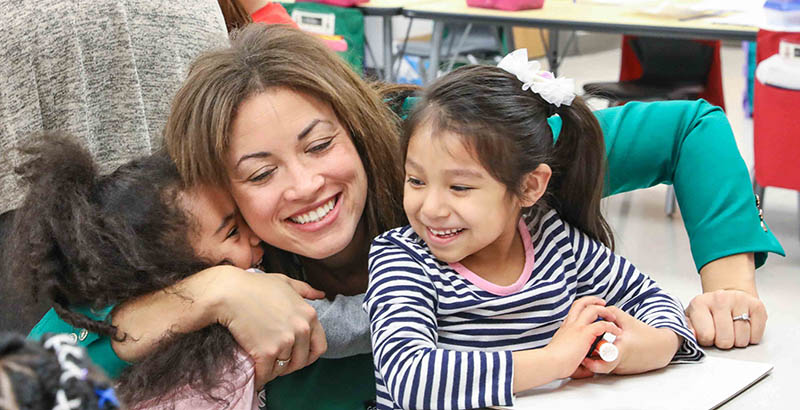 Penny Schwinn: The Tennessee Education Chief Talks About Her Radical Plan to Use Schools to Bring Social Services to Rural Areas — and Her Whole-Child Approach to Training Teachers
Whole-Child Support: Tennessee's deep-red politics have traditionally meant little appetite for the mix of services and social-emotional learning opportunities broadly described as whole-child supports. Yet, as Education Commissioner Penny Schwinn surveyed the landscape upon her appointment in 2019, she saw a level of unmet need that could not be denied. With an overwhelming number of profoundly isolated rural districts — with rising levels of addiction and few economic prospects — Tennessee has to figure out how to create rapid responses to everything from mental health crises to impassable mountain roads. And with a third of the state's teachers at or past retirement age, Schwinn has to raise an army of replacements and equip them with a whole new set of skills. In this 74 Interview, Schwinn talked with Beth Hawkins about her radical plan to use schools as a focal point for bringing social services to these remote, distressed areas — and to train teachers for free. Read the full interview.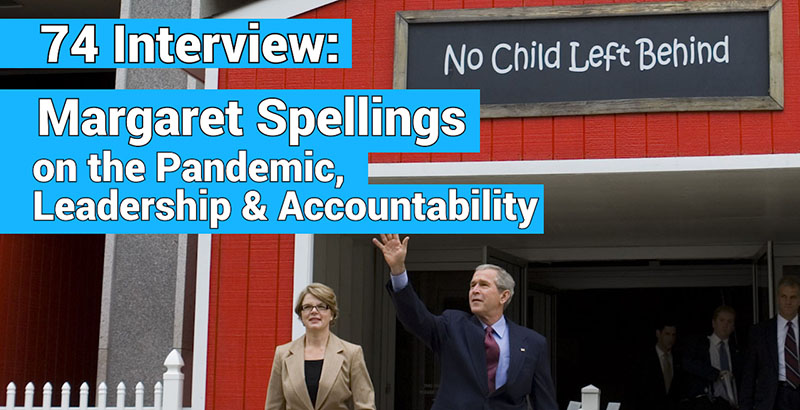 Margaret Spellings: The Former Secretary of Education Implores Federal Leaders to Unite — 'You've Got to Bring People Together Before You Can Start Solving Problems'
COVID-19: Margaret Spellings has been a senior aide at the White House, a college president and secretary of education for former President George W. Bush. She's been in the middle of crises, from 9/11 to the mass shooting at Virginia Tech and the aftermath of Hurricane Katrina. Though not a Texan by birth, Spellings is certainly one by temperament and commitment. Now leading Texas 2036, a data-driven policy effort pegged to the state's bicentennial, her work and life have been upended by coronavirus. Emmeline Zhao and Andy Rotherham talked with Spellings this past spring about coronavirus and best- and worst-case scenarios, what businesses should do to help schools, her advice for U.S. Secretary of Education Betsy DeVos and, most importantly in the Lone Star State: Should there be plans for high school football in the fall? See the full interview.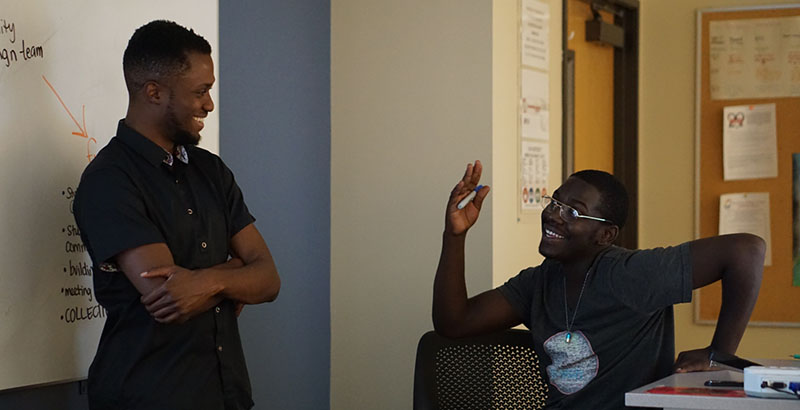 Wisdom Amouzou: Colorado Educator Talks Co-Creating a School With His Community, Teaching Students Transformative Resistance & How Love Can Help NYC Design Better Schools
School Community: For teacher and school leader Wisdom Amouzou, education is a community endeavor. Amouzou is co-founder and executive director of Empower Community School, a charter high school that opened in Aurora, Colorado, this year. In an effort to "democratize" the founder role, the school was designed by local parents, students and educators and emphasizes ethnic studies, project-based learning and community engagement. Amouzou recently talked to The 74's Laura Fay about his experiences with education in West Africa and the United States, what it was like building a school with his community and what those in New York City should be asking themselves as they embark on an ambitious school design program: "'Do you have a group of folks who are aligned, who love each other? And love each other enough to actually carry through the hard journey of sustainably lifting a school from the ground up, especially an innovative model.' In fact, there's nothing else, that's my only answer to that." Read the full interview.
Go Deeper: Get the latest interviews, commentaries and breaking news delivered straight to your inbox — sign up for The 74 Newsletter.
Get stories like these delivered straight to your inbox. Sign up for The 74 Newsletter