Of Rules & Law: Virginia's Largest School Districts Won't Adopt Gov. Youngkin's New LGBTQ Edict
The courts may end up deciding whether the governor's guidelines are legal — but they could well be a wedge issue in the upcoming elections.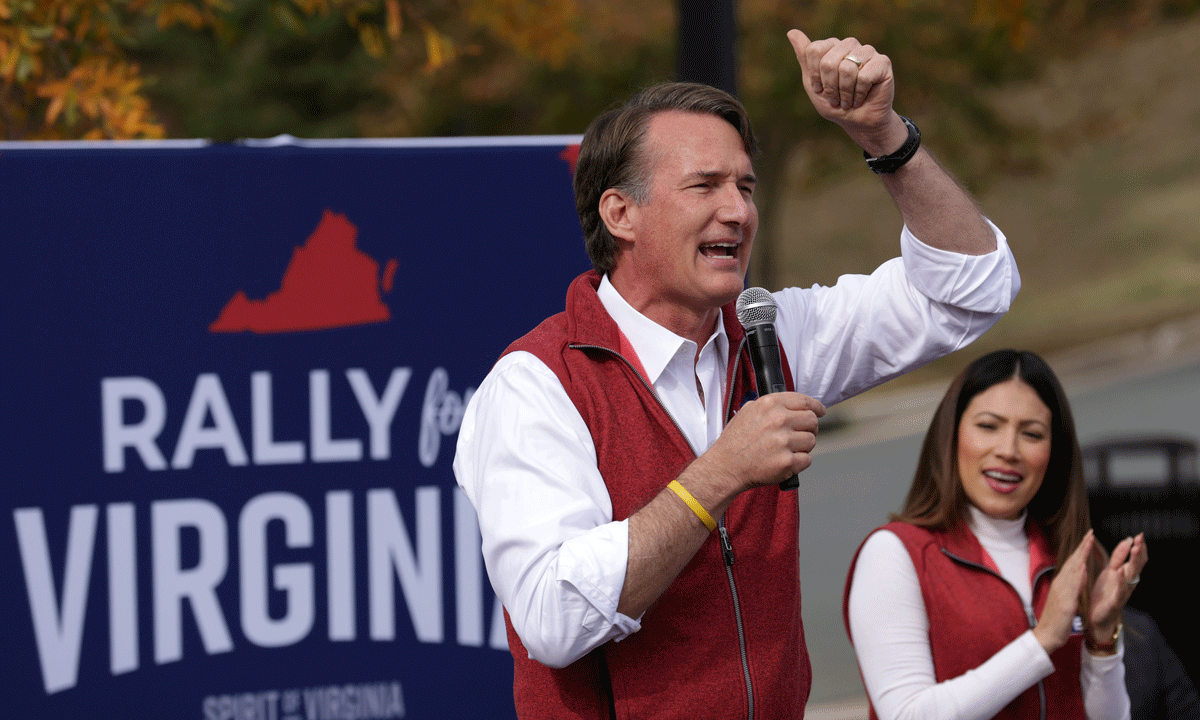 No paywall. No pop-up ads.
Updated Sept. 1
As LGBTQ students head back to school throughout Virginia, they return to a patchwork of contradictory rules dictating who may use what bathroom, play on which sports team and ask their teachers to address them by new pronouns. At issue is whether new state policies outlining the treatment of transgender students contradict state and federal law — and whether the commonwealth has the ability to enforce them.
In recent weeks, several of Virginia's largest school systems have said they will not adopt the state's new model policies, finalized in July. These require districts to use the pronouns and name a child was assigned at birth, exclude gender-nonconforming children from locker rooms and other facilities that match their identities and, critics say, risk the forced outing of transgender kids.
On Aug. 15, the state's largest school system, Fairfax County Public Schools, joined the Arlington and Prince William County districts in announcing that, after reviewing the guidelines, they would keep their existing rules, which leaders believe comply with the law. Last year, when a draft of the policies was first released, leaders in Falls Church, Alexandria and Richmond said they didn't plan to adopt them.
Roanoke County Public Schools and a number of rural districts have begun using the new policies, titled "Ensuring Privacy, Dignity and Respect for all Students and Parents in Virginia's Public Schools." The new rules assert that "All students have the right to attend school in an environment free from discrimination, harassment or bullying," but also say numerous LGBTQ protections must be reversed.
Many districts have yet to take up the question.
The disputes could end up in court, but attorneys tracking the seesawing debates predict the issue will become a central fixture of this fall's campaign season. Every seat in the Virginia General Assembly is up for election in November, as are numerous school boards. Republican Gov. Glenn Youngkin — who cruised to office in 2021 on a "parents' rights" platform — has suggested that board members who don't adopt the guidelines may not be "best representing families in Virginia."
Civil rights advocates agree with district leaders who say the new policies contradict a number of state and federal anti-discrimination laws. They don't believe the state Department of Education has the authority to enforce their adoption.
On Aug. 23, the commonwealth's attorney general issued an advisory opinion saying the guidelines comply with state and federal law. The document is silent on what action state officials may take against districts that disagree. The day before, Youngkin held a press conference where he criticized the districts. Asked what the state could do to enforce the guidelines, he said, "I just ask you to stand by. Just stay by."
Youngkin spokeswoman Macaulay Porter told The 74, "The law requires the Virginia Department of Education to provide model policies and requires school boards to adopt policies consistent with those provided by the department. Virginia school divisions that reject and diverge from … model policy guidance are perpetuating a false notion that they know what's better for a child than a child's parent. School boards are expected to follow the law."
Contacted by The 74, Victoria LaCivita, spokeswoman for Attorney General Jason Miyares, said school boards "are now on notice of their legal obligation to adopt policies consistent with the model policies.
"If a school board voted not to adopt policies consistent with the model policies, parents can sue under current state law," she added. "Our office will be monitoring all litigation and will be prepared to participate where doing so is appropriate and parents have valid claims."
But Carl Tobias, Williams Chair at the University of Richmond School of Law, says it's "in dispute" whether the policies — which he called "diametrically opposed" to the thrust of the underlying legislation — conform to the law or whether the state has the authority to act if they are not adopted.
The purpose of the underlying 2020 statute is clear, he says: "The intent was to do whatever was necessary and evidence-based to help transgender students. That's what the legislature wanted to do."
The question now, he adds, is "who's going to sue whom."
The state Department of Education did not reply to questions from The 74 about whether it will take action against the districts.
So far, districts are reacting to the new guidance much in the way they did to policies issued two years ago by Youngkin's Democratic predecessor regarding the same law, with many small or rural districts sidestepping the question or adopting less detailed policies written by the Virginia School Board Association. State officials took no action against school leaders who did not adopt the first set of policies.
Fairfax is following the law, says Wyatt Rolla, senior transgender rights attorney at the ACLU of Virginia: "It's really important for folks to understand that … this guidance document, these model policies, cannot and does not change the obligations of school boards under existing federal and state law. In Virginia, as well as under federal law, students are protected from discrimination on the basis of gender identity."
Adopting the policies could leave districts open to lawsuits and federal civil rights complaints from families, Rolla says: "They really threw school districts under the bus." 
There are 1.2 million public school students in Virginia. Researchers estimate some 4,000 are transgender. Their rights have been considered settled law since 2020, when the U.S. Fourth Circuit Court of Appeals upheld the right of a transgender former Gloucester County student named Gavin Grimm to use the boys' bathroom.
In March 2020, in the runup to that court decision and with a Democratic trifecta in power, assembly members passed a law spelling out a series of protections for LGBTQ students, which are also detailed in the Virginia Human Rights Act. The new law specified that "the Department of Education shall develop and make available to each school board model policies concerning the treatment of transgender students in public elementary and secondary schools."
The legislation spelled out a number of protections and required the policies to be based on "evidence-based best practices." Then-Gov. Ralph Northam's education department issued the first set of guidelines in 2021.
Simultaneously, Virginia had become the epicenter of protests over LGBTQ rights, curriculum involving race and history, book bans and other culture war issues. Campaigning on a platform that promised to ensure parents' right to shield their children from these topics, Youngkin was elected governor.
A year ago, he released new proposed guidelines, triggering a wave of student protests and drawing more than 70,000 public comments, the vast majority in opposition, says Tobias. The final rules were published in July.
"The 2021 Model Policies promoted a specific viewpoint aimed at achieving cultural and social transformation in schools," the new document explains. "The 2021 Model Policies also disregarded the rights of parents and ignored other legal and constitutional principles that significantly impact how schools educate students, including transgender students."
Rolla is critical of the way Youngkins's policies are organized, noting that they are likely difficult for the public — including many school board members — to understand. For example, one paragraph states, "Students shall use bathrooms that correspond to his or her sex, except to the extent that federal law otherwise requires. See Grimm v. Gloucester County School Board, 972 F.3d 586 (4th Cir. 2020)."
But far from outlining exceptions, the Grimm decision is unequivocal: Students may use the restroom that matches their gender identity. The ruling goes to pains to reject the legal validity of trying to distinguish between biological sex and gender identity in matters involving sex-segregated school facilities.
An expert in education and the constitution, Bob Jarvis is a professor at Nova Southeastern University College of Law in Florida, where Gov. Ron DeSantis has directed a number of state agencies and education officials to adopt policies and rules that critics say often are not backed by law. District leaders, Jarvis says, need help from the legal system.
"I'm surprised that no school board or school district has gone to court and said, 'So, judge, we have a problem. On the one hand, we're looking at Grimm; on the other hand, we're looking at these new standards. And we are not sure if we can legally follow the new standards.' "
A district refusing to comply with the guidelines — even if confident they are illegal — is taking a risk, says Jarvis. "Because you don't have the power to decide that the new guidelines are contrary to state law, you have to go to court," he says. "It would be very interesting if the school boards' attorneys would tell you their calculations.
"I assume that they would say, 'Because we are between this rock and a hard place. We think, with Grimm and the way the state law is written, that we are on safer ground … if we follow this course than if we follow the other course.' "
Also at issue: The model policies go beyond existing legal precedents. Even if parents sign off on a student's request to change their name or pronouns, the rules say staff and classmates are not required to recognize them if they believe doing so violates their religious or ideological freedoms.
"Practices such as compelling others to use preferred pronouns is premised on the ideological belief that gender is a matter of personal choice or subjective experience, not sex," the model policies state. "Many Virginians reject this belief."
Courts are sometimes quick to decide administrative disputes, say Jarvis and Rolla. But even if legal challenges are filed, it's unlikely they would prevent the districts' refusal to implement the policies from becoming a political wedge. Every lawmaker in the commonwealth and lots of school board seats are up for election in a few weeks in a state that has drawn national attention galvanizing voters by challenging schools' LGBTQ policies.
"It drives the base on both sides," says Jarvis. "On the Republican side, it drives the base by showing that we really have to get tough, because look at what these crazy districts are doing, thumbing their nose at the guidance. And on the Democratic side, of course, it drives the base because it shows if you don't turn out, there will be more of this to come."
Disclosure: Andy Rotherham is a member of the Virginia Board of Education and sits on The 74's board of directors. He played no role in the reporting or editing of this story.
Get stories like these delivered straight to your inbox. Sign up for The 74 Newsletter