Oakland's Teacher Strike Is Settled, But These Union Tactics Aren't Going Away
Unfair labor practice strikes, common-good bargaining and school board leverage will become more common wherever state law allows them to be employed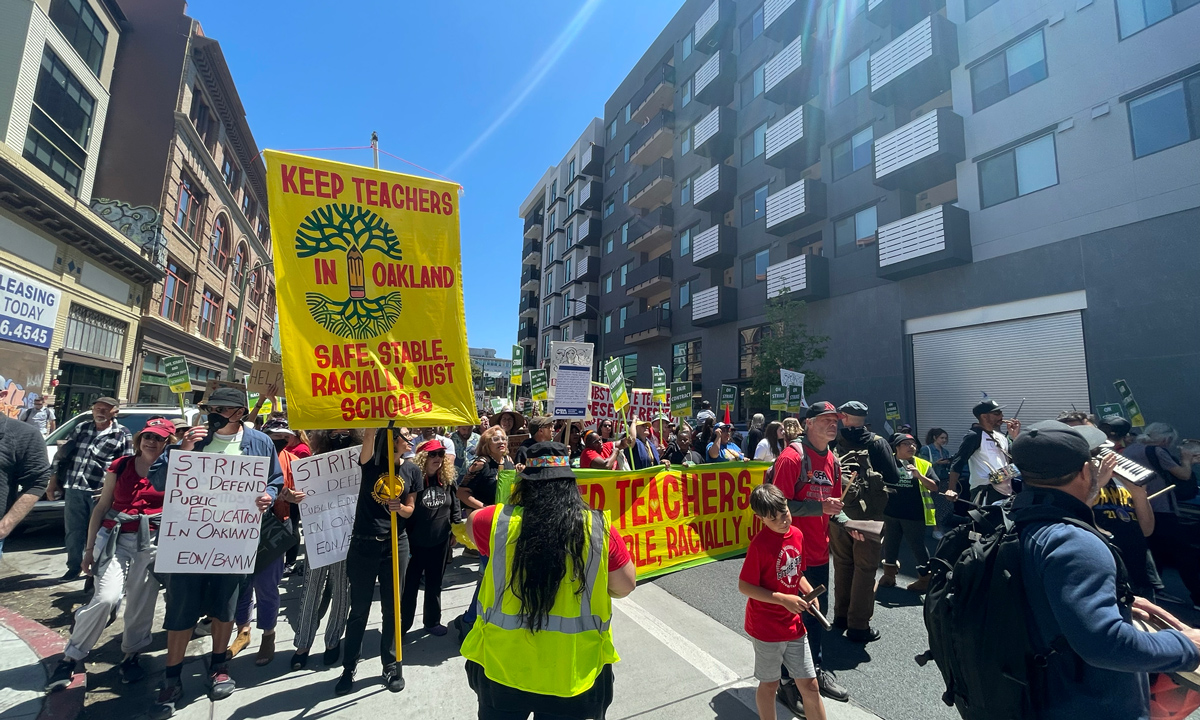 Support The 74's year-end campaign. Make a tax-exempt donation now.
The Oakland Unified School District and Oakland Education Association reached a tentative agreement late Sunday, ending a strike that saw students miss eight days of classroom instruction.
The settlement provides all teachers with a 10% salary increase retroactive to Nov. 1, 2022, plus a one-time payment of $5,000.
This was a strike with unusual features, but they will become increasingly common as teachers unions continue to win generous compensation packages and greater influence over district operations. School systems will be forced to deal with these tactics, not just in California but wherever state law allows them to be employed.
Unfair labor practice strikes
A standard teacher strike over wages and working conditions — otherwise known as an economic strike — requires a long administrative process. In California, this means formally declaring an impasse in negotiations, which is followed by analysis and a report by an independent fact-finder.
But there's a loophole. If the employer commits an unfair labor practice, such as bargaining in bad faith, the union can legally walk out at any time.
The problem for school districts, and parents who want their kids in school, is that determining whether the union's complaint has any merit cannot be made instantaneously. It may take months, or even years, before the state labor board can hear the case and render a ruling.
If there is no unfair labor practice, then the strike is illegal and penalties can be levied. But by then, it's too late to matter, and the union has probably already won a settlement that ensures it will come out ahead financially.
So while the strike is ostensibly called to bring an end to specific alleged unfair labor practices by the district, its real purpose is to jump-start contract negotiations and bring about an advantageous settlement.
Union-friendly publications have articles on how to precipitate an unfair labor practice by an employer and so legitimize a strike. Among the suggested methods are to "pepper the employer with detailed information requests" or to cite employers for "refusing to bargain at reasonable times and locations."
Since 2019, school employees unions have conducted two unfair labor practice strikes in Sacramento, two in Los Angeles and now, two in Oakland.
Bargaining for the common good
This term is used to describe union demands for contract provisions that are geared to benefit a wider community than just teachers and school employees. These include restorative justice, ventilation, affordable housing and even climate change. The Oakland union sought contract language regarding housing vouchers and use of vacant district properties for housing students' families, as well as union input on facilities upkeep. 
Asking for such things allows the union to position itself as altruistic, seeking more than just better compensation for its members. It also increases the scope of its influence over district operations. Many of these items may, in fact, be beneficial.
But the union is the legal representative for teachers, not for anyone else. The public at large did not elect the Oakland Education Association to decide what was "good" to bargain for. Nor is the union accountable for the consequences that might arise from its demands. The school board is supposed to represent the public and choose between competing desires and needs within an available budget — which brings us to the most disturbing aspect of the Oakland strike and its settlement.
School board leverage
There has been a lot of media attention over the past couple of years about the politicization of school boards. Special-interest groups' clout in politics is a problem as old as the Republic, but the situation in Oakland went well beyond the usual arguments over who funded whose campaign.
"The school board, which currently has six members, has been split on the issue of OEA's common-good demands," reported The Oaklandside during the strike. "Three members, Jennifer Brouhard, VanCedric Williams and Valarie Bachelor, have joined the union in urging the district's bargaining team to discuss the common good demands with OEA, while other directors have said the demands should be left to the school board to discuss and implement, or left to OUSD to partner with other organizations on."
It's true that all three of the named board members received union campaign contributions, but that's just a standard public policy issue. These three have unique relationships with teachers unions.
Bachelor is employed as a lead organizer for the California Federation of Teachers.
Brouhard is the former secretary of the Oakland Education Association and sat on its executive board at least through the 2021 school year.
Williams was elected to the California Teachers Association board of directors in October, after serving as treasurer of United Educators San Francisco and a member of the National Education Association board of directors.
The union went on an unfair labor practice strike despite having three teacher union activists on the school board. It claimed to be bargaining for the common good even though the common people were woefully underrepresented in negotiations. Lakisha Young, founder of the parent advocacy group The Oakland REACH, wrote in a recent newsletter that her organization "has organized and mobilized hundreds of district parents and none of us have been a part of the process."
She added, "OEA is replaying tactics Los Angeles Unified School District (LAUSD) parents and students just experienced: say on repeat that the district is bargaining in 'bad faith,' avoid fact-finding, mediation, impasse and then strike!"
Support The 74's year-end campaign. Make a tax-exempt donation now.