NYSUT's Secretary-Treasurer, Who Teaches Full Time and Manages Union Finances on Weekends, Resigns from Management Post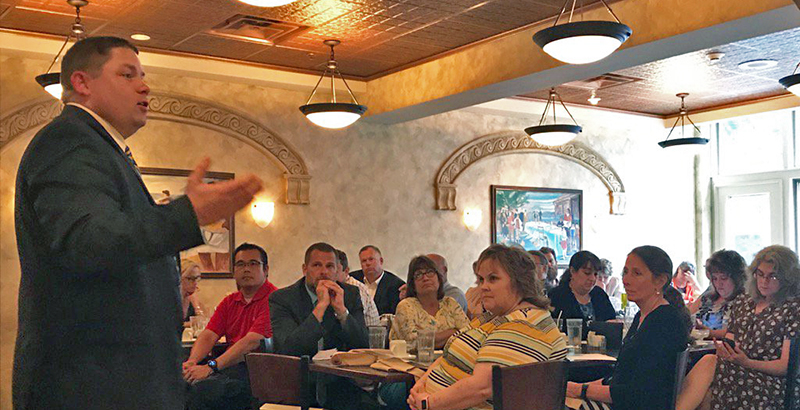 Mike Antonucci's Union Report appears Wednesdays; see the full archive
A top official in New York state's teachers union who also taught full time in local schools resigned his management position, effective immediately, at the union's board of directors meeting on Saturday.
Teachers who serve as union officers are typically granted a leave from their school positions because of the hours required to teach effectively.
Martin Messner had served as secretary-treasurer for New York State United Teachers since April 2014, but his leave of absence from the Schoharie Central School District was not renewed this year. Messner returned to teaching health and physical education full time in September while conducting his union duties on nights and weekends with a reduced salary from NYSUT, a move that generated buzz on teacher blogs.
Messner tweeted this statement:
"Yesterday the NYSUT (Board of Directors) and AFT offered me a different way to serve our members and I accepted. As of today I'm resigning as the NYSUT Secretary-Treasurer. I will be helping out with the transition to prevent any gaps while we restructure."
There was no immediate word on what Messner's new position is or whether he will continue to work for NYSUT or for the American Federation of Teachers. His severance package, however, is generous: 3.5 months of salary, a two-year pension credit, and $25,000 for a 529 benefit plan or a tax-deferred annuity. He will also be paid $5,000 a month as a consultant by the AFT and NYSUT from March through August in 2018.
"I actually made the decision to return to the classroom [absent change in my leave situation] back in late August," Messner told Union Report. "If my leave had been extended I wouldn't have left [the NYSUT position]. My intent in working crazy hours was to finish up some projects that I was working on and then leave while providing an adequate transition. At the board meeting I was offered a new role that would address my concerns about transition and allow me to see my kids at night. It was appealing to me and I took it."
Messner added that he was "very proud of what we accomplished, and I leave NYSUT's operational budget in a strong position. I'm hopeful that the next secretary-treasurer can build on what I did."
The NYSUT board of directors has the authority to fill the secretary-treasurer vacancy until the union's next representative assembly, in April 2018. However, it appears Messner's duties will be divided among the other executive officers, with first vice president J. Philippe Abraham handling much of the load.
Support The 74's year-end campaign. Make a tax-exempt donation now.