NYC Teachers Union Sows Confusion as It Delivers Raises, Double Dips on Dues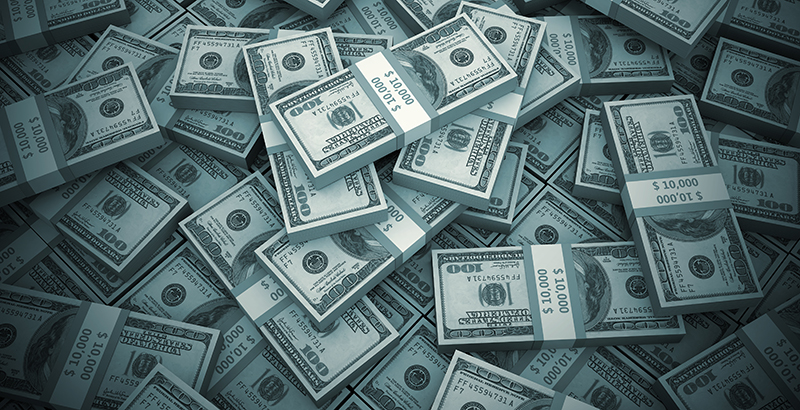 Updated
It won't buy a river view, but many New York City teachers and other school staff will receive a hefty paycheck this week, part of the back wages they're owed for two years when they worked without a contract while other municipal workers enjoyed raises.
They won't entirely be made whole, however, because their union, the United Federation of Teachers, deducts dues from retroactive pay even though it took out their annual dues for these same years at the time — a practice that dissenting members in the UFT described as double-dipping.
"It looked like we got double-duesed," said Mindy Rosier, a special education teacher in Harlem, after an earlier retroactive payment in October 2015. At that time, Rosier's normal dues deduction per paycheck was $54.17; that amount jumped to $91.58 when she received her retro pay.
"It's a big, huge contract; there should be a reminder that, by the way … this is what we're going to do,' " said Rosier, who was part of a slate that unsuccessfully challenged UFT's leadership in the 2016 election. "I think they depend on [members being unaware] because I think if people remember, they're afraid people will make a stink."
UFT dues are "flat," meaning all teachers are charged the same amount rather than a percentage of their salary. (Members with different job titles, like guidance counselors or secretaries, pay different amounts than teachers but the same as others who share their title.) A small but active population of teacher-activist bloggers has complained for years that flat rates impose a disproportionate burden on younger, lower-earning peers, but deductions on back pay appear to be infrequently discussed and poorly understood.
One theme among the online commentariat at the time of the October 2015 retroactive payment was the UFT's purported need to hoard funds in advance of an expected U.S. Supreme Court decision abolishing mandatory fees — a judicial possibility that is today considerably closer at hand and weighing on unions nationwide.
(The 74: Analysis – Janus Ruling Could Force Unions to Compete for Members)
"Perhaps part of the deal was that since UFT is taking a bigger slice of dues with these retro payments, they wanted to secure some future dues-paying in case many teachers bail if we become a Right to Work state. Slick," said an anonymous but representative commenter on an NYC teacher blog at the time.
When asked by a teacher earlier this year if additional dues would be deducted from this October's retroactive pay, a UFT phone representative identified a similar but more local reason for the UFT to bolster its reserves.
"I can't say yes or no because it could be yes, it could be yes, it could be no, because it all depends on what the executives feel, you know," he said. "They don't want to go to the hassle and just say no and they might say yes, well, they need the money because a lot of stuff politically — we need to send money for whatever we need to, because we got to get ready for the next negotiation, right?"
This week's additional wage boost  — a 2 percent increase on 2009 and 2010 salaries — was negotiated as part of the UFT's 2014 collective bargaining agreement. Mayor Bill de Blasio agreed to compensate UFT members for the difference between their actual earnings since 2009, when the last contract expired, and what they would have earned if given the same increases that went to members of most city unions.
The mayor's spokeswoman, Freddi Goldstein, said this week, "This is between the union leadership and its members," declining to comment further. The Department of Education did not respond to several requests for comment.
The payout will be the second of five spaced between 2015 and 2020 because the city couldn't afford to pay the entire amount at once. Educators will receive between several hundred and several thousand dollars; exact figures for this round are unclear because the Department of Education's payroll portal, which allows employees to view paychecks a few days early, was taken down Tuesday after displaying "incorrect deduction information" with regard to UFT charges, the union said. The deductions "appeared to have doubled. This information is incorrect," according to the union.
Pay stubs from several teachers for the October 2015 retro payment show union deductions going up by as much as $37.27, a nearly 70 percent increase. During that period, the city's payroll portal crashed — apparently from so much activity.
Finding correct information this year may not have been easy either. Multiple calls to dedicated UFT hotlines yielded confused and apparently incorrect explanations, according to a teacher who is also the UFT chapter leader at a school.
"Union dues has nothing to do with the retro payment," one specialist told the teacher. She wrongly explained that dues are proportional to earnings. "Obviously, since you are only being paid part [of what you would have earned] in 2009 and 2011, not enough dues was taken out of your check at that time, do you follow me?" she said. "So when I'm looking here, I can see this is pro-rated of what you were owed, now what you owe, what you should have been paid in union dues 2009 to 2011. Did you understand my mumbo jumbo?"
The UFT says its approach is commonsensical. "Retro and lump sum payments are in effect wages," spokesman Dick Riley said in a statement this week. "As such, the UFT has traditionally deducted dues from lump sum/retro payments, just as taxes, Social Security, and benefits are deducted."
Riley said the annual flat-rate structure results in dues collections that are "slightly below the maximum possible" using the union's formula for calculating deductions. "For computational simplicity, the UFT determined to collect dues on the lump sum payments on the basis of the approved .85 rate rather than the flat rate."
"Computational simplicity" does not spring to mind when contemplating the union dues calculations; the annual fee is a product of internal decisions dating back to 1982 that tie it to the UFT's second-highest level in the salary structure, know as 8B plus L20, the latter number indicating 20 years of service. The "maximum possible" rate would instead use the highest salary (8B plus L22) as the basis for dues. Currently, a new teacher with only a bachelor's degree earns $45,530 and pays dues based on a percentage of $95,202, the maximum 20-year salary. Teachers with greater experience and education, whose salaries may exceed $95,202, also pay dues on that amount.
A small part of dues, which as of Wednesday were deducted in semi-monthly payments of $56.65, or $1,359.60 annually, goes to the UFT's state and national affiliates.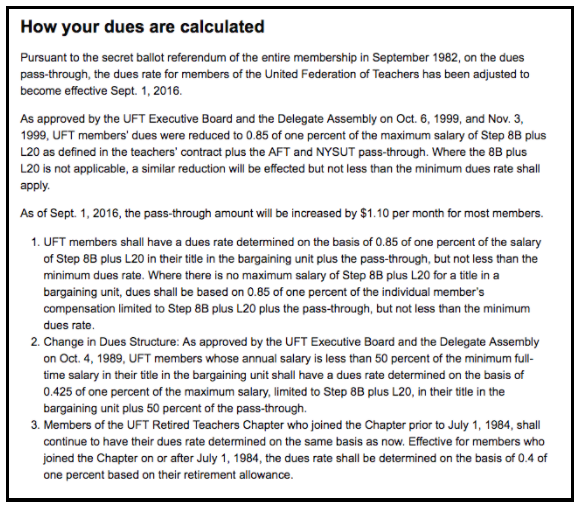 It's not clear why the Department of Education calculates retroactive dues based on a percentage of how much each member receives, rather than using the year-to-year flat rate. What is certain, according to current and former chapter chairs, is that apart from the small number who are politically engaged in union issues, teachers are largely unconcerned with the added-on dues.
"What they're losing is an almost unnoticeable thing for individual teachers," said Evan Stone, co-CEO of the teacher advocacy group Educators for Excellence. "I think the average teacher would say, 'The union got me this money. It makes sense that I would pay the same dues that I paid on the rest.' "
The UFT did not respond to requests for the total amount of dues deducted from this week's retroactive payment or from the 2015 payment. It's also not clear what the union will take in from additional dues charged during the retroactive payments in 2018, 2019 and 2020 (there was no retroactive increase given in 2016). There are 120,000 active UFT members, "most" of whom, the union said, qualified for retroactive raises.
Three union hotline specialists assured a teacher in recent months that any news about dues relating to the October 2017 payment would be in New York Teacher, the UFT's journal, which did not appear to happen. A seven-paragraph announcement before the 2015 payment said, "All payroll contributions and deductions will be updated."
With neither chapter leaders nor UFT service reps able to explain dues obligations, at least one veteran union-watcher says the teachers union makes it too difficult to understand many of its money-related decisions.
"This is an organization that is super close to the mayor and super powerful in New York City politics," said Bill Hammond, of the right-leaning Empire Center for Public Policy. "One of the reasons it's powerful is that it has so much money to spend. They're doing this kind of mysterious thing with dues when arguably they have no right to back dues at all. Why would they feel the need to do something like this?"
Reporter Mareesa Nicosia contributed to this report.
Disclosure: David Cantor served as press secretary for the New York City Department of Education from 2005 to 2010.
Support The 74's year-end campaign. Make a tax-exempt donation now.