A NYC Teacher's Plea: Hope and Stability Turn a School Into a Community. Please, Mr. Mayor, Let Our Charter Middle School Open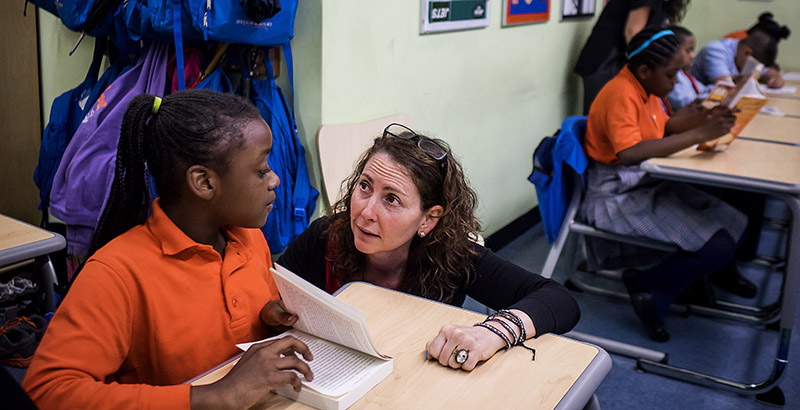 Two days before signing a lease on a new apartment in Brooklyn, I heard that the administration of New York City Mayor Bill de Blasio was blocking the opening of Success Academy Lafayette Middle School. I had been planning to move from my home in Harlem to Brooklyn to teach English at this school.
The news shook me, but I signed the lease anyway. I am moving forward as if SA Lafayette is assuredly opening because I'm committed to providing its students with hope and stability — two essential ingredients for educating children in underserved communities.
As difficult as this uncertainty is for me, I can only imagine how families must be reeling from this news. With just a few weeks to go until the start of school, and with many other middle school options closed off months ago, it must be torture to live in limbo. What if they have children in different schools, or in day care? How can they plan to juggle those often competing schedules? Are the parents worried about asking for flexibility at their jobs? All the adults who touch a child's life also need stability.
When I heard that SA Lafayette might not open, I checked in with the families of my future students. I reminded them about their summer homework, asked them to sign up for Google Classroom, and told their parents to proceed as if the school would be opening. At this point, I said, we're moving forward, and they should be getting some of their homework done. I hope I'm right.
My new families come from several Success Academy elementary schools, but most are from the one in Cobble Hill, Brooklyn. They were planning to move to our new middle school, occupying exactly the same classroom space that Success Academy has used for an elementary school for the past two years. The city initially signed off on the conversion, but because of issues with another school in the building that was supposed to close but now isn't, the city said in June that the conversion requires an Educational Impact Statement. These documents are supposed to be approved six months in advance.
Sadly, this is not the first time the de Blasio administration has disrupted the lives of our students, which makes the situation even more heartbreaking. The city promised these families a permanent middle school space for their kids four years ago. It's no wonder they're now demanding a meeting with Schools Chancellor Richard Carranza.
The chancellor could use his emergency powers to temporarily approve SA Lafayette — after all, the building has 900 empty seats — but he has refused to do so. The administration is grossly undervaluing how important stability and continuity are for educating children and enabling them to reach their full potential.
When I was first offered a position at SA Lafayette, I was excited to be a founding teacher. Later, I learned that the school's student body was diverse both racially and economically, and that was exciting, too. I knew this school would be a great learning community. My dream was to loop with my students — that is, to stay with them as their teacher as they progress from fifth through eighth grade. I've seen this arrangement create powerful connections between teachers and students and build strong bonds with families.
As a middle school teacher this year (my first with Success), I deliberately created consistency for my students. From the order within each classroom to the time that food is served to the faces that greet them every morning, there are routines and expectations. Success Academy scholars realize the value of these practices and know that they help them learn. The teachers and school leaders make it our own "Hippocratic oath" to provide our scholars with a stable environment when they step across our threshold, no matter what happens between the time they leave school and when they return the next day.
All children deserve stability; this is the slow construction of the brick and mortar of a child's future life. The de Blasio administration could contribute to this foundation. The city could allow Success Academy to convert the space it has been using for the past two years as elementary school classrooms into rooms for middle schoolers. Not one square inch of additional space is needed, just a simple declaration from Carranza saying the paperwork can wait. The chancellor's office has used its emergency declaration powers 16 times in the past five years, including once in siting a charter school.
Politics should not deprive children of the hope and stability they need to thrive. School is a second home for kids; de Blasio should give our families the certainty they need to plan and order their lives from one year to the next. Give us a school home.
India Knight is a middle school English teacher at Success Academy Charter Schools in New York City.
Get stories like these delivered straight to your inbox. Sign up for The 74 Newsletter