NYC Charter School Raises Teacher Starting Salary to $140,000
How a multi-campus K-8 school can afford a $15K boost for each teacher starting next year & what the model means for teacher compensation everywhere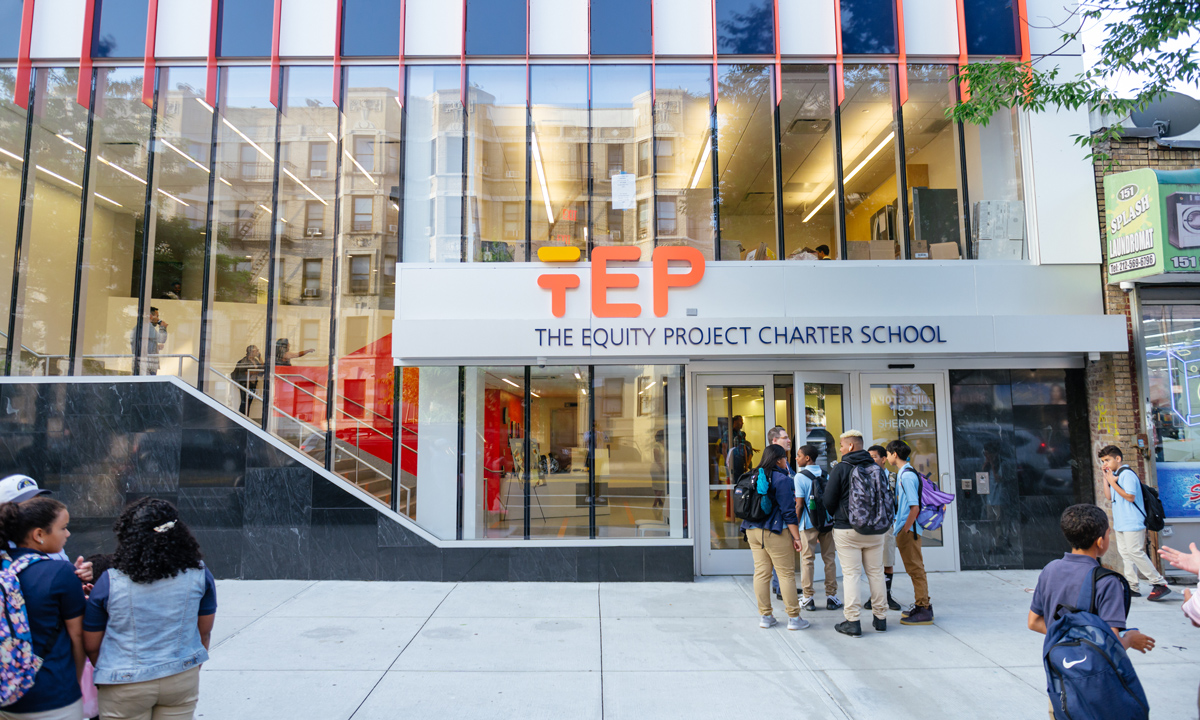 Support The 74's year-end campaign. Make a tax-exempt donation now.
A New York City charter school's starting pay for teachers will be $140,000 in the fall, more than double the national average.
The salary boost for The Equity Project's 90 teachers was announced as legislative attempts to establish a national $60,000 floor continue. In New York City, the district's starting pay ranges from about $57-87,500.
Compared to wealthy suburban New York districts where six figure salaries are more common TEP's salary nearly doubles starting pay for teachers with master's degrees. It rivals one of the highest in California, found in the ultra wealthy Silicon Valley – where Mountain View Los Altos teachers' starting pay is about $100,000. New teachers with master's in Westchester County's Scarsdale district earn $71,306. On Long Island, Syosset Central Schools pay new teachers with master's $78,002.
"Once it initially hit we were jumping for joy — super excited, very grateful," said Lynette Cray, an elementary physical education teacher at The Equity Project.
"And then we got right back into the thick of things," Cray said. "We don't take it for granted. We're still just trying to be the best educators we can be and that is honestly just icing on the cake for a lot of us."
Since making headlines in 2009 for offering all teachers $125,000, TEP had not adjusted salaries in about 15 years. At the same time, average monthly rent in Manhattan, where 1,080 students are served at three Washington Heights campuses, jumped to $5,000 last year.
Simultaneously, students' academic and mental health needs mounted throughout the pandemic while the climate around teaching and education became increasingly negative.
"There couldn't be a more appropriate time for us to re-express our commitment to the impact of great teachers," head of school Casey Ash said. "Now more than ever, students at TEP, students everywhere need the very best, highest quality, most compassionate, most committed educators working with them."
Though the school does receive philanthropic and independent dollars, which last year amounted to 0.7% of their annual income, teachers' salaries and all operational costs are paid with public funding.
To afford the higher-than-average pay, TEP minimizes central expenses and hires fewer administrators than many other schools, with 34 full time.
"I might ask the question, how other schools cannot afford to do this? Because we are able to do so without any external funding," Ash said.
Last school year, 49% of TEP's public funding went toward educator costs. Philanthropic funds were used for its alumni program and middle school facility.
With high compensation comes high expectations. Each teacher must take on a dual role to fill in gaps; are called to substitute teach for colleagues; and serve students longer than most other schools, until 4pm for middle schoolers and 3:45 for early childhood grades.
In addition to helping children develop motor and social skills, Cray serves as social emotional learning coordinator. Outside of teaching, planning for her workshops takes at least three hours weekly.
But for others whose dual role is family engagement or special education coordinators, the responsibilities, time and care required can increase greatly.
Still, TEP has maintained a retention rate around national averages, 86% for the 2021-22 school year.
Outside of financial compensation, the school offers unique benefits for teachers: a sabbatical year for those who've taught at least five years; more, brief vacations via a trimester system.
Ash credits the schedule as a key contributor to a sense of work-life balance and reducing summer slide or academic loss.
"[The compensation] just opens up more possibilities for us to do the things that we need to do for ourselves to sustain being a teacher," Cray told The 74, like taking care of their mental health or supporting family members.
Raising teacher quality, pay and well-being have been key goals for advocates pushing for better education for low-income and underserved students.
TEP's students are nearly all Black or Latino and live in poverty. Nationally, they are more likely to be taught by early-career or inexperienced teachers, including those with provisional or temporary certification, than their peers.
But at TEP, most educators have at least five to seven years of experience, according to elementary school director Joelle Fenton. They do not hire early career educators.
Local and statewide efforts to raise educator pay and attract higher quality educators for underserved students are underway.
Maryland is proposing a statewide $60,000 base pay as a part of their Blueprint plan. Attempts in California have tried and failed, with unions railing against "differentiated pay" to address the unequal distribution of teachers. Houston Independent School District began offering a minimum $61,500 this school year.
While boosting salary is not a silver bullet, research suggests it can have a huge impact on student achievement, decreasing opportunity gaps that fall along racial lines.
Bonuses of just $10,000, designed to attract and retain experienced educators to teach in low-income Texas schools, brought average test score growth in some of the lowest performing schools close to district averages, according to a National Bureau of Economic Research working paper released this spring.
When bonuses stopped, some teachers left and academic growth declined.
The average bonus for TEP teachers last school year was $18,000. Latest New York state exams reveal that their fifth through eighth grade students had 37% more growth in math than their broader New York City peers, and 13% more in English language arts.
The increased compensation has also been life-changing for teachers and their families. Cray remembers literally jumping out of her seat after hearing the news in a staff meeting before she and many others immediately called their partners.
Having gone through a four-year fertility journey and taken time off for maternity leave, the raise means she can now start contributing to goals that felt out of reach.
"We can put it towards a home and start planning that next phase of our lives," Cray said. "It's not the main reason I'm here but it helps me to feel validated in what I'm doing and also helps me have a livable wage to help take care of my family."
Support The 74's year-end campaign. Make a tax-exempt donation now.