Not-Back-To-School Time For Homeschoolers: As Support Systems Strengthen, More Families Embrace New Approach to Education
Though homeschooling numbers dipped slightly from the pandemic's peak, more than 3.5 million kids are still learning outside traditional classrooms.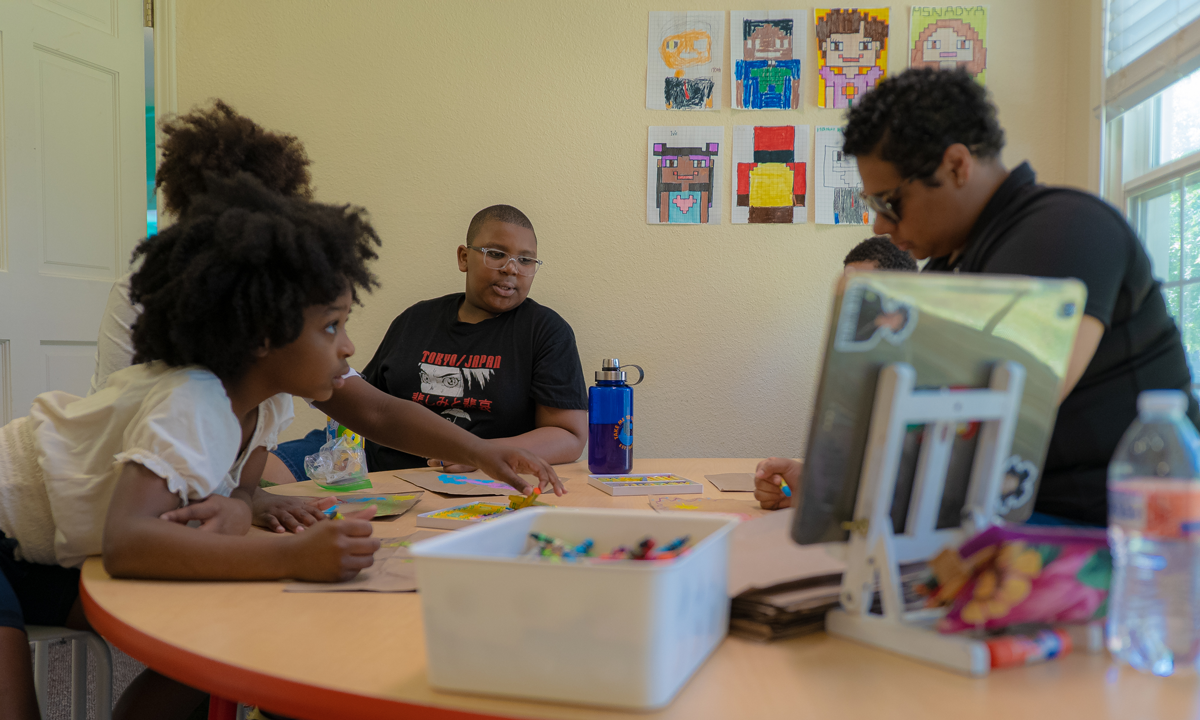 Support The 74's year-end campaign. Make a tax-exempt donation now.
It's back-to-school time across America, but millions of families have stepped away from a traditional classroom. Instead, they have chosen to stick with homeschooling, an option that grew in popularity during COVID school closures and has remained above pre-pandemic levels ever since. 
"COVID put things under a microscope," said Amber Okolo-Ebube, a Texas homeschooling mother. "Parents saw how far behind their children actually were and said I can do this better." Okolo-Ebube has been homeschooling her children since 2011, but she has seen the local homeschooling population swell over the past three years, especially among families of color.
Okolo-Ebube is one of the hundreds of entrepreneurial parents and teachers I have interviewed over the past three years who are creating low-cost alternatives to conventional schooling. In 2022, she founded Leading Little Arrows, a weekly homeschool co-op that grew so quickly she decided to lease a building near the University of Texas at Arlington to accommodate weekly tutorials with hired educators and a part-time, drop-off microschool for homeschoolers.
With nearly 40 learners, three-quarters of whom are neurodiverse, Okolo-Ebube's programs are already at capacity. She plans to open two additional microschool locations later this fall.
"The homeschooling movement is accelerating here, particularly among BIPOC families," said Okolo-Ebube, referring to Black, Indigenous, and other students of color. "You see someone like you doing it and it becomes less scary."
Angela Watson, assistant professor at the Johns Hopkins University School of Education, theorizes that these network effects are contributing to the growth in homeschooling among families of color. "Minority families have begun to network as homeschoolers, something that white homeschoolers have done for decades. We think these grassroots support systems serve to expand homeschool participation in these populations," she said, explaining that more research is needed.
Homeschooling surged in 2020, with Black homeschooling numbers rising five-fold that year, according to the US Census Bureau. Their May 2023 Household Pulse Survey results showed that the homeschooling rate dipped from its pandemic peak but remains elevated at over 5% of the U.S. school-age population, or more than 3.5 million students.
Watson is part of a team at Johns Hopkins that is creating a free hub for research and data on homeschooling. She sees many reasons for homeschooling's continued popularity, including a greater openness among today's younger parents to nontraditional learning options. "This generation of parents is more willing to try something new," said Watson. "They grew up when homeschooling was more mainstream and is less stigmatized in their view than it may be to older parents. It could also be that younger parents are more tech-savvy and adept at online learning."
Other reasons that families may choose homeschooling are disappointment with the academic or social environment in local public schools and a lack of accessible private school options, as well as concern over curriculum, including what content is or is not covered. Some parents say they are simply disillusioned with standardized, one-size-fits-all schooling and want an alternative.
"I think more parents are realizing that compelling their kids to sit still, memorize facts, and take tests is not the surest path to success for their children," said Jenny Markus, a homeschooling mother of a four-year-old daughter in Brooklyn who is seeing more homeschoolers in New York City. "Modern challenges call for creative minds and resilient spirits, which conventional schools do not consistently foster." Markus just launched a self-directed learning center for homeschoolers this fall.
New research reveals that New York's homeschooling enrollment increased 65 percent during the first two academic years of the pandemic, while in Florida, homeschooling enrollment increased by 43 percent. Florida's homeschooling population continued to climb last year as well, according to state data.
"This movement is just beginning," said Okolo-Ebube, who believes that more families will flock to homeschooling and schooling alternatives, such as microschooling, over the coming years. With the national expansion of school choice policies that enable families to use education funds toward an assortment of approved expenses, including homeschooling program fees and microschool tuition in some states, access to these out-of-system models will become even greater.
Parents increasingly want a wider variety of education options from which to choose, including unconventional ones that are more tailored to their children's specific needs and interests. More everyday entrepreneurs like Okolo-Ebube and Markus are responding to this parent demand by building innovative and affordable schooling alternatives that families want.
"Having gone through the New York City public school system myself, I never felt like I truly had enough time and space to pursue my curiosity and passions at my own pace," said Markus. "For my own child, I knew I wanted something that provided more freedom and flexibility, and I am as excited as ever to continue on this path with other families who value the same kinds of experiences for their children."
Support The 74's year-end campaign. Make a tax-exempt donation now.