Nina Rees: This National Charter Schools Week, It's More Important Than Ever to Celebrate the Success of 3.2 Million Charter Kids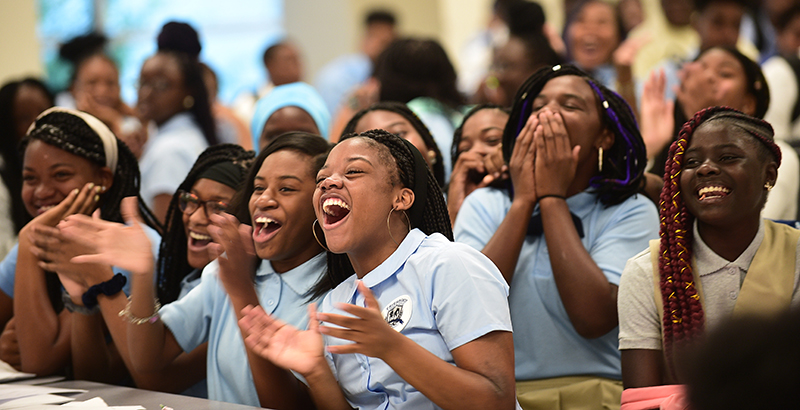 Each year, National Charter Schools Week gives our students, teachers, school leaders and families the opportunity to show what their schools are all about. This year, telling our stories is especially important, because despite all the evidence that charter schools bring tremendous opportunities to students, the schools are being fiercely attacked by entrenched interests.
In California, bills pending in the legislature would put a moratorium on new charter schools and threaten the existence of current ones. In New York City, where more than 50,000 students are on charter school waiting lists, no more schools can be opened because the city has hit an artificial and arbitrary cap. Despite support from Gov. Andrew Cuomo, it's unclear whether the legislature will lift this cap on opportunity. In other states, lawsuits regularly pop up to prevent charter schools from opening or rob them of their rightful funding.
Why?
It would be one thing if charter schools were a failed experiment, but they are a tremendous success. Just this spring, we've seen more evidence that charter schools are delivering on their promise to students and to society.
Researchers at the University of Arkansas studied charter schools in eight major cities, examining funding, achievement scores and how higher achievement translates to lifetime economic gains. They determined that "On average … public charter schools are 40 percent more cost-effective and produce a 53 percent larger [return on investment] than [traditional public schools]."
In his investigation of how charter schools are preparing students from low-income backgrounds for college, author Richard Whitmire found that some of the larger charter networks — KIPP, Uncommon Schools, IDEA, YES Prep and others — are producing college graduates at a rate two to four times as high as the average for students from similar socioeconomic backgrounds. These are students graduating from college, not just getting to college.
Of course, not every charter school is hitting grand slams. But the overwhelming evidence shows that charter schools are producing historic gains for students. By replicating those that work, we could make even more progress on closing the achievement gap between rich and poor students and between white students and their minority counterparts.
If you had told policymakers 28 years ago that the charter school experiment they were launching would lead to low-income urban students gaining months of additional learning each year, as CREDO researchers have found — and that some of these schools would help more than half of their graduates succeed in college, and that the return on public education investments would rise by 50 percent — they would have assumed they'd finally found the answer to the problems afflicting public education.
But that's not where we are today. Parents love charter schools and want more of them. Yet defenders of the status quo stand in their way. Charter schools account for 6 percent of public school enrollment nationwide, but to hear some people tell it, they account for 100 percent of the problems school districts face.
No doubt, in some districts like Los Angeles, where charter enrollment is around a quarter of all students, district bureaucracies have to get more nimble in how they respond to parents choosing charters. Unfortunately, that's not what they're doing. They're looking to charter schools as scapegoats rather than partners.
The bottom line is, we're seeing results in charter schools that should make every politician proud to support them. But the money and power of charter school opponents persuades a lot of politicians to blame charter schools for district financial distress rather than praise charter schools for finally delivering on the promise of public education for black and brown and low-income students.
That's why this National Charter Schools Week is so important. The only way the charter school community can stand up to the educational Goliath is by telling our stories from the perspectives of the people who most benefit. And no, it's not billionaire businessmen, as some cliché-happy opponents claim.
It's students who are finally getting a shot at college and proving all the doubters wrong. It's parents who thank God every day that a good school found its way to them. It's teachers who feel the pride of helping their students beat the odds. It's dedicated school leaders who have the freedom to do school differently and are making profound change happen. And it's local business and community leaders who have seen neighborhoods transformed by the presence of a public school that parents are eager to send their children to.
Our 3.2 million students, 219,000 teachers, and countless champions and supporters should be proud of what they're accomplishing. This week is an opportunity to shout their stories from the rooftops, confident that a lot of good people are listening.
Nina Rees is the president and CEO of the National Alliance for Public Charter Schools.
Support The 74's year-end campaign. Make a tax-exempt donation now.