Newark Schools Enrollment Surges as Teacher Vacancies Grow
Multilingual and special needs teacher gaps are up against the New Jersey district's 'staggering' enrollment growth.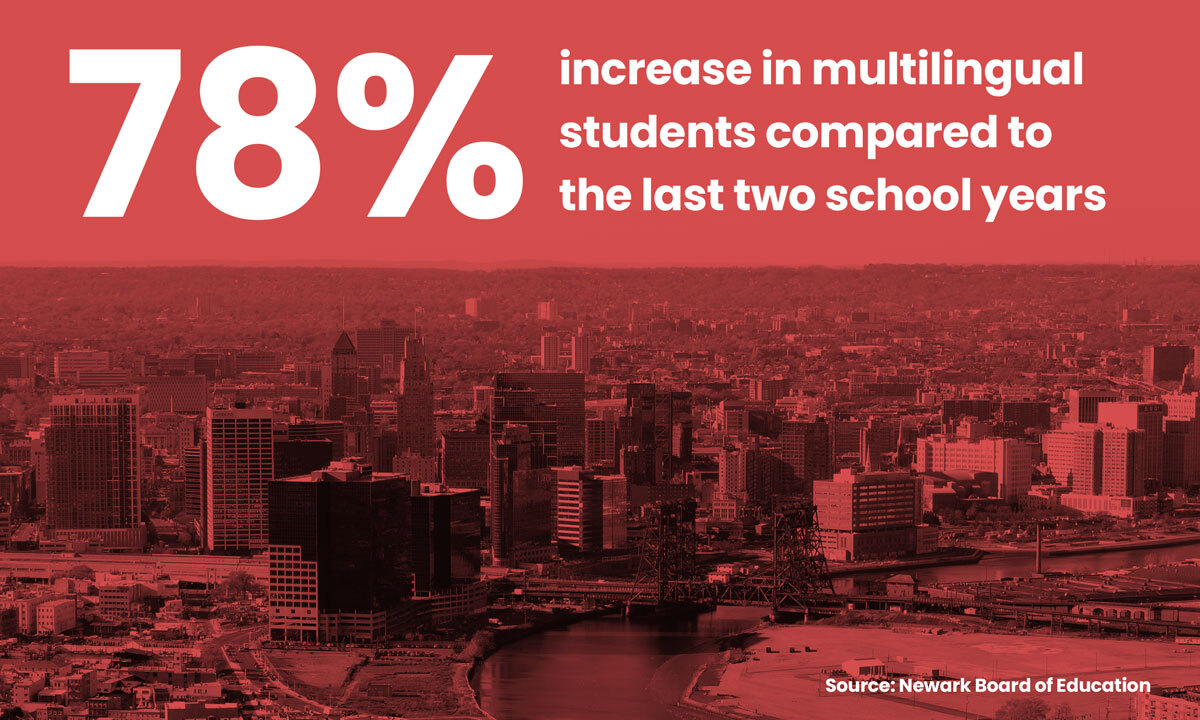 Support The 74's year-end campaign. Make a tax-exempt donation now.
Newark district schools are facing a "staggering" surge of new students, largely Spanish speakers — even as the New Jersey district faces a shortage of multilingual and special needs teachers.
The Newark Board of Education reported late last month there was a 78% increase in multilingual students for the 2023-24 academic year compared to the last two years.
"From 2020 to 2023, the District has witnessed a staggering 78% surge in the Multilingual Learner population," according to a press release.
District spokeswoman Nancy Deering told The 74 the majority of new multilingual students come from Spanish speaking countries.
District officials would not say if the influx of multilingual students come from migrant families, but immigration cases have increased in the tri-state area.
And The Mercy House of Newark reported in the last year it has doubled the number of families they have helped, with about half migrating from Ecuador, Haiti, Mexico and Chile.
In the 2022-23 academic year, there were more than 40,000 students in the Newark school district, with 9,000 multilingual students and 6,000 students with special needs — about 24% and 15% respectively.
With a 78% surge, the previous 9,000 multilingual students comes to more than 16,000 for the 2023-24 academic year, with Latino students comprising the majority of the district's enrollment.
In the 2022-23 academic year, there were nearly 23,000 Latino students, about 55% of the student population — compared to 36% of Black students and 7% of white students, according to the New Jersey Department of Education.
Newark superintendent Roger León told The 74 the district hired close to 1,000 teachers in the past two academic years but currently has 80 vacancies mostly for multilingual and special needs teachers.
English Language Learners
León said educators must be certified to teach multilingual students, slowing down the hiring process.
To ease these staffing shortages, León said the district has created incentives for current teachers to get the certification.
"We have a pool of staff members that are in route to get the endorsement and once they're done that'll be how we solve our problem," said León.
Neither León nor Deering would elaborate on what the incentives were.
The district also held its first training in August for more than 250 teachers to help English language learners pass an English proficiency test and transition out of needing multilingual services.
Special Education
One parent said staffing issues in the district has prevented her two high school children with special needs from fully thriving, oftentimes needing occupational therapy among other services that aren't always available.
"I just see the district harboring kids on the spectrum from high functioning to low functioning all in the same classroom which is not a good idea," she told The 74 anonymously to protect the identity of her children. "My kids have a different level of learning and they need to be with that particular group."
Another parent added how staffing problems prevented her 6th grade son from attending a specialized district school.
"It's been issue after issue after issue," she told The 74 anonymously to protect the identity of her son. "Every single thing, all the support I've been advocating for, has been a fight."
León believes the district wouldn't have to worry about finding special education teachers if Newark's charter schools didn't contribute to the problem.
"Students that have an IEP are not afforded an opportunity to have an education in Newark charter schools because they get kicked out," said León. "So if we want to help solve this problem, the charter schools need to get it together."
Support The 74's year-end campaign. Make a tax-exempt donation now.