New Research: CTE Done Right Should Serve Both College-Bound and Career-Focused Students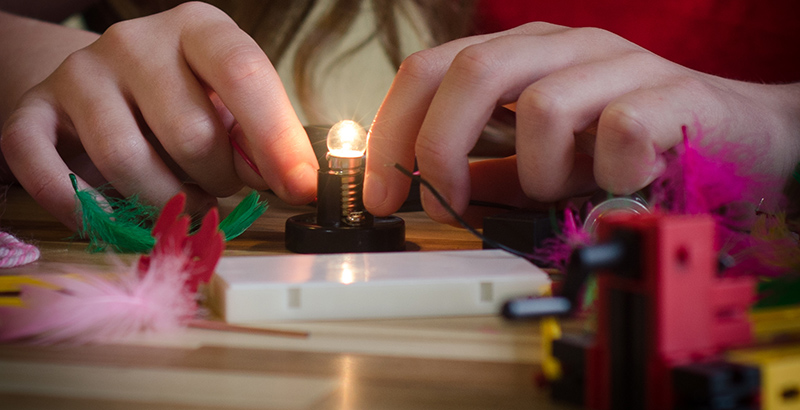 Washington, D.C.
Career and technical education — in decades past a way to steer some students into poor-quality training for a trade instead of college — in its more current version can now boost high school graduation rates and give students essential skills before college.
A good CTE program can be aimed at students who aren't interested in going to college and want to go right into a trade, or those who intend to go straight through to a four-year university — but those aims can sometimes be in conflict, Andy Smarick, a fellow at the American Enterprise Institute, said Wednesday.
"All of those are legitimate goals of CTE, but they are different goals," he said.
Smarick and other panelists at an American Enterprise Institute event Wednesday morning shared new research on career and technical education in high schools and discussed its changing nature and how it should be adapted for the future.
A school that focuses on more traditional programs, like welding, will have different needs than a more novel one focused on something like engineering, Smarick noted.
He shared a new paper on career and technical education in New Jersey, where county governments run programs separate from local school districts. They're often hyper-specialized to the region's workforce needs, with finance programs in the New York City suburbs, for example, and hospitality in beach communities.
Programs can also have admissions criteria, which further raises the question of whom they're supposed to serve, non-college-bound kids or those headed off to a university, Smarick said.
Gary Hoachlander, president of ConnectED, a California-based group that promotes college and career pathways, urged advocates and researchers to stop thinking about career and technical education as only able to serve some groups of students, in isolation from the rest of the school system.
"When you do this work right, when you really pay attention to the kind of teaching and learning that needs to occur … it's possible" to raise outcomes for all kids, he argued.
He also argued that the federal government should get rid of the Perkins Career and Technical Education Act, the primary federal vehicle for funding CTE programs but one that also bars any of its resources from going to traditional academic classes.
Instead, there should be a high school redesign act "that stops this kind of isolation and segregation and very programmatic approach to issues that are really much more comprehensive and much more systemic," he said, adding he doesn't think we will "get there anytime soon."
Smarick argued that local leaders should be given more leeway, like they are in New Jersey.
Nat Malkus, a resident scholar and AEI's deputy director of education policy, warned that doing so could open up CTE to the whims of larger trends in education.
A push toward "college for all," for example, could give CTE more of an academic focus, and "CTE will become more and more for college-going kids and that leaves behind, potentially, again, students that we stereotypically think about," he said.
Malkus also shared information from a working paper studying trends in career and technical education from 1990 to 2013.
Using nationally representative high school transcript data, he found that the number of credits high school students earned in CTE dropped about 20 percent in that time period.
That drop, however, masks a larger trend of growth in some concentrations (computer science and health care, among others), and larger declines in manufacturing and, specifically, business, he said.
"The overall downturn is not necessarily something to be alarmed about," he said.
The drop in manufacturing courses could reflect changes in the broader economy, while business classes tended to include less rigorous courses like keyboarding and office procedures, he said.
"If we don't care about business so much, the downturn is not much of a downturn. If you [also] take away manufacturing, we're actually seeing a rise," in the number of courses taken, Malkus said.
He also shared some very early-stage research that although students who take CTE tend to have lower math test scores than average, those scores are rising. It will be important to research whether that rise reflects programs attracting different students, or some change to the programs themselves that's boosting scores, he said.
Other research, shared by Albert Cheng, a postdoctoral fellow at Harvard University, found that while students in CTE programs have lower test scores, they aren't, like the stereotype holds, necessarily lazy or unmotivated learners generally.
His research found that CTE students are more likely to come to school than other students, and equally as likely to do homework and come to class on time. By age 25, CTE students were more likely to have finished high school and be employed full time, and had higher wages, he said.
Support The 74's year-end campaign. Make a tax-exempt donation now.