How College Debt Is Reshaping America: New Study Shows Wide Variations Between States, Regions, Coasts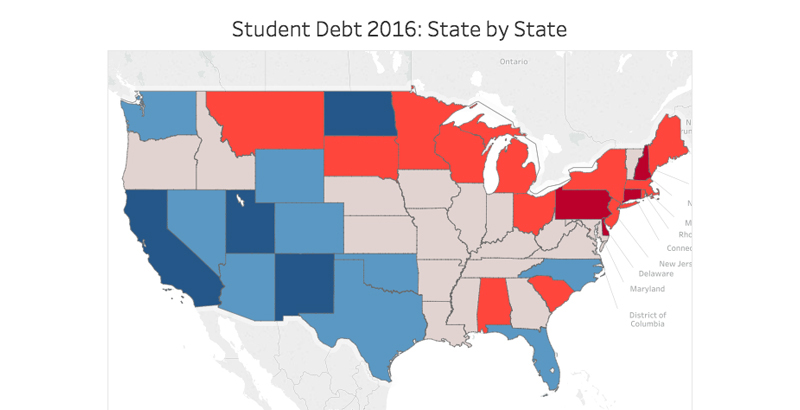 The average college senior in Utah graduated with about $20,000 in loans in 2016 — the lowest total in the United States. Across the country, the typical New Hampshire graduate was in much sorrier shape: over $36,000 in hock, the nation's highest average. Both figures come from The Institute for College Access and Success's annual study of student debt, released last week.
In a finding consistent with previous surveys, the report found that students in Western states accumulated the least amount of college debt, while those in the Northeast and Midwest owed the most. Loans from private banks and lenders — which often come with higher rates of interest that make them difficult to pay off — are also concentrated in certain schools and states, particularly Pennsylvania.
Using the most recent available debt figures provided by half of all public and nonprofit four-year colleges (just 2 percent of for-profit schools provided debt data, making analysis of the sector impossible), the report's authors ranked each state based on average amount of student debt and percentage of students who owed money. Of the 10 highest-debt states, New Hampshire, Pennsylvania, Connecticut, Delaware, Massachusetts, Maine, and Rhode Island make up a kind of Northeast Corridor of financial burden.
Graduates from Western states fared much better, with Utah, New Mexico, California, Arizona, Nevada, and Washington all ranking in the bottom 10 for indebtedness.
The geographic clustering of debt has been demonstrated in earlier iterations of the survey, as well as other analyses by personal finance groups. In part, this phenomenon can be traced to the regional dominance of old-growth private colleges like those making up the Ivy League and NESCAC conferences. With pedigree and prestige on their side, schools like Lehigh University in Pennsylvania and Brown University in Rhode Island have the power to lift tuition at will.
Meanwhile, the public university systems in some of those same states have become increasingly dependent on out-of-state students who pay higher tuition and fees to attend. In-state residents enrolled at Pennsylvania State University, considered one of the nation's "public Ivies," dropped from more than three-quarters of total students in 1990 to just over half in 2015. In New England, the University of Massachusetts, the University of New Hampshire, and the University of Rhode Island all accepted more out-of-staters than in-state residents in 2015.
The University of Vermont's 2015 freshman class, astonishingly, was composed of just 20 percent Vermont residents. At the sprawling University of California system, regarded by many as the best public system in the country, out-of-state students made up just 16.5 percent of total enrollment in 2016.
But state financing decisions play a decisive role in college affordability as well. Research from the Urban Institute's Sandy Baum has shown that the New England states and Pennsylvania all charged among the highest tuition and fees in the country, even as they generally provided among the lowest amounts of per-student funding — both in universal terms and adjusted for student income).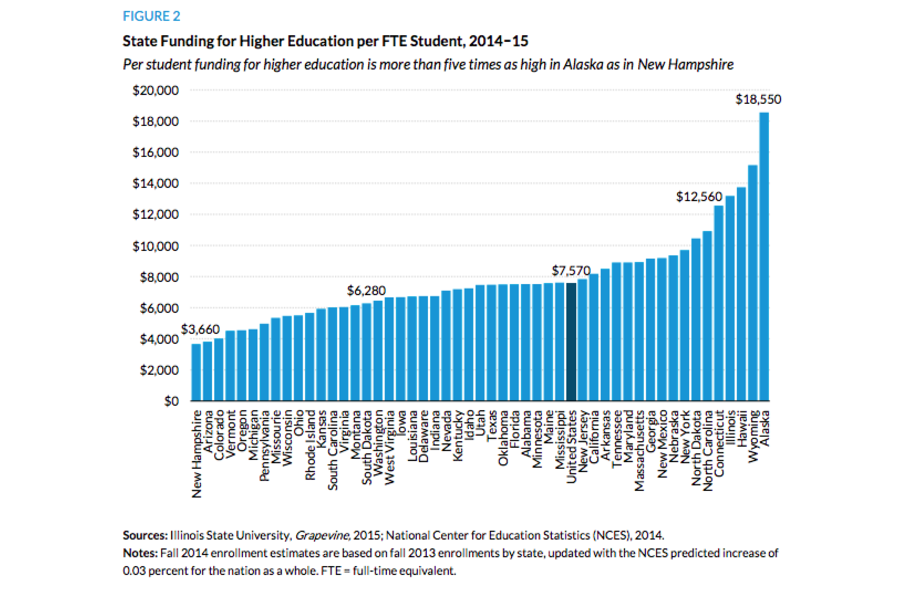 Get stories like these delivered straight to your inbox. Sign up for The 74 Newsletter