Few Fireworks in the New Orleans School Board Race — but That Doesn't Mean All Is Well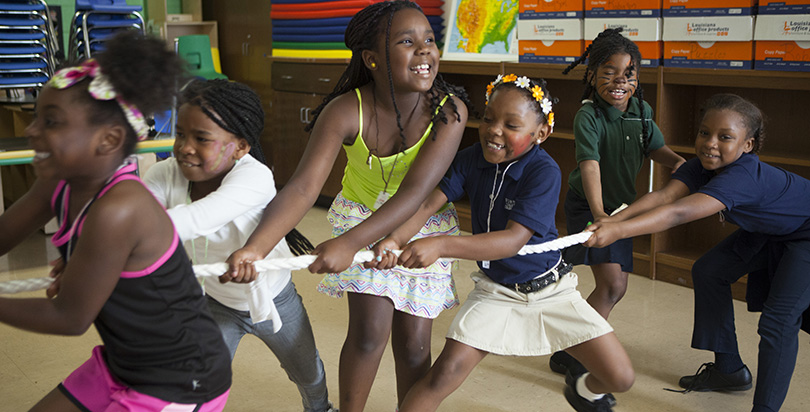 Updated Nov. 3
New Orleans, Louisiana
This is the tale of two school districts: New Orleans, the most intently watched, politically charged experiment in modern education reform, and Jefferson Parish, the suburban bookend to New Orleans's mossy, Creole charms.
In one, bold and effective reforms that enabled the district to change the way it staffed schools provoked a backlash — $650,000 in spending by the American Federation of Teachers (AFT) to elect a pro-union school board.
In the other, bold and effective reforms that enabled schools to change the way they staff themselves and structure their days have sparked the quiet, all-but-decided election of a board that — at least, in principle — favors continued change.
Paradoxically, the hard-fought, big-money contest was Jefferson Parish's 2014 school board election. And national ramifications notwithstanding, this month's Orleans Parish School Board election is the sleeper. (Louisiana's parishes are the equivalent of counties.)
Of the two, Jefferson Parish is a little more prosperous, a little whiter and a lot more Republican. A conventionally structured district, it has succeeded in recent years in closing both an egregious achievement gap and a yawning fiscal deficit, yet it has received almost zero attention — even within Greater New Orleans. Nor has the reversal of those reforms generated big headlines.
By contrast, New Orleans is on the cusp of another experiment in school governance. In the 11 years since Hurricane Katrina, the state has controlled most of New Orleans's schools. Achievement has risen, but long-standing tensions over the schools' seizure erupted as the 10th anniversary of the storm approached.
Last spring, Louisiana lawmakers voted to begin the process of unifying the city's schools under an elected Orleans Parish School Board (OPSB). The board must sprint to be ready: Because the state took over the city's low-performing schools after Katrina, elected school board members over the past decade have overseen only a handful of New Orleans schools, all of them already high academic performers.
The board elected next week will spend two years — and an estimated $28 million — working out the details of how the district will become the first in the country in which an elected board oversees a system of schools that are nearly all charters. Board members will weigh in on everything from enrollment to how the district will hold the independently run schools accountable.
Because New Orleans's arrangement might evolve into a model for resolving the tensions between the importance of democracy and the value of school autonomy, education policymakers nationwide are tracking the transition.
Yet, in contrast to Jefferson Parish's bloody, expensive 2014 contest, the overall outcome of the Orleans board election was settled months ago. Four of the seven races are uncontested, handing proponents of continuing the city's reform experiment a board majority. Even if an 11th-hour infusion of union cash helps elect critics in the remaining three races—and it probably won't in at least two of them —it seems unlikely the grand experiment will be derailed.
Given the stakes, why are the politics upside down?
Conspiracy theories abound, of course. And yet the major distinction between the political backdrops in the neighboring districts is lost on no one. In Jefferson Parish, a union-elected school board is quietly reversing changes that include a dramatically streamlined teachers contract. Meanwhile, in Orleans Parish, a brand-new law codifying school autonomy means teachers who want to unionize must bargain directly with the leaders of each individual school.
In short, the traditional balance of power, in which teachers unions enjoy outsize influence in school board elections, may have just been turned on its head. Whether it makes a difference remains to be seen.
'Flexibility to do the right thing'
Jefferson Parish is not appreciably wide. But it is long, stretching from Lake Pontchartrain south to the Gulf of Mexico. When the post-Katrina overhaul of Orleans Parish's schools began to bear impressive fruit, Jefferson Parish's civic and business moguls took note and hired one of the intellectual architects of New Orleans's experiment to come remake the district's schools, which were not appreciably better.
(The 74: Q&A — New Orleans Education Expert Doug Harris Walks Through His Research Showing a Decade of Student Gains)
In 2011, James Meza, the retired dean of the University of New Orleans School of Education, was appointed superintendent of Jefferson Parish schools. Enrollment was shrinking even as the number of schools was growing. The largest in the state, the district faced a $25 million deficit and, with 80 percent of its students in poverty, tremendous unmet need. Overall, the schools received a "D" on Louisiana's school report card.
For three and a half years, Meza combed the district's data and, by eliminating initiatives that weren't working or were no longer needed, found money to send to classrooms. His central thesis was to grant schools autonomy in exchange for accountability. His first year on the job, he eliminated a third of the positions in the central office and removed 17 principals for poor performance.
"I didn't need to work," he says. "I didn't need the money. I had the flexibility to do the right thing."
He also refused to renegotiate a 30-year-old teachers contract that was packed with clauses that tied principals' hands and strained the budget. The board passed a resolution granting teachers a number of basic rights until a new contract could be inked.
Meza did away with some of the costly and cumbersome practices that had been in the agreement. The old contract gave teachers three sabbatical years in any 10-year period, for instance. Meza saved $14 million over the course of three years by eliminating the leaves. Also gone were contract provisions dictating school schedules, meetings and class sizes.
"The adults can't drive the schools," says Meza. "The kids need to drive the schools."
He set a goal of every school increasing two grade levels every year. To accomplish this, he asked teachers to focus not on student proficiency but on growth.
"We broke it down per child so each teacher could have a vision for their classroom," Meza recalls. "It's simple. What should they be able to know and do when they leave my classroom?"
Over the course of three years, the district eliminated all of its failing schools and tripled the number of "A" schools. Its overall state grade went from "D" to "B," and in place of the deficit, it had a $50 million surplus.
In 2014, the AFT spent $650,000 to oust the school board that had hired Meza, who had announced his retirement months before. The new board moved swiftly, overturning many of the actions he had taken.
"The changes since Jan. 1 offer a lesson on the power of elected school boards over elementary and secondary education," the Times-Picayune reported in May 2015. "Though superintendents are the chief executives and are often credited for sea changes, it is the board that puts these leaders in place and either supports or hinders them."
Timing ripe for local control
As eye-popping as spending in the parish board races was, within months it was dwarfed by the more than $3.5 million spent on campaigns for the eight elected members of Louisiana's Board of Elementary and Secondary Education, which oversees implementation of the state's K-12 education policies. (Three of the board's 11 members are appointed by the governor.) Much of the money was
spent by pro-reform philanthropies
anxious to extend the tenure of the board's executive, State Superintendent of Education John White.
In White's previous position as head of the Recovery School District, the state entity controlling a majority of New Orleans schools, he pushed for changes that would smooth the chaos attendant to a district where 93 percent of students attend charter schools. Changes geared toward ensuring that schools operated by the same ground rules included a single enrollment system, rules regarding student discipline and expulsion, a requirement that schools provide transportation and a per-pupil funding formula that directed more money to the most challenged students.
The timing was ripe for a return to local control. School leaders had reached agreement over the most controversial system-wide issues. And there was concern that if the political sands shifted and that the new, charter-hostile governor, John Bel Edwards, gained enough allies, reform proponents could lose the ability to help shape reunification.
So a cross-section of New Orleans school and community leaders and policymakers crafted a proposal to return the schools under state control to the Orleans Parish School Board.
The run-up to the legislation's passage was characterized by heated testimony about the decade-long effort to turn around what had been one of the nation's lowest-performing school districts. On one side were architects of the strategy who, while acknowledging that much work has yet to be done, pointed to significant student gains. Critics, meanwhile, went so far as to claim the effort was the equivalent of the Tuskegee syphilis experiment, arguing that the outsiders making major decisions weren't responsive to community concerns.
Both sides agreed, however, that it was time to return the schools to a democratically elected board.
(The 74: Louisiana Turns the Page: 11 Years After Katrina, New Orleans Schools Set to Return to Local Control)
The legislation that passed in May required leaps of faith all around. Before Katrina, the school board was notoriously corrupt. When school officials were unable to properly account for nearly $70 million in federal anti-poverty funding, the FBI opened an office inside district headquarters to conduct its investigation. Agents were present at the board office and a board member was under indictment when Katrina hit.
Fast-forward to 2016. How would the district, up to now responsible only for the schools whose academic success did not warrant state takeover, authorize charter schools and hold them accountable for student outcomes?
"What I worry about is, Can they figure out what their role is — and not be involved in the day-to-day operation of the schools?" asks Caroline Roemer, executive director of the Louisiana Association of Public Charter Schools. "How are they going to be as an authorizer? How are they going to define quality? How as a political board are they going to make really hard decisions?"
And with the entire school board up for election just six months after the law passed, who would be making those hard decisions? New board members will spend the next two years — and an estimated $28 million, to pay for new citywide services, beefed-up special education and leaders to oversee the schools — working out exactly how the first-of-its-kind district will operate.
With three children in schools that will be handed back to the Orleans Parish School Board, Lamont Douglas is satisfied that the law will protect his kids' schools and hopeful that the old and new guards will be able to work together.
"Are all these philosophies going to mesh?" he wonders. "What's at stake is whether we move forward for our children."
What the new school board is likely to have little influence over are the issues that provoked backlash in Jefferson Parish. The new state law assigns individual schools responsibility for staffing. If teachers want to unionize a particular school, they must bargain with its board. In 2015 and the first half of 2016, the AFT and the affiliated United Teachers of New Orleans (UTNO) spent more than $750,000 trying to organize teachers at several schools.
Today, three schools have collective bargaining agreements — one of them at the invitation of the school's administration. At a fourth, an intensely watched organizing campaign failed. In May, teachers voted not to unionize at Lusher, one of the OPSB's selective-admissions schools and one of the highest-performing schools in the state. Proponents of the union drive said school administrators intimidated teachers into voting no, while some teachers said rejoining United Teachers of New Orleans would feel like a return to the past.
A slugfest that never materialized
As the founder of New Schools for New Orleans, a nonprofit that works to drive quality in the charter sector, and the former head of Teach for America Louisiana, Sarah Usdin knows every nook of the city's educational landscape. But she said she was unprepared for the politics that greeted her 2012 run for a seat on the Orleans Parish School Board.
Usdin raised $110,000, only to have the incumbent she was trying to unseat insinuate she was funneling money from the nonprofit New Schools into her campaign coffers. Someone circulated a photo of her husband's car — a Hyundai — with the claim that it was a Bentley purchased using federal school funds. All over a $9,600-a-year seat on a board that oversaw just 18 of New Orleans's then-88 schools.
---
With the stakes seemingly much higher this year, most people expected an even uglier slugfest. Yet Usdin was one of two board members re-elected automatically when no challengers met the July candidate filing deadline.
A newcomer in a third race won when the incumbent decided not to run for re-election and a challenger dropped out. The occupant of a fourth seat was disqualified when a judge ruled she didn't pay her taxes and had lied about it. Her challenger, too, won by default.
According to required October 11 campaign finance filings, eight candidates raised a total of $317,006 — much of it in May and June, before it became clear most would run unopposed. Ethan Ashley raised the most, with $80,000, a sum that might or might not have been adequate to oust Cynthia Cade, the incumbent disqualified because she was a tax scofflaw. Usdin was the second-highest fundraiser, with $69,000.
On October 20, the AFT disclosed a payment of $225,486 to the Orleans Future PAC, which registered with the state to campaign in favor of three candidates, including David Alvarez, who is running against incumbent Woody Koppel in the year's most contentious race. The PAC has begun advertising in favor of Alvarez and one other candidate.
In the wake of the AFT donation to the PAC supporting his opponent, Koppel received some $8,000 in new contributions, including $2,500 from the PAC for Democrats for Education Reform. Alvarez's disclosures show less than $5,000, by contrast.
A week before the election, then, just one race is heated. And a reform-oriented majority on the new board is simply waiting to be sworn in. The director of Democrats for Education Reform Louisiana, Eva Kemp, attributes the lack of a more contentious election season to the fact that there's not much at stake for the teachers unions.
The board being elected next week won't bargain contracts or set working conditions, she notes. "I also wonder if the arguments for organizing will be as strong after the schools return [to district control]," she says. "Will teachers feel they need the representation? That's the rub."
But even those heaving a sigh of relief about the election's likely outcome have broader concerns about community engagement. Both Orleans and Jefferson parishes enjoy larger-than-normal turnout in board elections. The reason teachers unions often have such sway over local school board elections in other parts of the country is that so few people vote in these hyper-local races. Even in red-hot elections, the percentage of registered voters who cast school board ballots is often in the single digits.
If organized labor's bread-and-butter issues are what set the politics of Jefferson Parish's board elections apart from neighboring Orleans, what both communities have in common is the struggle to engage more than a narrow swath of the electorate.
National spotlight notwithstanding, outside of education policy circles, the intricacies of the New Orleans experiment aren't well known. Over the summer, Education Reform Now, a nonprofit associated with Democrats for Education Reform Louisiana, carried out a public awareness campaign that attempted to galvanize the community about the need for public input at such a critical juncture, with the future role of the public school district at stake.
Among other things, the group sent out mailers that posed questions about what people should expect from school leaders and board members. Still, it's not clear that beyond day-to-day concerns, like transportation to school and securing their child's seat at a neighborhood school, New Orleans residents know much about school governance.
"We don't really engage democratically on school boards," says Usdin. "There's not a lot of accountability for school board members. Only if someone has something on the agenda does anybody show up."
If in the end the reunified school district in New Orleans simply swaps the influence of one special interest for another, some of the city's education advocates say, it won't have fulfilled democracy's potential.
"The reformers take great pride in the progress we've made in the last 10 years," says Ben Kleban, the founder of New Orleans College Prep and one of the Orleans board newcomers assured a seat by default. "But we also should be keenly aware that the average parent doesn't feel it. There's 10 schools everyone wants to get into."
(The 74: Louisiana Research Shows Students Can Benefit When a School Closes — but Only If There Are Better Ones to Attend)
One fourth of New Orleans households with school-aged children have opted out of the system altogether for private and parochial schools, he notes.
"What I dream about is how much impact would there be if we got to a place where we all embraced our public schools and we were all in them together," he continues. "My own big vision is that we get to the place where New Orleans has a school in every neighborhood where everybody wants to go. That sounds really simple, but we're as far away as you can get."
Get stories like these delivered straight to your inbox. Sign up for The 74 Newsletter