New National Working Group Takes on the Future of Education Data — and Equity
Low: Should state exams be narrower? Is 3rd grade too late to start testing? Should sampling be used instead? Experts will tackle these issues & more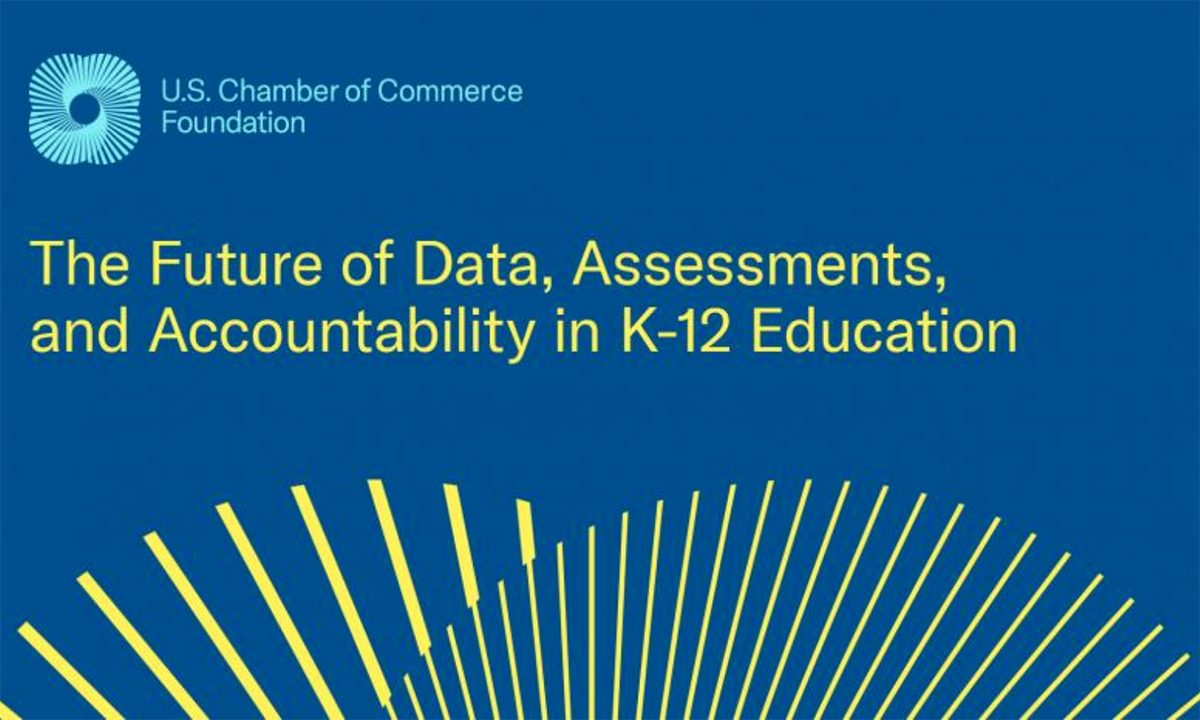 Get stories like these delivered straight to your inbox. Sign up for The 74 Newsletter
The most recent results of the National Assessment of Educational Progress are just the latest dataset pointing to significant learning losses over the past three years. This should be a clarion call to business leaders and education advocates alike that the United States can and must do more to prepare students to lead the future workforce. The U.S. Chamber of Commerce Foundation's recent launch of the Future of Data in K-12 Education initiative is the right conversation at the right time.
Although the pandemic provided a natural inflection point to reassess the nation's education system, the problems students face are not new. Even before the onset of COVID-19, for example, only 38% of third graders were reading at grade level. Achievement gaps were closing, but they are now at risk of expanding significantly due to pandemic school closures and the digital divide. Schools, teachers and parents in particular have had a chance to see the shortcomings of the nation's education system up close, as many children learned via Zoom over the past two years. To build a stronger future for students and prepare them for the economy and society of tomorrow, Americans need reliable sources of education data to diagnose problems, determine what works, and drive an honest conversation around equity.
At the chamber, we believe that reliable data drives good decision making. Given the uncertainty around pandemic recovery and a national reckoning on systemic inequities, business and education stakeholders must have a clear-eyed discussion about what is and is not working, and why, with public school accountability and the data to back it up. That's why the U.S. Chamber Foundation has put together a working group of education experts and practitioners from across the country to work toward a set of policy recommendations over the next year on lessons learned and options to consider moving forward.
From practitioners to policymakers to civil rights and advocacy leaders, the working group includes individuals with diverse backgrounds and a wealth of experience in education, education policy and research. Along with members who represent the business community, there are public school administrators and teachers, former high-ranking federal policy veterans and a leading thinker on new approaches to assessments.
In selecting these individuals, we sought to bring together both people with whom we have worked for years and experts who were newer to us. Working group members include former Secretary of Education Margaret Spellings, 2019 teacher of the year Rodney Robinson and former Louisiana state Superintendent of Education John White. While we have a set of principles that we agree on, we wanted to create a space for open and honest dialogue. Even if we do not all agree on everything, we want everyone's candid reflections on the current state of assessment and accountability and the policy levers they think are most promising.
Creating future education policy means wrestling with some sticky tradeoffs. Should there be narrower statewide assessments that do not attempt to be a teaching tool, or does it make sense to try again at creating something of value to educators? Should test makers be incentivized to spend years innovating, and, if so, how? Is third grade too late to start assessing students? Should sampling be used instead of testing every child? There are many questions, and we intend to closely examine every one of them.
The first phase of our action plan is a thorough review of the last 20 years of education policy, spearheaded by Dr. Dan Goldhaber and Michael De'Armond at the National Center for Analysis of Longitudinal Data in Education Research. Their quantitative literature review will explain what is known, and isn't, about the impact of the last 20 years of federal education policy. From there, the working group will engage experts to hear their perspectives. We will also launch a design challenge, asking interested parties to develop and share their ideal future assessment and accountability plan. Finally, this critical input will be used to develop a set of formal recommendations for federal and state policymakers.
This three-year project will craft a blueprint for a future of data, assessments and accountability that rejects the soft bigotry of low expectations and embraces the economy and society of the future. The recommendations developed from this initiative will inform and shape policymakers' approach at both the state and federal levels by bringing fresh thinking to the most important investment we can make — the nation's students.
We know that other, complementary efforts are underway, and our working groups will do whatever we can to support them. I hope we will contribute to a productive evolution of federal education policy in the years to come.
Get stories like these delivered straight to your inbox. Sign up for The 74 Newsletter