New 'Nation at Risk' Would Start with 'Dear American People: Wake Up,' Janet Napolitano Says in Reagan Institute Panel With Condoleezza Rice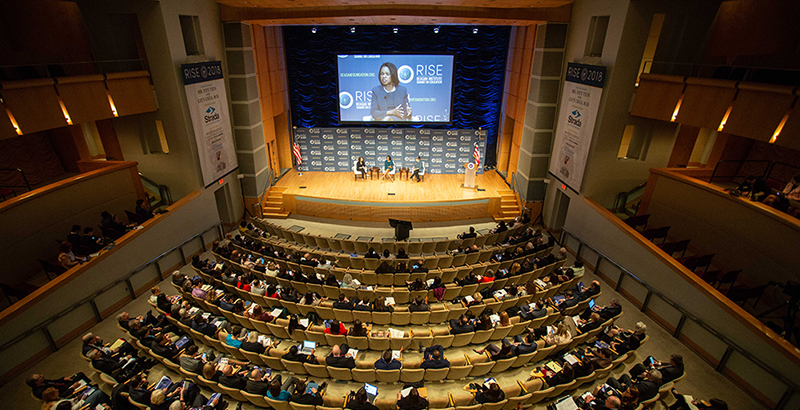 Washington, D.C.
If "A Nation at Risk," the landmark report that launched the modern education reform movement 35 years ago, came out today, it would get a far different — and more polarized — reception, education leaders said Thursday.
"Each [political party] would take different lessons or have different prescriptions, when in fact, what we need is a national unity of effort that's effectuated at the local level," said Janet Napolitano, the former homeland security secretary and current president of the University of California system.
Napolitano spoke with former secretary of state Condoleezza Rice at the first panel of the Reagan Institute Summit on Education, a daylong event celebrating the anniversary of "A Nation at Risk." Romy Drucker, co-founder and CEO of The 74, moderated the discussion.
Americans aren't connected by ethnicity, religion, or blood, but rather by the idea that with hard work anyone can rise up and achieve his or her potential, and education is a key to underpinning that, Rice said.
"A democracy won't survive very long if it's so fractured that you can't come together around common purposes," she said.
The American democracy is increasingly cracked, with people retreating to partisan corners for media and thinking those who disagree are "stupid or banal," Rice said.
Rice said she'd start a new "Nation at Risk" report with the warning that "no country can do more harm to America than we can do to ourselves if we don't educate our children." The former Stanford University provost was echoing a famous line from the 1983 report: "If an unfriendly foreign power had attempted to impose on America the mediocre educational performance that exists today, we might well have viewed it as an act of war."
Keys to ensuring improvements in education and a stronger democracy include getting political leaders to put more energy into education and explaining to the American people the importance of education for all kids — not just their own, Rice and Napolitano said.
And, they added, it's essential to challenge young people to break through that political polarization.
"It is a real challenge in this time to really educate young people in that way and to foster that sense of civic engagement," Napolitano said.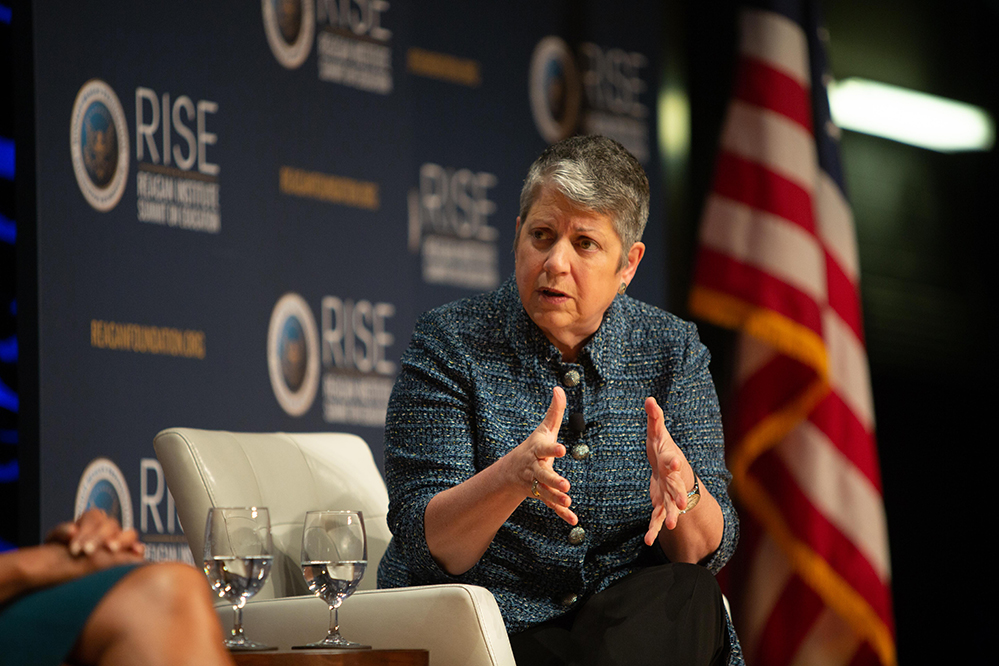 A new "Nation at Risk" report, Napolitano said, would start with "Dear American people: Wake up."
The country must understand that the very idea of American democracy is at risk because of political polarization, she said.
"One of the central parts of resolving that is to make sure our young people can reach their full potential through getting a quality education, whatever their passions are," she said.
As "A Nation at Risk" turns 35 in April, The 74 is publishing an array of articles, columns, retrospectives, and previews tied to the Reagan Institute's "Summit on Education" in Washington, D.C. Read our full series here.
Disclosure: The Walton Family Foundation provides financial support to the Reagan Institute Summit on Education and The 74.
Get stories like these delivered straight to your inbox. Sign up for The 74 Newsletter