New Jersey Teeters on the Brink of Shutdown as Top Democratic Leaders Engage in a Barnyard Brawl Over Education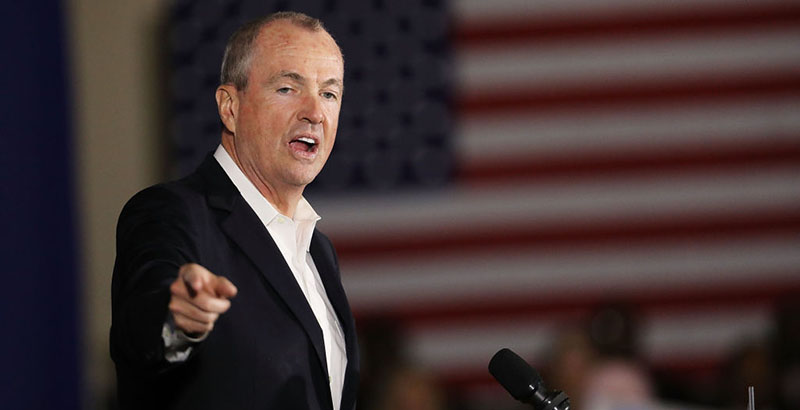 With a new Democratic governor and a Democratically controlled Legislature, one could be forgiven for assuming that the New Jersey State House is a paragon of unity, affection, and efficiency. Instead, Gov. Phil Murphy and Senate President Steve Sweeney are engaged in a barnyard brawl.
And it's all about education: Chiefly, the enormous muscle the New Jersey Education Association flexes in its offices down the street from the State House in Trenton, its reverence for and ownership of Murphy's agenda, and its enmity for Sweeney, the second-most powerful Democrat in the state. This pathological dynamic accounts in large part for a possible government shutdown if the Legislature can't produce a budget by June 30.
You'd think that Sweeney — an old-school Democrat, an official in the iron workers union, and a father with a deep understanding of educational advocacy (he has a daughter with Down syndrome) — would be an OKCupid match for teachers union executives, especially after the eight-year trauma of Chris Christie's administration. Think again. Let us count the ways in which NJEA and Sweeney are on the outs.
In 2011, Sweeney partnered with Christie to pass a bipartisan pension and health benefits reform bill that raised teachers' premium contributions from 1.5 percent to a sliding scale tied to salaries.
In 2012, Sweeney announced that he would not support a union-backed bill that would require local community approval for new charter school authorizations because, he said, it would shut down all charter school growth.
And in 2016, Sweeney refused to bring to the floor a bill that would add to the November ballot a referendum to require the state to hike up its pension fund contributions. The fund is currently rated the worst in the country, with a debt of $124 billion, according to Standard and Poor's. To avenge Sweeney's recalcitrance, NJEA vowed to withhold endorsements and campaign contributions if the Legislature didn't vote on including the referendum. Sweeney stormed out of the State House and told reporters that NJEA was engaging in extortion and bribery.
New Jersey's very own War of the Roses was on. NJEA executives, cocksure of their clout, aimed heavy artillery directly at Sweeney's re-election campaign in his South Jersey district. How? By endorsing a little-known councilman named Fran Grenier who identifies as a Trump Republican, denies climate change, and wants to build that wall. Sixteen Democratic senators sent a letter to NJEA President Marie Blistan that said in part, "It's inconceivable to us that the NJEA is supporting Republican extremist Fran Grenier, an avowed ally of Chris Christie and Donald Trump, both of whom have demonized teachers and unions throughout their political careers."
By election day 2017, NJEA had spent $4.5 million on TV and radio ads blasting Sweeney and boosting Grenier. The state Democratic party was forced to spend down its own coffers. By election day, that race was the most expensive in state history.
Sweeney won handily, of course. NJEA lost not only gobs of teachers' dues money but also the goodwill of many members, a lousy bit of timing considering that the Supreme Court is about to rule in Janus v. AFSCME on whether it's legal for unions to require members to pay agency fees. And any hopes for a Murphy-Sweeney bromance were long gone.
"When Sweeney was under attack by the NJEA even just to retain his legislative seat, he did not feel that Phil Murphy did enough to get the NJEA off his back," said Patrick Murray of the Monmouth University Polling Institute. "So that really is the core of what we're seeing right now. It's pretty easy to trace this line back to the origin."
Carl Golden of the Hughes Center for Public Policy went further: "The NJEA's campaign and Murphy's silence in the face of it will go down as one of the greatest political blunders in modern New Jersey history."
Sen. Bob Smith said, "This puts NJEA in the first circle of Dante's Inferno for the next four years."
Meanwhile, Murphy, a former Goldman Sachs executive with a decidedly progressive streak — a reincarnated Jon Corzine, without the political experience — won as well, first by outmaneuvering other aspiring gubernatorial candidates (including Sweeney) in the mandatory wooing contest for county boss loyalty in this Soprano State, and then by making a host of promises to NJEA that he can't keep. Chief among those were vows to eliminate "on day one" those dastardly PARCC state standardized tests that the reality-impaired love to hate, rescue the insolvent pension system, and "fully fund" the state's (profligate and unfair) formula for school aid, which over-aids some districts and under-aids others.
It's the last item on the list that's sowing discord on State Street and emerging as the wedge issue between the two alpha Democrats. While Murphy has backslid a bit on his fantastical promises, his proposed budget includes a $1.7 billion tax increase, in large part to increase state school aid to underfunded districts without lowering aid to overfunded ones. Sweeney is opposed to raising taxes, mostly because of the new federal bill that sets a cap of $10,000 for state and local tax deductions that will hit highly taxed New Jerseyans hard. In addition, Sweeney has committed to reworking the school funding formula that is frozen in amber and funnels massive amounts of cash to no-longer-so-poor districts while shortchanging others. Example: Jersey City, newly hip among millennials, is over-aided by $112 million a year and spends $22,751 per student. Chesterfield Township, New Jersey's most underfunded district, only gets 11 percent of the aid it deserves and makes do with an annual cost per pupil of $11,381. Sweeney's plan would, in essence, take state aid from Jersey City and give it to Chesterfield.
But NJEA, unhampered by its colossal lapse in judgement in backing mini-Trump, opposes any changes to the funding formula, as do affiliated lobbying groups like the Education Law Center (which made its name 25 years ago litigating those Jurassic Era allocations). And Murphy, still in full swoon, is reluctant to reduce any district's funding.
This leaves New Jerseyans three weeks from a government shutdown and, perhaps, with an eerie sense of déjà vu. After all, one of Christie's final foibles was to shut down the government and then, during the July 4 weekend, fall prey to paparazzi as he lay sunning himself at Island Beach State Park, which, of course, was closed off to residents. Murphy's no beach bunny. But if he can't break up with NJEA's hotshots, he may end up getting burnt.
Laura Waters writes about education policy and politics at NJ Left Behind, New York School Talk, Education Post, and other publications. She just finished serving 12 years on her local school board in Lawrence, New Jersey, and was president for nine of those years.
Get stories like these delivered straight to your inbox. Sign up for The 74 Newsletter