New CAP Report Urges Federal Charter Program to Shift Focus From Opening New Schools to Fixing Problems in Sector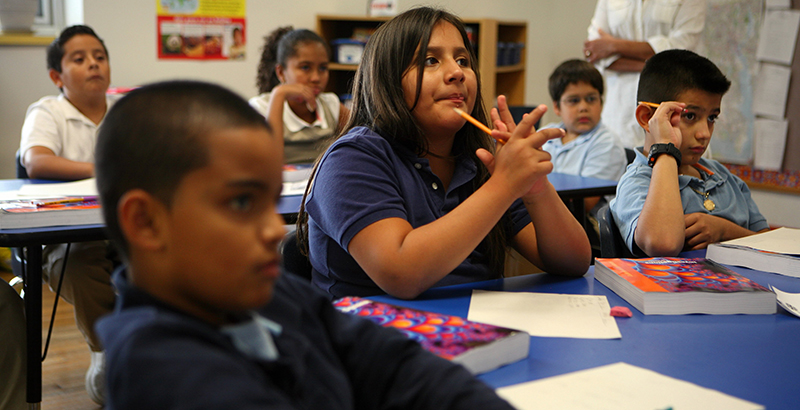 As the U.S. charter sector has evolved throughout its more than two decades of history, so too should the $400 million federal grant program that supports it, a think tank argues in a new report out Monday.
When the federal Charter Schools Program began in 1994, its primary purpose was to help launch schools amid a movement that was just beginning. But even 25 years later, as the sector has matured and grown, about 85 percent of funding continues to go to new schools, and more should be dedicated to improving the thousands that are already open, said Neil Campbell, director of K-12 innovation at the Center for American Progress and the paper's author.
"If we think that charter schools are worth investing in, then it would be good policy to invest in helping the 7,000 or so that are out there," he told The 74.
The paper's recommendations fall into three broad areas: encouraging smart growth, improving existing charters and confronting challenges in the sector.
The Center for American Progress is both progressive and pro-charter, putting it in the middle of a fight that is increasingly viewed as black-or-white.
"It's a little frustrating to see [arguments fall into] very much one side or the other, either very stridently pro- or stridently anti-charter," Campbell said. "We're trying to say there are good things that charter schools are doing and so we should help [create] the possibility for more of those, and address legitimate challenges in the sector as well."
The report comes as the program faces what are perhaps the first significant threats in its history. House Democrats, newly in the majority, proposed a 10 percent cut to the program for the 2020 fiscal year, after several years of big funding increases. (Though the new fiscal year started Oct. 1, the federal government is running on stopgap, fiscal-2019-level funding through late November.)
And two of the three top-polling Democratic presidential candidates, Sens. Elizabeth Warren and Bernie Sanders, have proposed ending the program amid a 2020 field increasingly hostile to the sector.
The federal program is a drop in the bucket of overall education spending: The $440 million the program received last year was just 1 percent of overall spending on K-12, and charters, like traditional district schools, also get additional federal, state and local funds.
Many of the issues charter critics of all stripes have raised in recent years are addressed in the report's recommendations.
For instance, it calls for "community-wide analyses spanning traditional school districts and the charter sector in order to project enrollment patterns and research what kinds of educational programs parents want for their children." These analyses should look at whether there is unmet need in certain neighborhoods or demand for certain types of programs, Campbell said in the report. The grants would go to mayors, school district authorizers or consortia of charters and districts.
Campbell also recommends ways to help charters with things many small schools struggle with, like grants to consortia to improve special education in charters, and to states to better share curricula with charters.
The report also addresses some of the recent scandals in the sector, recommending, for instance, a ban on financial incentives for student recruitment and enrollment, as well as clear conflict-of-interest requirements.
Some of the proposals could be accomplished through Education Department action, while others would require legislative changes, Campbell said.
Disclosure: The Bill & Melinda Gates Foundation, Chan Zuckerberg Initiative and Carnegie Corporation of New York provide financial support to the Center for American Progress and The 74.
Get stories like these delivered straight to your inbox. Sign up for The 74 Newsletter