More Than 29,000 Apply For Iowa Private-School Funds in First Year
Funding for every application already approved as of last week would cost the state $133.5 million.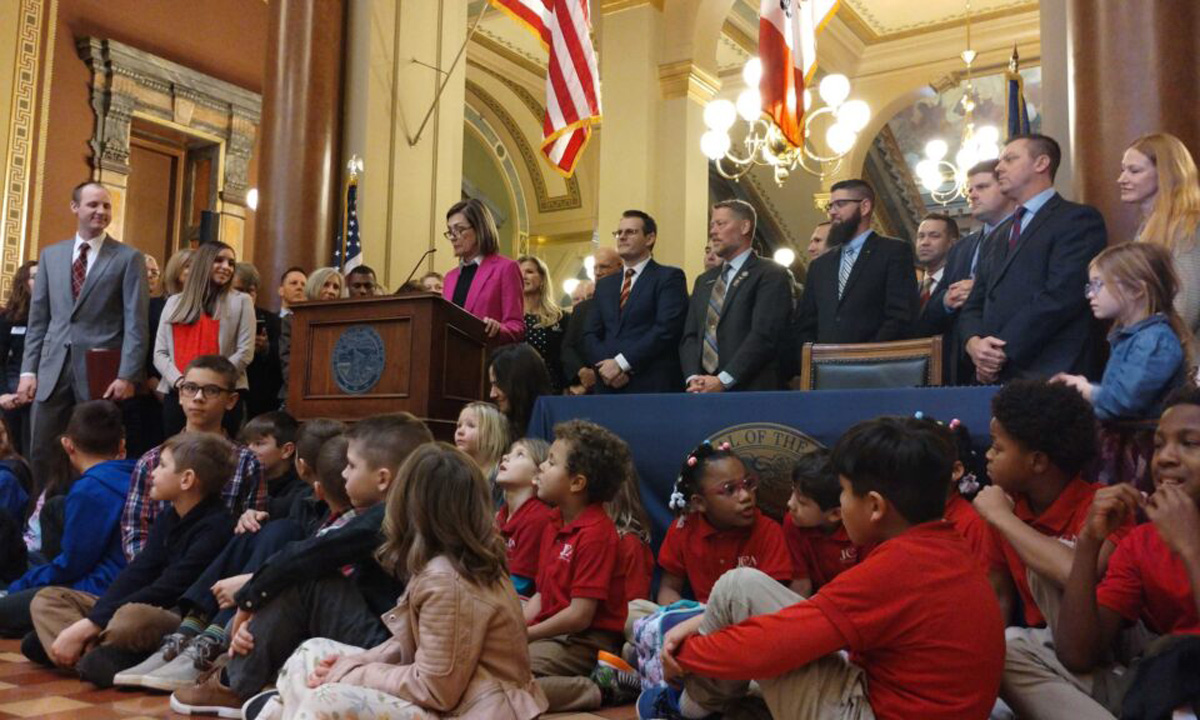 No paywall. No pop-up ads.
More than double the number of expected students applied for Iowa's Education Savings Account program to pay for private school attendance, Gov. Kim Reynolds announced last week.
The governor's office reported that more than 29,000 students applied for the program and over 17,500 have been approved, far exceeding the state's projection that just over 14,000 students would be approved to use an ESA in the first year of the program. The state has until July 31 to approve or reject the remaining applications.
"The tremendous response from Iowa families demonstrates there's both a need and a strong desire for school choice in our state," Reynolds said in a statement. "Allowing parents to choose the education that's best for their children levels the playing field and creates equal opportunities for Iowa's students."
Reynolds signed the program into law in January. Lawmakers approved $107.4 million to fund the program in its first year during the 2023 legislative session — but the program is already set to cost at least $26 million more. Funding for every application already approved as of last week would cost the state $133.5 million. The state has confirmed every approved account will be funded.
Officials with the governor's office said exact costs and numbers are still unknown, as the money will only be disbursed if the student is accepted to attend private school. Reynolds' office said the finalized numbers on cost and how many students are participating will not be available until October.
There are about 9,000 open seats available in accredited private schools, the governor's office said, meaning there may be more ESA applications accepted than there are available spots. If a student is approved for an ESA but does not attend private school, their account will be closed for the school year and the funds will be returned to the state's general fund.
The ESA program funds will be managed through Odyssey, a New York-based education technology company. Funds within an ESA will remain in the state's possession until the student's parent or guardian approves the private school's invoice requesting payment for tuition and associated fees.
Students' accounts will begin receiving funding July 15, the governor's office said.
While final numbers remain unconfirmed, 40% of the applications approved — roughly 7,000 — are students currently attending a public school who plan to move to an accredited private school using ESA funds. The remaining 60% are students already attending accredited private schools.
For the 2023-24 school year, current private school students are only eligible to create an account if their family has a household income up to 300% of the federal poverty line (FPL) — roughly $90,000 for a family of four.
That threshold will raise to a maximum of 400% of the federal poverty line in the 2024-25 school year; all Iowans, regardless of income, will be eligible for ESAs from the program's third year forward.
The governor's office reported that among approved applicants:
14% have household incomes below 100% of the FPL — $30,000 or less for a family of four.
31% have household incomes between 101% and 200% of the FPL — between $30,000 and $60,000.
36% have household incomes between 201% and 300% the FPL — between $60,000 and $90,000.
19% have household incomes above 300% the FPL — more than $90,000 for a family of four.
Some opponents of the ESA program say the program will hurt Iowa's public education system. The program diverts the $7,635 per-pupil funding for a student from their public school district to the ESA account. Reynolds and Republicans have argued that the law's provision granting public school districts $1,205 in state funding for each private school student with an ESA in their district will offset the lost funding.
Mike Beranek, president of the Iowa State Education Association said the money being used to fund the ESA program could be used to help improve Iowa's public schools and "give every student an equal chance for success."
"Unfortunately for Iowans, the governor and the majority party in the statehouse have decided that unlimited budgets are reserved for just a select few Iowans," Beranek said in a statement. "A voucher program that would initially have cost Iowa taxpayers almost a billion dollars over the next three years will cost Iowans even more."
Iowa Capital Dispatch is part of States Newsroom, a network of news bureaus supported by grants and a coalition of donors as a 501c(3) public charity. Iowa Capital Dispatch maintains editorial independence. Contact Editor Kathie Obradovich for questions: info@iowacapitaldispatch.com. Follow Iowa Capital Dispatch on Facebook and Twitter.
Get stories like these delivered straight to your inbox. Sign up for The 74 Newsletter