Monument Academy in D.C. Tries a New Model to Help Kids in Foster Care — a Charter Boarding School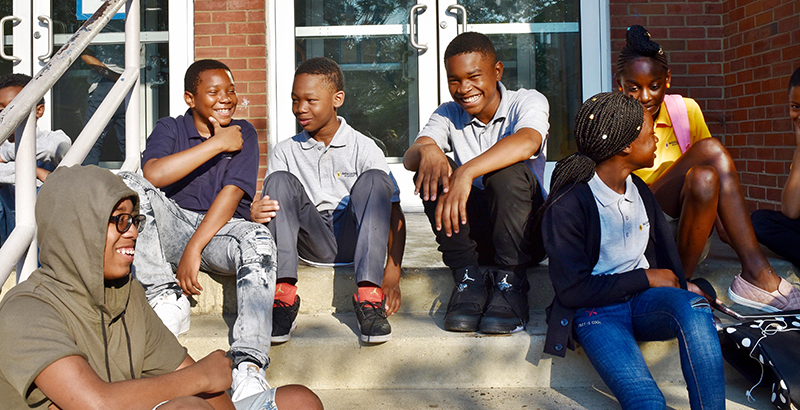 Washington, D.C.
The students at Monument Academy get two lessons in every class: academic and emotional.
One August day early in the school year, a seventh-grade English class lesson, on how the setting of a novel affects character development, came with a side of gratitude and empathy.
"Stuff doesn't define your character, actions do," DaShawn, one of the students, said, summing up the lesson on being kind to others who don't have the same material advantages, taught by one of what's known here as well-being coaches who give "positive action lessons" every day before the teachers take over.
That type of social-emotional learning is key at Monument Academy, a charter school in its third year, serving 127 children in fifth through seventh grades, most of whom have touched D.C.'s foster care system. The students live on campus from Sunday evening through Friday afternoon with house parents, a setup that provides essential life skills and helps them form the bonds with caring adults that are key to long-term success.
Emily Bloomfield, the school's CEO and co-founder, was inspired to start Monument both by her work in education reform, including as a member of D.C.'s Public Charter School Board, and how the issue of children without caregivers had played out in her own family. Bloomfield said her young relatives in California were facing a lifetime in the foster care system when their grandparents had to weigh their own health concerns and diminished financial resources with the need to take them in.
Bloomfield looked at the statistics and was horrified: Students in the foster care system move one and a half to two times a year, ripping up relationships with friends and teachers; they're twice as likely to drop out of high school; and only 2 percent earn a four-year college degree.
"Not only can we not have that for our own family, but it shouldn't be the outcome for any child," Bloomfield said during a visit by The 74 and the National Alliance of Public Charter Schools in mid-August, already the second week of school at Monument, which has only a six-week summer break.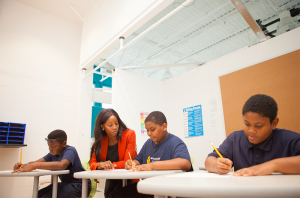 There were 2,454 children under the supervision of D.C.'s Child and Family Services Agency as of Sept. 21. They're split between the 905 children in foster care and the 1,549 being monitored by the agency while still at home with their parents. Nearly all of Monument's students, 85 percent, have come in contact with the foster care system.
Bloomfield dug into research to find out what does work for children in foster care, and found out that an excellent, personalized education and relationship with a caring adult were essential, as were life skills that children in foster care often miss, from cooking and cleaning to the financial skills necessary to prevent homelessness.
(The 74: #FosterMyEducation: New Campaign Urges States to Embrace ESSA Rules Protecting Foster Kids)
A boarding system allowed all of that to come together. Students live in single-sex houses of no more than 10 children with house parents, usually a married couple, some of whom have their own children and pets who also live on campus.
"The boarding component was so important to this because it anchors so much of this work, the relationship builds other pieces. The other reason it's so important is we have adults in this building who are talking to each other day and night about the student and the student's needs," Bloomfield said.
That caring adult makes all the difference, said Sharyl Dormus, the head of student life.
"A student walks through the halls of Monument Academy knowing that they're loved and cared for, knowing that they belong and that they have that foundation behind them in anything they're going to do, that makes all the difference in the world," Dormus said.
Jeanne Peacock Davis had some hesitations about sending her grandson Elijah Miller to live at Monument as a fifth-grader because he was so young, but felt better after meeting his first set of house parents, she said.
"I began to loosen up and felt he's going to be OK. The environment was so different than D.C. public schools that once I started coming here, seeing how things were going, I said 'Oh, he's going to do well.' He has done exceptionally well here. I've seen a big turnaround," she said.
Elijah "has had some trauma in his life," and Monument has helped him deal with that, she said.
Charles W., a seventh-grader at the school, said sometimes he misses his family but living at Monument is better than staying at his mom's house; his brother goes to Monument, too. (School officials asked The 74 to use first names only for some students because of privacy concerns surrounding the child welfare system.)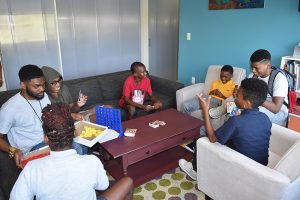 "I like the atmosphere," Charles said. He particularly likes his house's trips to local stores, and the students in his house often help each other with chores, he said.
There were few examples of schools specifically serving children in foster care or in a residential environment for Bloomfield to look to.
(The 74: NYC's Haven Academy, a Bronx Breakthrough Serving Kids in Foster Care That Carmen Farina Has Yet to Visit)
One of the few was the Milton Hershey School in central Pennsylvania. It was founded a century ago by the famed chocolatier to educate orphaned boys. Now co-ed, it's still funded by a trust started with his personal fortune, and currently serves more than 2,000 low-income pre-K-12 students  from across the country. Leaders there provided invaluable help, Bloomfield said, including lending the school a pair of experienced house parents for Monument's first year — and covering their salary.
But by and large, "there's no road map. We are building the highways right now," she said.
In terms of academics, students come into the fifth-through-seventh-grades school anywhere from on grade level to as far behind as kindergarten or first grade, she said. A little more than half of the students have special education needs.
But teachers at Monument set high expectations for their students, emphasizing that they believe they can do the work — something many haven't experienced.
"What they've heard is they're failures, they're bad, they're not worthy, and they carry so much of that anyway from their own personal experience, loss and rejection, that school can become this other pile-on factor of loss and rejection that builds the narrative," she said.
It can be hard for teachers, too.
Ogo Nwaneri, the teacher of the seventh-grade English class, said when she first started at Monument, she felt like she couldn't do it, despite several years' teaching experience in Baltimore.
Now, though, she and her husband have become house parents in addition to her teaching job, an opportunity that she says lets her work with the students in a less pressure-filled environment than the usual 80-minute academic block.
Monument is located in the former Gibbs Elementary School in Northeast Washington, a D.C. public school that closed several years ago. Student housing is in a different wing of the three-story red brick building from classrooms; each "house" is more like an apartment, with several shared bedrooms for students, a communal kitchen and living room, shared bathrooms for the students, and a private bedroom and bathroom suite for the house parents.
"I always say that this job teaches me more than I think I teach the kids," Nwaneri said.
The school had to be a charter to work, Bloomfield said. Beyond the per-pupil education expenditures, D.C. provides additional funding to schools that also house students; Monument also solicits philanthropic dollars.
Autonomy and the ability to make decisions very quickly "is absolutely vital to our success," she said.
Success for Monument's students often involves a lot of quick changes in schedules, spaces, and the way staff do their work that "when you're in a bigger system, it's just really hard to do," she said.
School leaders, who will add an eighth grade next year and hope to expand to high school after that, have learned a lot since they started three years ago, including what has become "blindingly obvious" — the importance of trusting relationships between adults and students.
"Building those relationships is the foundation on which you can then move forward," Bloomfield said.
Get stories like these delivered straight to your inbox. Sign up for The 74 Newsletter