A Chief Makes a Change: Having Created a Top K-12 Leadership Pipeline, Mike Magee Will be Minerva University's New President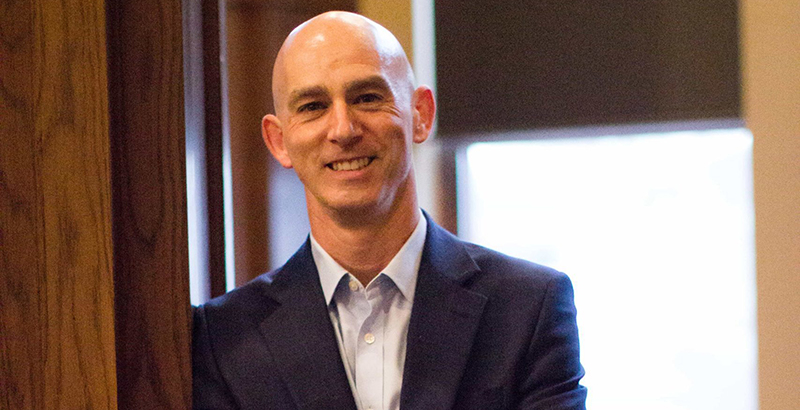 Support The 74's year-end campaign. Make a tax-exempt donation now.
See previous 74 Interviews: Daryl Scott on "grievance history"; Andrew Rotherham on the Virginia governor's race and researcher Gloria Ladson-Billings on culturally relevant teaching. The full archive is here.
The chief is making a change.
After seven years as founding CEO of the K-12 education leadership organization Chiefs for Change, Mike Magee will step down May 1 to become president of Minerva University.
The founder of a network of high-performing charter schools, Magee was Chiefs for Change's first employee, tasked with building an organization that would support K-12 leaders committed to innovations in public education. When they hired him, John White, Hanna Skandera, Mark Murphy and Deborah Gist — at the time, superintendents of Louisiana, New Mexico, Delaware and Tulsa, Oklahoma, respectively — knew first-hand how lonely and stressful leading transformation could be.
They envisioned a network in which chiefs could learn from one another, advocate for innovative policies and identify and nurture up and coming leaders. Today, Chiefs members lead education systems that serve 7 million students in 14,000 schools.
Seen from that vantage, Magee's move to Minerva University seems like a natural extension of the work of enabling as many young people as possible to find their highest purpose. The decade-old university, based in San Francisco, holds small-group seminars in seven cities around the world, with affordable tuition.
In this exclusive exit interview, Magee talks about the lessons he learned while creating Chiefs for Change and how he anticipates applying them in his new job. This interview has been edited and condensed for clarity.
The 74: Take us back to the beginning. How did you create Chiefs for Change? What was the original aim?
Magee: We wanted to build a common vision for how public education should change in the best interest of students. We identified leaders from large public education systems who we thought had been highly effective in their roles, student-centered in their approach, and principled and innovative.
From the beginning, two things were at the heart of our conversations. One was leadership diversity. We wanted the organization to be diverse in terms of race and gender, political orientation and regional representation.
The second thing that we decided early on was that if we were going to be successful, we had to be involved in a meaningful way in leadership development. There was not a robust or diverse enough pipeline of future chiefs. We created our future chiefs fellowship to ensure the leadership pipeline was large enough to serve the needs of school systems across the country, and diverse enough to ensure that students would have leaders within their systems who reflected their extraordinary diversity.
What are some lessons you're taking with you?
First, the importance of community. We wanted to create a true community of leaders, that not only could be supported by the organization, but who could support each other. That has proved to be so important. These jobs leading large, traditional public education systems are among the most difficult and the most lonely. And given their importance, because of the impact that they have on tens of millions of young people, we felt like it was critical to create a real sense of belonging. It proved to be prescient.
We've learned an awful lot about how to support emerging leaders. Twenty-seven of the 50 people who've come through our future chiefs fellowship have become chiefs. Seventy-five percent of our future chiefs are leaders of color, and in every cohort at least half are women. Part of it was making sure we prepared emerging leaders not just to be ready on day one for the chief's job, but to make sure they were well supported and well prepared for the job market itself.
A decision we made at the beginning of the pandemic was to create the opportunity for our future chiefs fellows, most of whom were top deputies in public school systems already, to be part of the community of practice we created involving every aspect of pandemic response, including school reopening and learning acceleration. That decision resulted in the largest community of practice in the country related to those things for education leaders.
One of the things we tried to do is codify some of the most important work happening across our membership, like the incredible innovations in closing the digital divide in communities like Boulder, Phoenix and Ector County, Texas, that mean low-income students will have sustainable access to broadband in their homes going forward.
We built a set of tools our members could use to respond to the pandemic, to open schools safely, to accelerate learning, to plan for the use of federal funds in a smart way, to develop a plan for supporting the mental health of students and how to build out large-scale tutoring programs.
Tell us about Minerva, and why you're excited about it.
At Chiefs for Change, we've done a lot of policy and advocacy work on improving the quality of post-secondary pathways for all students and ensuring that those pathways are affordable. One of the more interesting aspects of Minerva is the way they've approached affordability. Students at Minerva study in seven cities across the world: Berlin, London, Seoul, Taipei, Hyderabad, Buenos Aires and San Francisco. Their entire undergraduate experience is spent in those cities in a program that is itself very innovative and includes virtual small seminars that are integrated into a deeply thoughtful project-based and experiential course of study.
In doing that, as a young university, they have not incurred the kind of facilities and infrastructure debt that are so typical of a selective U.S. university. That's very much allowed them to keep their cost to students down. A Minerva education is less than half the cost of a typical selective U.S. university. What that means for access is profound.
Do you have any fears about the current moment?
I'm mostly filled with optimism and excitement for what's next for both organizations. I couldn't believe more strongly in their importance, particularly in this moment. What I will say is this is an enormous moment of challenge for organizations and for leaders, myself included. It requires excellent strategic decision-making and an extreme level focus to guide organizations through this difficult time.
Despite the fact that many of us, for good reasons, are starting to pretend that the pandemic is over, it's not. Certainly the impact and the aftermath are not over. The staff of every organization I know is fatigued, and helping your people to stay invested in your mission and stay focused and feel well supported is a challenge for any leader right now.
Similarly, although I am moving into leadership in the higher education space, young people are young people. And there's a lot of commonalities between K-12 and higher ed in that regard. The challenges we are seeing with mental health, for instance, in the K-12 sector we are also certainly seeing in higher ed. We need to address these challenges with a real sense of urgency.
I started my own public education in North Carolina in the late 1970s, at a time when the schools there were more integrated than they had ever been before, or have ever been since. That had a profound effect on me, learning across lines of difference. It drove my own sense of purpose, to go into education, to go into leadership in the nonprofit sector. Minerva is an example of creating opportunity for students to learn from each other across lines of difference on a global scale.
I think about something that Martin Luther King wrote in his "Letter from Birmingham Jail" and later said many times, this idea that we are all caught in a web of mutuality, in "a single garment of destiny," interconnected and responsible for each other. I think about the world today, what we have all been through, over the last two years with the pandemic, what we're seeing right now with the war in Ukraine, what we are all living with in terms of the impending climate crisis. To me, what all those things have in common is a deep failure of leaders across the world to figure out how to collaborate across lines of difference to solve the world's most intractable problems.
I truly believe Minerva students are being prepared to have the leadership skills to play a role in solving exactly these types of big problems.
Support The 74's year-end campaign. Make a tax-exempt donation now.