Mergers and Acquisitions: How the National Education Association's Membership Numbers Keep Going Up
Analysis: With nearly 2.9 million members, the NEA is the nation's largest union — but that growth isn't boosting organized labor as a whole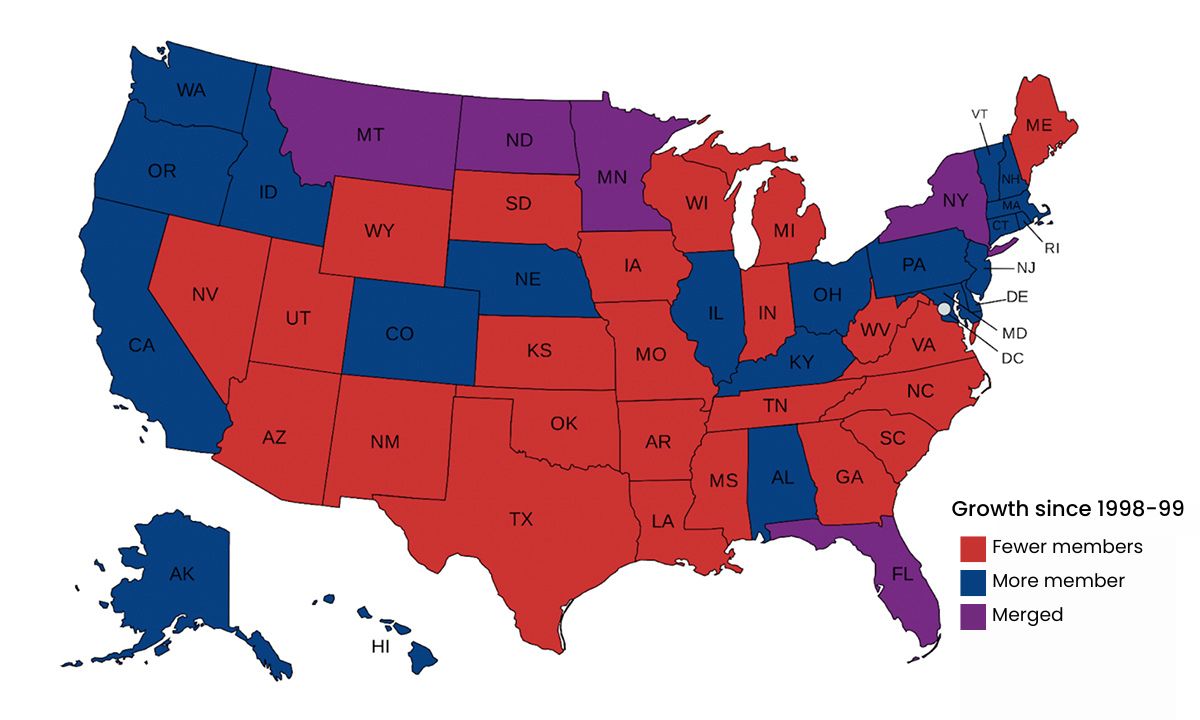 Support The 74's year-end campaign. Make a tax-exempt donation now.
At just under 2.9 million members, the National Education Association is the largest labor union in the United States. It isn't close. It has almost a million more members than its nearest contender, the Service Employees International Union.
To put this in its proper perspective, one in every five union members belongs to NEA — two of every five public-sector union members.
Private-sector unions often run major organizing drives, as we have seen recently with campaigns at Amazon and Starbucks locations. But has NEA been adding to the universe of union members over the years?
At first glance, the answer seems obvious. Back in 1998-99, NEA had 2,436,157 members, and at the end of the 2021-22 school year it had 2,871,908. That's almost 436,000 more members and 18% growth.
But those numbers are very deceiving because of mergers.
After NEA delegates rejected a national merger with the American Federation of Teachers back in 1998, a handful of NEA state affiliates merged with their AFT counterparts. When that happens, both national unions count the other's as new members.
The first instance will illustrate. The Minnesota Education Association merged with the Minnesota Federation of Teachers in 1998. As a result, NEA added almost 25,000 AFT members to its total. But AFT added almost 55,000 NEA members to its total. That appears to be a combined gain of 80,000 members, but since everyone involved was already a union member, it was a net gain of zero for unions as a whole.
In 2000, NEA and AFT affiliates in Florida and Montana merged, and NEA picked up more than 55,000 new members.
Then, in 2006, New York State United Teachers merged with — or, more accurately, absorbed — 41,000-member NEA New York. NEA added 350,000 NYSUT members to its ranks.
North Dakota affiliates merged in 2013, and the merged Montana union merged again with an independent public employees union, bringing in 6,300 more members.
Add together all these members acquired through mergers over the years, and you get 437,290, which accounts for all of NEA's growth over the past 23 years.
During a period when the United States added 346,000 teachers, along with hundreds of thousands of support employees eligible for union membership, NEA netted zero non-members and added nothing to the ranks of America's labor unions.
With mergers removed from the equation, NEA's state-level numbers paint a picture of a union split almost evenly between haves and have-nots. Of the 45 non-merged NEA state affiliates, 24 have fewer members today than they did in 1998-99.
This raises a couple of questions. NEA may be the largest union, but is its strength among education employees overrated? And can this tenuous equilibrium it has achieved between its growing and shrinking state affiliates hold?
Mike Antonucci's Union Report appears most Wednesdays; see the full archive.
Support The 74's year-end campaign. Make a tax-exempt donation now.