As Misinformation Rages, Educators Focused on Improving News Literacy Turn to Outside Groups to Help Kids Parse Fact From Fantasy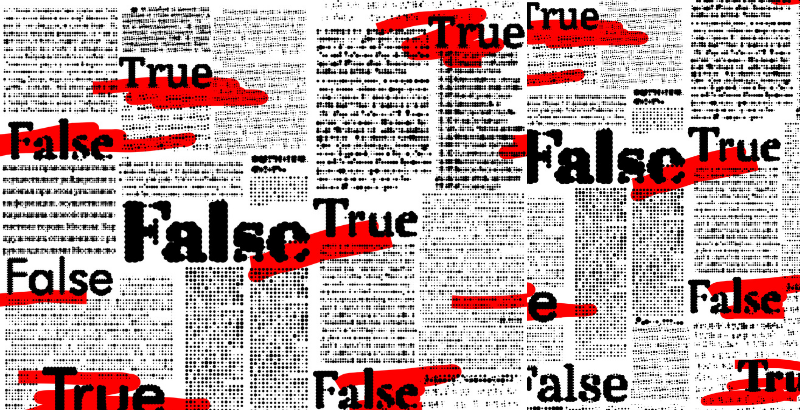 Support The 74's year-end campaign. Make a tax-exempt donation now.
As misinformation rages about fundamental aspects of American life — including false claims about the 2020 presidential election, the severity of COVID-19 and efficacy of the vaccines built to fight it — educators focused on improving news literacy are turning to outside groups to help students parse fact from fantasy.
The News Literacy Project, a nonpartisan national education nonprofit that provides programs and resources to help people of all ages become smart, active news consumers, released a new tool for teachers today to aid in their ongoing battle against disinformation: The framework was unveiled as part of the Third Annual National News Literacy Week, an event presented by the Project and the E.W. Scripps Company.
The effort has five main goals. It was designed to help students distinguish news from other types of information and recognize the importance of the First Amendment in American democracy, including the value of a free press in shaping a well-informed citizenry.
It also seeks to help children understand the standards of quality journalism, use them to identify credible sources and sharpen their verification skills. Lastly, it aims to help students take responsibility for the information they put out into the world, a campaign called "Care Before You Share" that is being promoted through a public service announcement.
"News and media literacy is a critical skill impacting students' academic, personal, professional and civic lives," said Shaelynn Farnsworth, the Project's director of educator network expansion. "Yet, unfortunately, our students are inheriting the most complicated information landscape in history and are often duped by what they consume online."
Farnsworth said misinformation threatens not only our democracy, but our very lives, especially as it concerns baseless conspiracy theories around the pandemic.
"Instead of developing healthy skepticism, students read with a cynical eye instead of a critical one, often not believing any information they consume online," she said. "To combat this, educators hone skills, so students know what to believe, who to trust and what to share."
The organization is encouraged by its growing reach: More than 165,000 students used its Checkology platform between July 2020 and January 2022, totaling more active young users in 18 months than in the prior four years.
The Project's recommendations were unveiled during the same week that the American Federation of Teachers announced its new partnership with the anti-misinformation group, NewsGuard, an organization run by Steve Brill, who founded The American Lawyer, Court TV and the Yale Journalism Initiative and Gordon Crovitz, former publisher of The Wall Street Journal.
According to the AFT, its 1.7 million members — and, by extension, the tens of millions of children they teach plus their families — can now receive a free, online tool that will provide real-time news ratings via a licensed copy of NewsGuard's browser extension. Educators are invited to sign up here.
The need for such tools and programs has only grown in recent years as former President Donald Trump and his supporters ­— including foreign allies who benefitted from his ascension — flooded social media with false claims on myriad topics. Trump himself was kicked off Twitter by the company days after the Jan. 6 insurrection "due to the risk of further incitement of violence".
At least one social media company, already under tremendous pressure to reign in false claims, was called out this week by a conservative parents' group that said it was unfairly targeted for removal from the platform.
Moms for Liberty, started by two former school board members out of Florida, has grown tremendously since its inception in January 2021. Co-founders Tina Descovich and Tiffany Justice attribute much of its success to social media, which allowed members to connect and spread their message without in-person meetings.
But the platform treated them unfairly for ideological reasons, the women told Meta founder Mark Zuckerberg in an open letter dated Jan. 24. In the past few weeks, they said, 22 of their national chapter groups were sent "notifications of community violation" and were disabled for posting what they called "basic information about local government operations such as school board meeting times, or questions about student textbooks."
"Our groups have been shut down repeatedly," they wrote, adding their administrative accounts had been suspended and their national page restricted from posting for "security reasons", though they are unclear as to why. "This severely impacts our ability to pursue our core mission of helping American parents organize to participate in the education of their children. One Moms for Liberty group page, from Fort Bend, Texas, was disabled the same day it launched! It did not even have the opportunity to violate whatever vague standards are being enforced against our moms."
Facebook, now run by a company called Meta, objected to the characterization late Tuesday night.
"Meta doesn't target any group because of their politics," a company spokeswoman said. "After reviewing the content associated with this organization, we determined that some was removed correctly for violating our misinformation policies."
Other content was removed by mistake and has since been restored, the spokeswoman said. Descovich said Wednesday afternoon that her administrative privileges had been reinstated and that many chapter's Facebook pages are back up and running.
The dispute between Moms for Liberty and Facebook over misinformation charges and freedom of speech claims might be one students could dissect using the Project's new tool.
Pamela Brunskill, the Project's senior manager of education and content, said the new framework will help teachers manage what feels like unlimited information.
"The idea of educating the next generation to be news-literate is daunting, particularly because we're faced with the most dynamic and complex information environment in history," she said. "For many educators, it's hard to know what to teach and where to begin."
The Project's new tool will make that Herculean task much easier, Brunskill said, and pay long-term dividends.
"Imagine if our entire society could distinguish news from other types of information, could recognize the role a free press plays to an informed citizenry, could understand the standards of quality journalism, could detect misinformation and faulty evidence, and could express a sense of responsibility for the information they share!," she said in an email. "What kind of democracy would that look like?"
Disclosure: Campbell Brown is the head of news partnerships at Facebook. Brown co-founded The 74 and sits on its board of directors. She plays no role in the reporting or editing of The 74's content.
Support The 74's year-end campaign. Make a tax-exempt donation now.