Maryland Officials Want to Boost Schools' Behavioral Health Services With $120M
Legislative and health officials are promoting a new state grant opportunity to help combat increasing mental health challenges.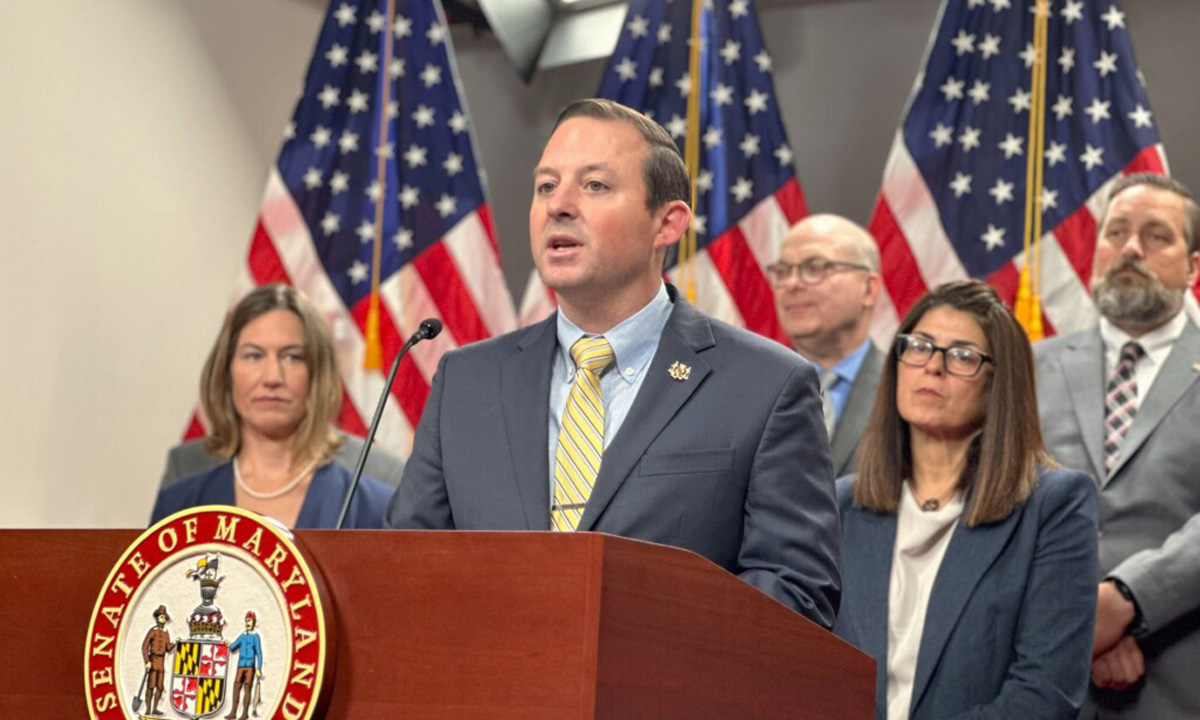 Support The 74's year-end campaign. Make a tax-exempt donation now.
To help combat the increasing mental health challenges among some of Maryland's youngest residents, school-aged kids and teenagers, legislative and health officials are promoting a new state grant opportunity that carves out $120 million in state funds to bolster access to behavioral health services in public schools.
At a press conference Tuesday, Senate President Bill Ferguson (D-Baltimore) said that the $120 million grant funding is a "historic investment" in the mental health and well-being of Maryland students, as kids today face a barrage of new stressors that previous generations were less exposed to.
"Social media influences and the pandemic's effect on learning and socialization have had a major impact on our children," Ferguson said. "I think I speak for every single person up here when I say that our paramount concerns are our young Marylanders' mental well-being and overall success."
He was joined by Health Secretary Dr. Laura Herrera Scott, Sen. Katie Fry Hester (D-Howard and Montgomery), Del. Eric Ebersole (D-Baltimore) and members of the Consortium on Coordinated Community Supports, a state agency tasked with improving behavioral services in schools.
"Even before the COVID-19 pandemic, we knew we had a crisis brewing in behavioral health," Hester said. "In addition to the pressures of good grades and getting into good colleges, there's even more. There's also the fear of bomb threats and mass shootings. There's the complex links to behavioral health and social media algorithms. It is a lot for our children to deal with."
State Superintendent Mohammed Choudhury was also slated to speak at the press conference, but could not attend due to "personal reasons" according to the senate president's office. Choudhury announced Friday that he would no longer seek a second term as the state superintendent.
The $120 million comes from the Blueprint for Maryland's Future Fund, which provides funding for the state's ongoing education reform effort. Grant applications will be evaluated by the Maryland Consortium on Coordinated Community Supports.
The consortium is calling for proposals from behavioral health services providers, to partner with school districts and expand access to services within schools. The grant funds may be used to bolster existing school-based behavioral health programs or provide new service access points within schools. The deadline for applications is Oct. 11, and grant funds are expected to be distributed in December.
Behavioral health service providers will be expected to coordinate with local school districts and align with the districts' priorities. Each application is required to have a letter of support from a school district.
The scope of how the money may be used is quite broad, but Herrera Scott provided a few examples:
"You can imagine community-based organizations that provide behavioral health services providing those services in the schools as one. You can imagine training and education that we do for teachers to do more screening in the school. That could be another," she said. "So there's a variety of ways that, in partnership with these schools, those services can be provided."
Herrera Scott said part of the goal is to meet students where they already are.
"Accessing services outside of school is problematic for many families," she said. "Especially for families who don't have a lot of leave to take time off to get their kids to different activities…So this will help solve some of those conflicts that make it difficult to get kids to services."
Ferguson has been at the helm of some recent behavioral health initiatives in Maryland. This past legislative session, he helped push through a package of bills backed by a bipartisan group of senators and aimed at improving the state's mental health care programs and developing a network of community behavioral health clinics throughout the state, among other initiatives.
On Tuesday, Ferguson, a former public school teacher, recalled how improving mental health services in schools can set up students to be better prepared to learn.
"I used to serve in the Baltimore City public schools as a high school teacher for 9th, 10th and 11th graders," he said. "And what was clear is that when mental health issues were hitting a child or there was something happening outside of school, it was impossible inside the classroom. And so the key here is building that foundation of strong young people, both mentally and physically so they can be their best selves."
Support The 74's year-end campaign. Make a tax-exempt donation now.