Mask Confusion in Schools: Pandemic Offers an Enduring Lesson in Privilege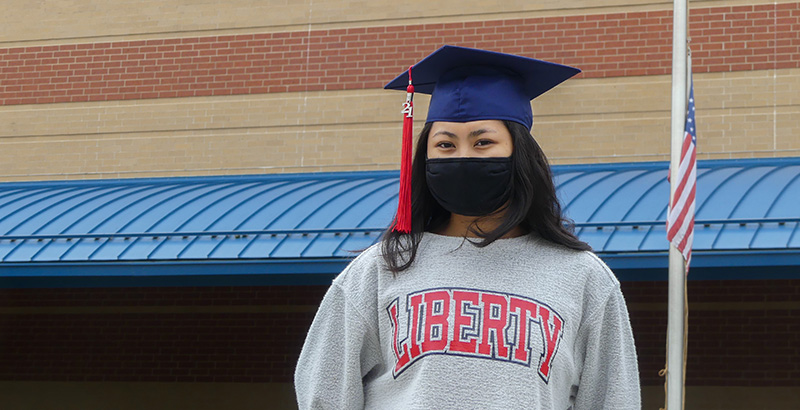 When I came back from lunch, I worked on my creative writing assignment, AirPods on high. As a substitute teacher and a student began arguing behind me, I lowered the volume and turned my head slightly — I did not want it to be too obvious I was listening in. The student, mask down, wanted to eat a sandwich while the substitute pleaded for him to pull his mask up.
Eating in class is typically allowed in my school. However, due to the pandemic, some teachers have limited snacking to the cafeteria so students can remain masked in the classroom.
The student refused to stop eating. The cycle of chewing, pleading and refusal repeated about five times.
In Missouri, I've had to swim upstream when it comes to masks in school. Denial of the virus's validity isn't uncommon, and doubts about the efficacy of masks often follows. The term "mask up" has become a cliché at this point, and students have become tired of the piece of cloth standing in the way of a typical school year. I can't say I'm surprised by this defiance in a red state, but the ignorance and selfishness on display behind school doors goes beyond politics.
Through my peers' TikToks and GroupMe texts, they have found platforms to air their disbelief of COVID-19's harm. The frequently proclaimed 99 percent survival rate of those infected has warped into a shield that makes young people feel invincible. However, that 1 percent should still strike fear into students. If everyone in my school of about 1,516 students got infected, a 99 percent survival rate would mean about 15 students would die.
I keep hearing the same misconstrued data point in the hallways. But as I witnessed the argument between the substitute teacher and my classmate, I realized that data was not a sufficient motivation to mask up — nor was empathy. The substitute explained that if the boy tested positive, she would be quarantined and unable to work for two weeks. His refusal persisted.
I'm reminded of this incident because in a matter of days, I'll be walking across the graduation stage with my fellow seniors. As June 6 approaches, I've seen more and more students in the halls with no masks. Like all seniors who have lived through the past year, I understand burnout. But it appears our academic fatigue has seeped into our response to the pandemic. Our cavalier adherence to wearing masks feels like some sort of show we put on so that the rest of the world can believe we did our part. It's an ugly feeling I'll take with me into college and beyond the current crisis.
I get it. Mask guidance can be confusing. But a recent study by the Centers for Disease Control found infection rates were 37 percent lower in schools where teachers and staff were required to wear masks. The CDC has said that universal masking should continue at schools, at least through the end of the current school year. As for the fall, it may be too early to tell what schools can do before all students are vaccinated.
My school district only requires masks when social distancing is not feasible. But not only is enforcement of this rule nonexistent, we lack decent role models. When I walked to my next class after the sandwich incident, I saw my principal lowering his mask to speak to another administrator. This was in early March, long before most adults were fully vaccinated. One day, after I was exposed to a girl who was COVID-positive at my lunch table, I left through the main office and got signed out by a secretary who had no mask at all. Just a thin piece of glass separated her from various students and visitors who came and went (I was quarantined for 10 days until I tested negative for COVID-19).
My school district has released a list of masks suitable for school and deemed safe by the CDC and the St. Charles County Department of Public Health. But the list is just a set of recommendations, still permitting the use of improper masks while school is in session.
States like Texas have combated the CDC recommendation "to prioritize universal and correct use of masks" by prohibiting mask mandates. Under pressure from legislators and parents, many districts have already lifted mask requirements.
With teenagers starting to be vaccinated in large numbers, we see that an end is potentially near, a time when masks and other precautionary measures will no longer be necessary. I'm still waiting for this time. I don't trust my peers to get vaccinated, having heard their doubts about its efficacy loudly expressed in the hallways and on social media.
As typical end-of-the-year celebrations like prom or graduation approached, my fellow seniors yearned for those events to be "normal." However, each time that word got thrown around to describe the senior year we imagined, I was left wondering why we should be the exception to countless sacrifices people around the world have made during the pandemic. At the end of the day, my affluent public high school in the St. Louis area is still privileged enough to enjoy daily aspects of a regular school year, while other districts have not. We prioritized in-person instruction, which we have received for a majority of the year, but lower income school districts nearby have only had in-person instruction since March.
I won't be attending college in Missouri, but I know that other places around the U.S. have experienced mask resistance. As I make this transition, I look back at my creative writing class and wonder if I should have stepped in. Would it have made a difference? Would the student have pulled his mask up if his classmates stood with the substitute teacher? Accountability has become very important to me. I feel responsible for my environment, for who could be with me during the next sandwich vs. mask debacle. I believe wearing a mask in school is a sign of respect, a way to show that I care about my peers' safety and they care about mine.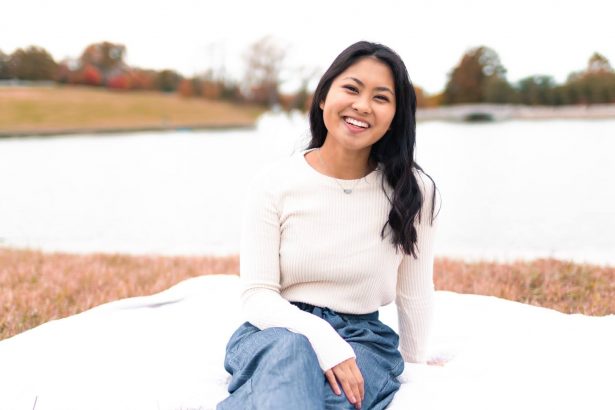 When COVID-19 becomes a piece of history, I will not forget who was among those who failed to realize their "normal senior year" came at the expense of their classmates' safety. I'm not one to burn bridges, but I know which of my peers to keep at arm's length. As I prepare for college, I'm cautious about meeting my new classmates. I wonder if they were like the students at my school, masks down and privilege high. I want to surround myself with those who chose safety and respect.
Ianne Salvosa will be graduating from Liberty High School in Lake St. Louis, Missouri, on June 6. In the fall, she plans to attend George Washington University.
"Pandemic Notebook" is an ongoing collection of first-person, student-written articles about what it is like to live through the coronavirus pandemic. Have an idea? Please contact Executive Editor Andrew Brownstein at Andrew@The74million.org.
Get stories like these delivered straight to your inbox. Sign up for The 74 Newsletter