Drawing on Themes of Opportunity and Inequality, Former Obama Ed Secretary John King Announces Run for Maryland Governor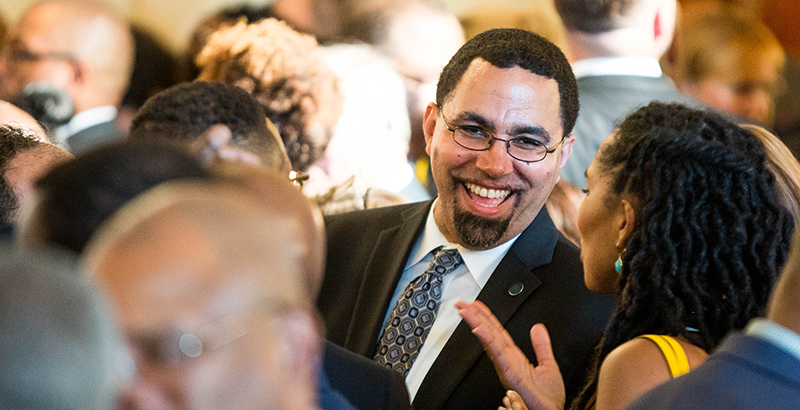 Highlighting his experience as a former teacher and school founder, former U.S. Secretary of Education John King unveiled his 2022 campaign for governor of Maryland on Tuesday in an announcement steeped in talk of education, opportunity and inequality.
A cabinet appointee of former President Barack Obama, King could become both the state's first African American governor and the rare candidate to win office from a perch in federal education politics. In an introductory video posted to Twitter, the first-time candidate, who most recently served as the president and CEO of the nonprofit Education Trust, strongly emphasized his ties to public schools.
"The great thing about the idea of a teacher as governor is that teachers know we have to start with listening to our students, seeing each of our students as whole people," King said. "That's how a governor should think."
The former cabinet secretary's identification with educators could help swing a Democratic primary in which their support will be vital — but prior friction with teachers' unions may also complicate his run.
King's bid makes him one of a slew of Democrats seeking the inside track in a party primary that won't be settled until next June. Peter Franchot, the state's long-serving comptroller, is considered an early front-runner in fundraising and name recognition, and former Prince George's County Executive Rushern Baker, who unsuccessfully sought the Democratic nomination in 2018, has also entered the race.
With Republican Gov. Larry Hogan unable to seek a third term, the field will likely grow in the coming months: Popular author and Baltimore native Wes Moore, founder of the education-related tech platform BridgeEdU, is mulling a run, and former Democratic National Committee Chair Tom Perez (like King, an Obama administration alumnus) is keeping his options open as well. National forecasters are already calling Maryland, one of the bluest states in the country, a plum target for Democratic takeover next year.
If his rollout is any indication, King will rely on a few personal assets to negate his lack of campaign experience or deep ties to Maryland politics. One is his inspirational biography: Orphaned at the age of 12 and later expelled from high school, he said career educators "saved his life" by pushing him to overcome emotional turmoil and earn three Ivy League degrees.
"The thing that saved me was [that] I was blessed to have phenomenal public school teachers who made school a place that was safe and compelling and engaging," he declared in his campaign video.
While King spent much of his career in New York and Massachusetts, he can also lay claim to a powerful connection to Maryland: His great-grandfather was once enslaved just 25 miles from where he now lives in the suburbs of Washington, D.C.
David Steiner, the executive director of Johns Hopkins University's Institute for Education Policy and King's predecessor as New York State commissioner of education, said in an email to The 74 that he was delighted to see King run, praising his "courage and passion for progress."
"He has been through so much as a human being that he has learned to bracket out what isn't essential to his work. And what is essential for John is finding the strongest pathways to create equity of opportunity for all those who lack it. My simple suggestion to my fellow Marylanders: just listen and judge."
Reform background
But King's long experience in the K-12 arena could prove a double-edged sword.
On the one hand, the state might be well-served with an experienced education bureaucrat at the helm. Just last year, legislators voted for a massive overhaul of state education financing, allocating over $4 billion over the next decade to expand public pre-K, send more aid to high-poverty schools, and raise teacher pay. Though the new outlays were briefly endangered by last year's COVID-related drop in local revenues, Democrats in Annapolis used new federal funding to cement the reforms — known as the Blueprint for Maryland's Future — in the state budget earlier this month.
King has previously said that he regards the recently enacted Blueprint "as the floor, not the ceiling," and told the Washington Post that he would favor an even more ambitious education agenda including universal preschool across the state.
At the same time, the fledgling candidate's prior experience as an education reformer, including his leadership of a well-regarded charter school in Boston, could play against him while courting Democratic votes next spring. Randi Weingarten, head of the American Federation of Teachers, has previously criticized King for his tenure as New York schools' chief, and King's relationships with the unions were contentious while he served as deputy education secretary under Arne Duncan.
The Maryland State Education Association, the largest teacher's union in the state, will likely play a huge role in selecting the nominee. Four years ago, they helped defeat Baker in his primary fight against eventual nominee Ben Jealous, the former head of the NAACP.
Gail Sunderman, a research scientist at the University of Maryland and the founder of the Maryland Equity Project, told The 74 in an email that it was "encouraging to have someone running for governor of Maryland who is putting education and equity so prominently at the center of his campaign."
"He has a compelling story that links him to Maryland," she wrote. "While he has an impressive resume, it will be interesting to see how his relative newness to Maryland politics plays out."
Support The 74's year-end campaign. Make a tax-exempt donation now.