Manno: How Do You Keep 21st Century Students Engaged? By Building Up Their 'Vocational Selves.' Some Programs That Make That Happen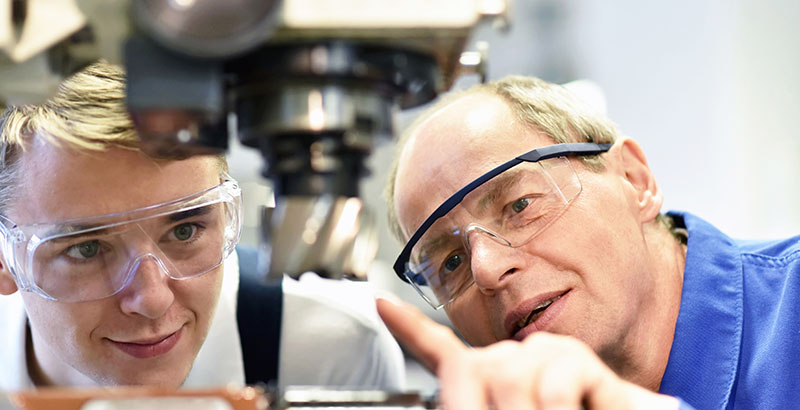 New partnerships are emerging across the U.S. that create innovative educational approaches to preparing America's young people for jobs, careers and further education, helping them develop an occupational identity and vocational self. These pioneering efforts can counter young people's disengagement in school and the disappointment millennials express when they talk about their educational experiences.
Since 2009, the Gallup Student Poll has documented that students going through school experience an "engagement cliff." In grade 5, 26 percent say they are actively disengaged or not engaged in their education, a figure that rises to 60 percent in grade 12. Disengagement affects entrepreneurial aspiration — the talent and energy needed to build a thriving business — which also declines through high school. Actively disengaged students are over seven times as likely as their engaged peers to feel discouraged about the future, while engaged students are nearly five times as likely to be hopeful.
Echelon Insights has studied millennials — those born in the 1980s and 1990s, numbering more than 75 million in the U.S. — and their views on their educational experiences. Only 39 percent of millennials overall say they were prepared for college success; of those not attending college, 21 percent felt they would have been prepared had they decided to attend; 22 percent felt high school prepared them for workforce success; and 20 percent felt prepared to navigate life and real-world challenges.
Millennials believe that K-12 schools must change but doubt that it will occur: 74 percent say schools need "big changes" to create opportunity for students, while 58 percent say "we won't make significant enough changes … and the problems … will keep getting worse."
Finally, 68 percent of millennial parents link education's purpose with preparation for further learning or a successful career. A plurality — 38 percent — say education's most important purpose is "to prepare students for further learning, like college or trade school." In the second most common answer, 30 percent said the goal is "to prepare students for the workforce so they can succeed in a career and make a living."
Surely, the disengagement cliff partially reflects general adolescent malaise. And millennials' thoughts about their educational experiences are a version of consumer regret. But neither consideration should belittle the genuine disconnect young people experience when going through high school or how, later in life, they express disappointment with how high school prepared them for work or further education.
Research shows that sources of social capital like affiliation with new networks and organizations create unexpected opportunities and strong feelings in young people of engagement and self-agency — the power or sense of control individuals have over their own lives. Creating a social-capital approach to school and youth engagement can contribute significantly to overcoming the disconnect and disappointment many young people experience.
What models are emerging on how to do this? (See links below for information on the response of these organizations and schools to the COVID-19 pandemic.)
District and charter partnerships: Wiseburn School District in Los Angeles County and Da Vinci Charter Schools created a partnership with more than 100 business and nonprofit partners that offers students internships, mentorships, workshops, boot camps and consultancies, including student mental health and counseling services. Students receive their high school diploma as well as pursue associate's or bachelor's degrees through UCLA Extension and El Camino College or College for America.
Independent charter schools: The Boston public charter school Match, in partnership with Duet and Southern New Hampshire University, assists students with college completion and career placement, including student coaching and mentoring and accredited associate's and bachelor's degrees.
National Catholic school networks: Cristo Rey, a national network of 37 Catholic high schools in 22 states, integrates four years of academics with work experience through its Corporate Work Study Program. The program places students five days a month in an entry-level, paid, professional job using more than 3,400 corporate partners.
Public-private collaborations: The Atlanta business community, Fulton County Schools and Junior Achievement created a public-private partnership called 3-D Education. This project-based learning approach includes a six-week case study beginning in 11th grade that pairs students with coaches in off-campus industry and professional settings.
Citywide collaborations: In New Orleans, the education, business and civic partnership YouthForce NOLA works with open-enrollment charter high schools, offering career exposure and work experiences, soft-skills training, coaching for students and paid internships for seniors. Twelve organizations comprise the program's steering committee, including the school district, workforce and economic development organizations, community advisory groups and philanthropic partners.
Private enterprises: Kenzie Academy in Indianapolis is a two-year, for-profit, campus-based and online software engineering school taught by industry practitioners that includes a student apprenticeship in Kenzie Studio, the company's consulting arm. An income-share agreement delays the $24,000-a-year program cost until a job placement that pays at least $40,000. A partnership with Butler University allows students to receive a certificate from both organizations.
Technology infrastructure: Communities are using platforms like CommunityShare, Imblaze and Nepris to build virtual mentoring opportunities and networks between students and community partners.
These models generate what analysts call bridging social capital — connections and relationships with individuals and organizations different than ourselves. They create new opportunity networks that increase young people's engagement in their educational experience and long-term opportunity equation. As Xavier DeSousa Briggs says, bridging social capital is for "getting ahead."
These approaches also exemplify the new hybrid educational intermediaries that create "faster and cheaper" pathways to jobs and careers illustrated in the program models described above. Their elements include structured peer interactions; mentorships, apprenticeships and internships; visits to service and professional organizations; work-based learning;  career and technical academies; dual enrollment in high school and postsecondary institutions; boot camps for acquiring discrete knowledge or skills; staffing and placement services; and new approaches to paying for these programs. 
All these help develop young people's occupational identity — their conscious awareness of themselves as workers — and vocational selves. They cultivate knowledge and skills for what students know as well as for whom they know. 
(Click here to see current COVID-19 policies for Wiseburn and DaVinci, Match, Cristo Rey, 3-D Education and Youth Force NOLA.)
Get stories like these delivered straight to your inbox. Sign up for The 74 Newsletter