Magee: Washington Should Commit COVID-19 Relief Funds to Promote Innovative, Flexible State Exams and Improve Student Learning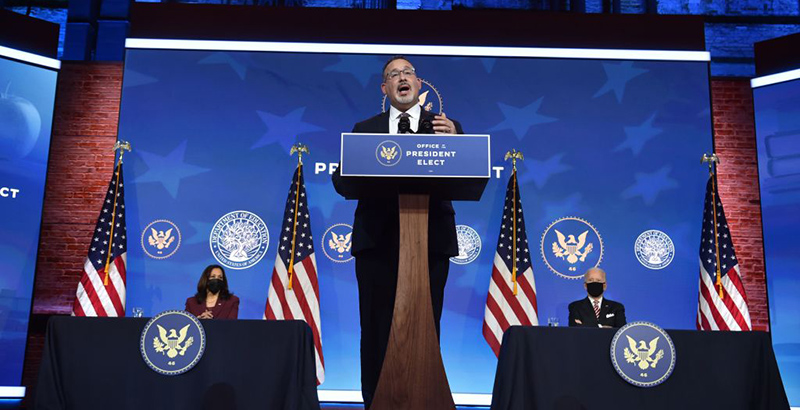 As we approach the one-year anniversary of the beginning of the COVID-19 pandemic, families and educators have reasons for hope: Vaccines are rolling out to new eligible recipients every day, infection rates are beginning to recede from the devastating numbers of the holidays and schools continue to welcome students back for in-person learning. However, families and educators across the country are also worried — about children's mental health and well-being and about those who have fallen behind academically in this most unusual school year. The pandemic has been especially hard on students from low-income families and historically disadvantaged backgrounds, who, on average, experience greater setbacks during time out of school.
Many kids are struggling — we know that much, but we don't have a true picture of where students are in their learning. Tests can tell us what students do and do not know, so we can identify gaps in knowledge and so teachers can tailor their lessons to help those who have fallen behind, as well as those who have kept pace or moved ahead. In particular, we need statewide tests to get as much comparable data as we can on student achievement. That's why I was pleased that the U.S. Department of Education recently affirmed that state assessments and accountability systems play an important role in advancing educational equity and in helping us understand how the pandemic is impacting student learning.
The organization I lead, Chiefs for Change, a bipartisan network of state and district education leaders serving more than 7 million children, urged the federal government to maintain its commitment to assessment, outlining what we call a principled approach to testing in unprecedented times. The guidance the department released is aligned to our recommendations: State leaders should conduct standards-based tests to the extent practicable this school year. The department acknowledged, rightly, that it may be difficult for some states to give tests as usual because of the challenges associated with COVID-19. Our chiefs agree with the department's decision to reject a wholesale suspension of all state-required tests and appreciate its willingness to be flexible when necessary.
Importantly, when it is not possible to administer state tests in the usual manner, the department provides guidance on temporary alternatives. States could, for example, administer shorter versions of their assessments, hold remote testing or extend the testing window into the summer or the beginning of next school year. The department also encourages states to collect data on important topics like chronic absenteeism and students' ability to log on when classes are held virtually. We think states should go even further than this, for example, collecting other measures of student and school performance, such as results from Advanced Placement exams and the percentage of students who complete the federal government's application for college financial aid. We also urge states to continue to intervene in persistently struggling schools and with persistently struggling groups of students, even in the absence of federal requirements to update school ratings.
As states make plans to administer spring assessments, policymakers should also consider ways of improving their assessment and accountability systems. The pandemic provides a unique opportunity to design comprehensive alternatives that would allow collection of richer and more varied data on student learning and outcomes.
Chiefs in our network are very interested in redesigning assessments, provided they are given the right resources and incentives. This was a central focus of our recent annual meeting with the full membership. Our chiefs believe assessments should be crafted to help students build the deep knowledge and critical-thinking skills they need to become productive and engaged members of society. Measures of math and reading proficiency and growth remain essential; they do not, however, give a thorough understanding of whether a child is on track to thrive as an adult. Rather than limiting assessments to a few content areas, we should measure a broader set of skills and knowledge that more clearly signal college and career readiness. Next-generation assessments should also be aligned to high-quality curricula and the texts that students actually use.
If Congress and the Biden administration approve additional COVID-19 relief aid, education leaders could potentially use some of those funds for this work. Yet, given the ongoing pandemic, districts and states will need emergency funding to address a range of extensive, pressing and costly problems. States should have dedicated resources to build new assessment and accountability systems. On behalf of the membership, I recently sent a letter urging the department to work with Congress to allocate an additional $100 million for the Competitive Grants for State Assessments Program.
Innovative state assessment models, like those funded through the program, offer windows into what is possible for the future of understanding and improving student learning. Paired with federal relief dollars, this funding increase would give states the resources they need to create better tests that reflect changes in educational delivery systems, advances in psychometrics and input from educators, parents and students.
The Biden administration has indicated that it understands how important it is to determine how students are doing academically in this challenging time. With Dr. Miguel Cardona now confirmed as U.S. secretary of education, we hope he and the team at the department, along with members of Congress, will give states what they need to measure learning in a way that can help propel America's children to a prosperous and fulfilling future.
Mike Magee is CEO of Chiefs for Change, a bipartisan network of state and district education leaders.
Support The 74's year-end campaign. Make a tax-exempt donation now.