Los Angeles Schools' Bid for $500M Annual Parcel Tax Likely to Fail if Low Voter Turnout Trend Persists, Poll Shows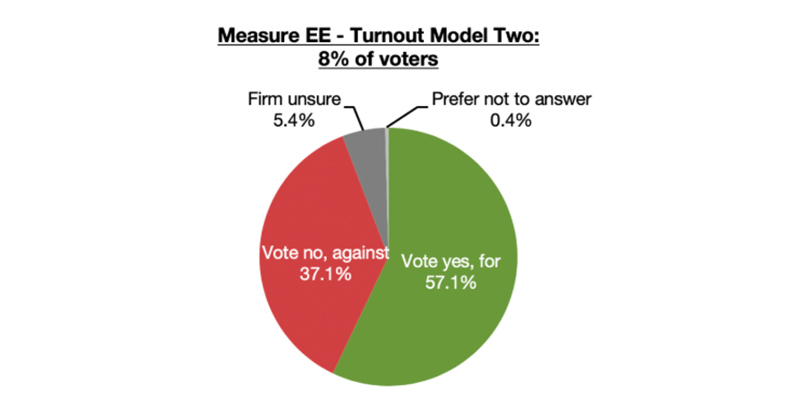 This article was produced in partnership with LA School Report
The Los Angeles School District's proposed $500 million annual parcel tax is unlikely to pass next week if low voter turnout trends continue, a new independent poll finds.
The poll, conducted by Probolsky Research, shows that if June 4's special election sees "high" turnout, or 17 percent of L.A. Unified's 2.5 million eligible voters, the parcel tax could be on the cusp of meeting the two-thirds majority required to pass. But with a "low" turnout of 8 percent — which falls just below the reported turnout for the recent school board race — the odds decrease.
The Measure EE tax would charge residents within L.A. Unified boundaries 16 cents per square foot of developed property, generating an estimated $6 billion over 12 years for district schools. The tax's supporters, who include district officials, the teachers union and Mayor Eric Garcetti, see Measure EE as a necessary investment in the public schools. L.A. Unified also can't currently afford its $840 million teachers contract — signed after January's strike — and has to fix its grim budget projections to appease county overseers who have threatened a fiscal takeover.
The tax proposal has attracted a swath of vocal advocates and opponents. Yet there's been scant publicized polling on resident sentiment leading up to the vote, said Adam Probolsky, the polling firm's president. The last poll of likely L.A. voters on a parcel tax was conducted in February on behalf of the district.
"When we see this vacuum, this data void [on] something that so many people really care passionately about … we really think the public should know about it, see it, be able to digest it," Probolsky said. He noted that the polling was done in the public interest and that the organization, which is nonpartisan and isn't linked to any Measure EE campaigns, did not receive funding for the poll from an outside source.
Probolsky Research conducted the poll on May 16 and May 17 with 400 likely L.A. Unified voters, who were identified with "random sampling methodology to ensure that the demographic proportions of survey respondents match the composition" of likely voters, according to the poll's stated methodology. Half of the respondents were interviewed by phone; half took an online survey. The margin of sampling error is plus or minus 5 percentage points for results based on the full sample. (Read more about how the poll was conducted here.)
The takeaways
If 17 percent of registered voters in L.A. Unified cast a ballot, 61.8 percent would likely vote "yes" and 32 percent would vote "no," the poll found. But 6 percent were a "firm unsure" — making a "yes" vote attainable if campaigning leading up to June 4 sways the bulk of undecided voters to approve the measure.
If only 8 percent of voters turn out, polling predicted that the best-case scenario for the parcel tax — if all of the "unsure" voters got on board — would be a 62.5 percent approval rate. This would fail to meet the 66.7 percent threshold.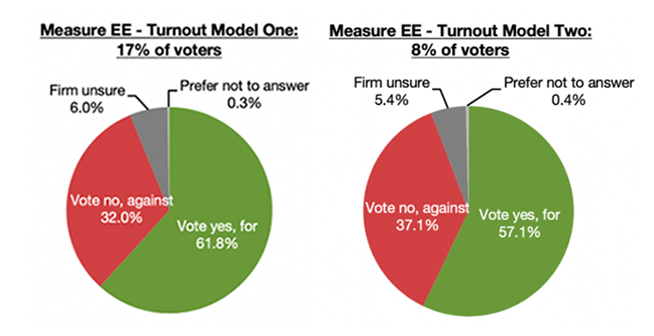 An earlier February poll conducted on the heels of the teacher strike found that 72 percent and 69 percent of L.A. Unified residents approved a 16-cent-per-square-foot parcel tax in higher and lower turnout cases, respectively.
Fernando Guerra, a professor and founding director of the Thomas and Dorothy Leavey Center for the Study of Los Angeles at Loyola Marymount University, which conducts the L.A. Votes exit poll, agrees that turnout is paramount to the tax's success. Special elections typically draw 10 percent or less of eligible voters because they don't line up with regularly scheduled elections.
"Residents and voters are more inclined to support the school district today than anytime in the past, so that bodes well," he said, citing an LMU survey. "All it is is about turning out the vote."
Next Tuesday's election is likely to attract more voters than a school board race because a parcel tax has "a very direct impact" on individuals, Guerra said. But he added that the parcel tax is still facing "a double degree of difficulty" as a special election.
"There needs to be an incredible effort to inform voters, number one, that there's an election happening, and then, obviously, for the proponents, to inform them of the importance of voting 'yes,'" he said.
Board President Mónica García told LA School Report earlier this month that this was the primary focus of L.A. Unified's information campaign. The district's job "is to make sure that our school community [is] having a conversation about impact, [about] 'Yes' or 'No' on EE," she said. "What is it? What does it mean? How does it impact the world of choices?"
Newly seated school board member Jackie Goldberg has also made Measure EE her main focus since her board win. She promoted it on election night and at her swearing-in ceremony.
There have been impassioned arguments for and against the tax. Some of that energy draws from local exasperation with the low achievement scores plaguing the district. When the poll asked the same people who had weighed in on the parcel tax whether they believe students attending L.A. Unified schools get a high-quality education, 44.3 percent said "no," while 35.8 percent responded "yes." The remaining 20 percent were unsure or refrained from answering.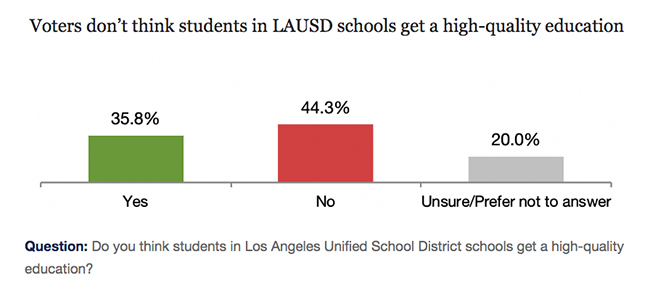 Many of those who said they are voting "yes" see new taxpayer revenue as instrumental in moving the needle. "Education requires and deserves a lot more support at this point in time," one potential voter told Probolsky Research.
"It takes money to do everything great," another Measure EE backer said.
Some of those polled who voted no, however — the vast majority of whom denounced any more taxes in general — said it wasn't their job to fix the district. "We're putting out more money than we should be for the education that the kids are getting now," one respondent said.
"I think L.A. Unified School District is poorly run, poorly managed, and I'm not voting for it," another stated. This belief mirrors one of the major arguments of the Vote No on EE campaign, which is spearheaded by business and taxpayer organizations who say the district is unaccountable and are demanding reform before further investment in the school system.
Yusef Robb, the campaign manager for Yes on EE, had not seen the poll and declined to comment on its findings. But he emphasized that there's strong support for the tax.
"LAUSD politics can be quite dramatic and quite divisive, but on Measure EE there is unity amongst all quote-unquote sides for this measure, because it's not a political statement," Robb said. "It's about investing in the basics of our education system."
The low-turnout trend
The latest example of the lower-turnout trend in local special elections was the May 14 runoff for school board, in which 9.2 percent of Board District 5's more than 314,000 registered voters cast ballots, according to the county's election certification on Friday.
Turnout for that race was lower in predominantly minority, lower-income neighborhoods — a general election trend that's exacerbated by special elections. For example, in the northern part of Board District 5, which is whiter and more affluent, turnout stood at about 10 percent, compared with 4.2 percent in the southern part of the board district, which is almost entirely Latino and lower-income, according to initial precinct-by-precinct data.
Across L.A. Unified, at least 4 in 5 students are from low-income families. Nearly three-quarters are Latino.
Suggestions to boost turnout in local elections have included allowing 16-year-olds and undocumented residents to vote in L.A. Unified's elections and curtailing campaign habits of targeting people who already vote consistently.
There are also steps already being taken. L.A. County in March 2020 will start using "vote centers" instead of neighborhood polling places and offer same-day voter registration. L.A. Unified will line up its elections with even-year primary and general elections next year as well.
Guerra said he believes the most effective way to increase turnout and empower voters is to just never hold special elections — period.
"We need to do a much better job in creating elections that matter and getting rid of the obstacles to participate," he said. "Having too many elections dilutes that effort."
Get stories like these delivered straight to your inbox. Sign up for The 74 Newsletter