'Long Way From the Finish Line': School Budget Showdown Likely as Conservatives Demand Cuts
The president's budget includes $90 billion for education, a new pre-K program and a plan to restore the child tax credit.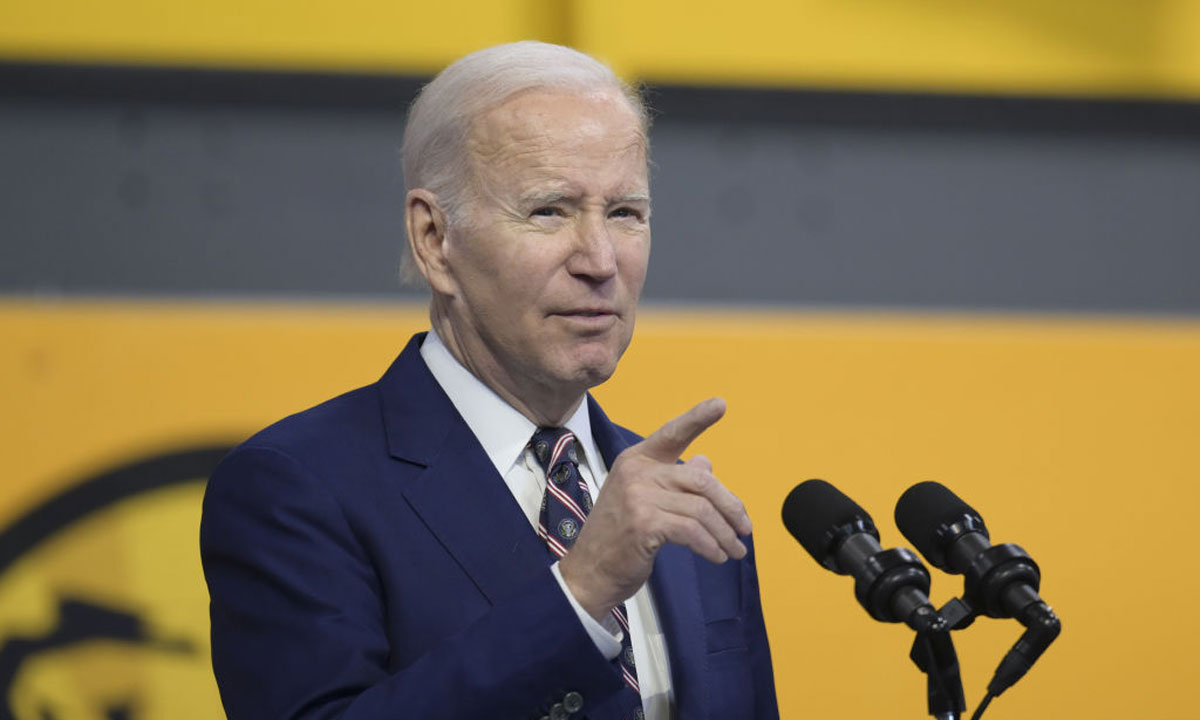 Get stories like these delivered straight to your inbox. Sign up for The 74 Newsletter
The battle lines over President Joe Biden's education budget grew clearer last week as the most conservative wing of the House announced its intention to roll spending back to 2019 levels and cancel the president's student loan forgiveness plan.
If Speaker Kevin McCarthy agrees to their demands, that would wipe out most of the administration's budget request for education, including a $2.2 billion increase for schools serving poor students and almost half a billion dollars to address student mental health needs.
With the slogan, "shrink Washington and grow America," leaders of the Freedom Caucus said Friday they want to avoid hitting the debt ceiling — the limit on how much the federal government can borrow to pay its bills. They also propose to rescind COVID relief funds not yet scheduled to be spent. Biden's budget, meanwhile, includes $90 billion for education, a 13.6% increase over fiscal year 2023.
"We are clearly a long way away from the finish line and middle ground," said Lindsay Fryer, president of Lodestone D.C., a Washington lobbying and consulting firm. "Talks of addressing the debt limit and overall budget levels are sure to add interesting dynamics to appropriations conversations that could prolong this [budget] process for quite a while."
Even with Democrats controlling Congress during the first two years of his presidency, Biden wasn't able to deliver on some of his major education proposals and negotiations stretched until December. But now he has to contend with a Republican majority that wants to scale back government spending — the question is how much. Republicans have just a five-vote advantage in the House, meaning that McCarthy — who didn't become speaker until he bowed to concessions from the Freedom Caucus — will need their support to pass a budget through the chamber.
The administration, on the other hand, wants to raise the $31.4 trillion debt limit to avoid what most economists say would be a global economic crisis. In his budget last week, he pledged to reduce the national debt by $3 trillion with taxes on those earning over $400,000 million a year.
Despite the likely standoff later this year, advocates for schools and early learning programs were still generally pleased with Biden's proposals.
"I'm celebrating," Julie Kashen, director and senior fellow at The Century Foundation, said about the proposal for the Department of Health and Human Services to spend $600 billion over 10 years for child care and preschool. She called it "a significant commitment to meeting the needs of children, families and communities."
The Department of Education's budget also includes a new $500 million program to help school districts expand universal preschool for students eligible to attend Title I schools.
Aaron Loewenberg, a senior policy analyst at New America, a left-leaning think tank, said he was encouraged by the proposal. But he's also realistic about its prospects.
"With a prolonged fight over the debt ceiling looming and House Republicans demanding billions of dollars in funding cuts," he said, "the administration's new pre-K proposal will have a hard time passing Congress."
Biden wants to restore the expanded child tax credit that was part of the American Rescue Plan — $3,000 for those 6 and older and $3,600 for younger children. U.S. Census data shows the monthly payments cut child poverty nearly in half in 2021, and parents reported that it helped them afford rent, groceries and school supplies.
Proposals for other major programs include:
$20.5 billion for Title I, a $2.2 billion increase over 2023
$18.2 billion for special education, including grants for preschoolers, infants and toddlers
$428 million to increase the number of counselors, school psychologists and social workers
$368 million for community schools — more than double the $150 million in the 2023 budget
$1.2 billion for English learners, including $90 million to increase teacher diversity by recruiting and training more multilingual educators
$178 million for the Office for Civil Rights, which last year saw a record number of discrimination complaints
But the administration proposes to keep funding for grants to support new and expanding charter schools at $440 million — the same level since 2019.
That "amounts to a cut" when factoring in inflation, said John Bailey, an adviser to the Walton Family Foundation.
The National Alliance for Public Charter Schools wants to see funding bumped to $500 million. Enrollment in charters climbed 7% during the pandemic — "evidence that parents were looking for something more and better for their children during a time of crisis," Nina Rees, president and CEO of the National Alliance for Public Charter Schools, said in a statement
The president's budget was also a "real disappointment" to afterschool providers, Jodi Grant, executive director of the Afterschool Alliance, said in a statement. The budget keeps funding for the 21st Century Community Learning Centers program at $1.3 billion, the same as last year.
While the budget McCarthy ultimately proposes might not include cuts that are as deep as those proposed by the hardline Freedom Caucus, it's unlikely to include a lot of increases for education either.
As negotiations move forward, Noelle Ellerson Ng, associate executive director for advocacy and governance at AASA, the School Superintendents Association, said she'd like to see Democrats prioritize the increase for special education.
Others want to see the expanded child tax credit make it into the final budget.
"It prevented a lot of children and families from falling below the poverty line," said Cary Lou, a senior research associate at the Urban Institute.
But with McCarthy already saying cuts to Medicare and Social Security are "off the table," that means everything else, including funding for schools and children, is vulnerable, he said. McCarthy has signaled that he might not have his budget ready for at least another month, adding to uncertainty over appropriations for next year, Lou said. "Multiple unknowns make it a bit more of a high-wire act."
Get stories like these delivered straight to your inbox. Sign up for The 74 Newsletter