Lessons from TFA's Virtual Tutoring Program in Battling Learning Loss
Beard: Training college students to tutor at specific schools helps kids catch up in class — and lays groundwork for a more diverse teacher pipeline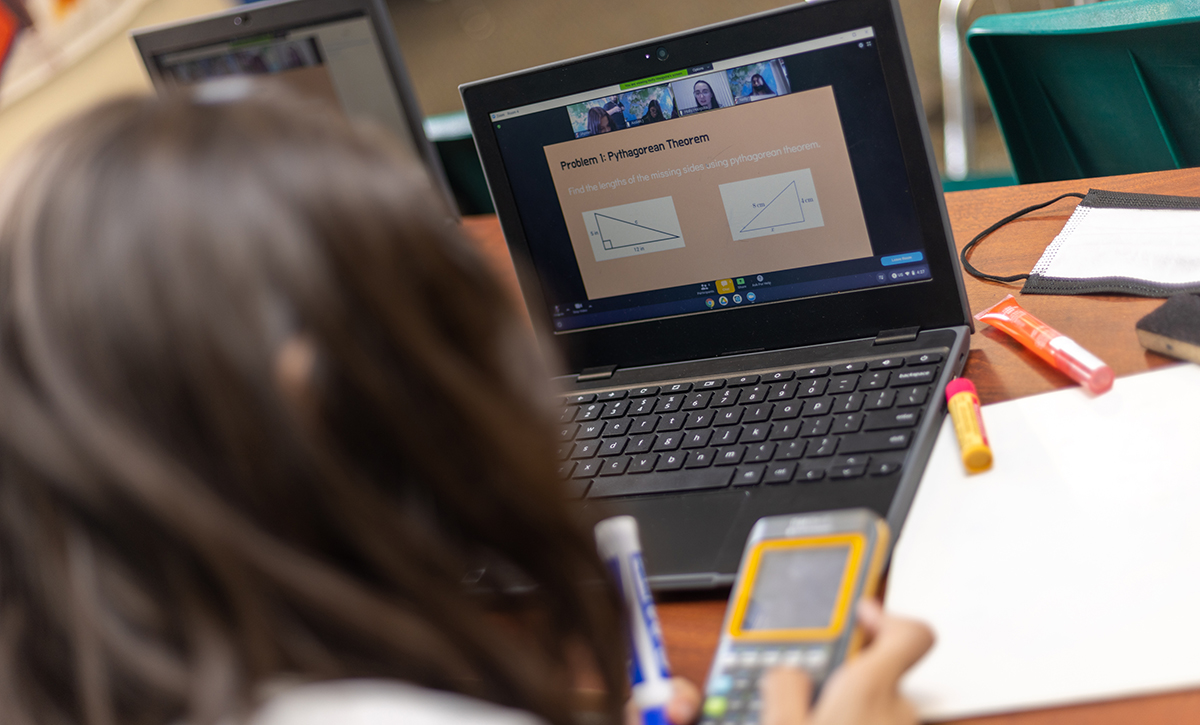 Get stories like these delivered straight to your inbox. Sign up for The 74 Newsletter
America's students are in the middle of summer slide — learning loss that takes place each year over vacation. Research shows students forget 25% to 30% of what they learned the previous year during their summer vacation. The loss is especially pronounced for children from low-income communities and students of color.
This year, the summer slide comes on top of the adverse effects of two years of interrupted learning. One study found that as the school year ended a few weeks ago, students at high-poverty schools who stayed remote for most of the 2020-21 school year had lost 12 weeks — three months — of instruction. Black and Latino students lost four to five more weeks of learning than their wealthy white peers.
School districts must act urgently to ensure that all students can make meaningful progress this school year. One solution: high-quality, high-dose and small-group tutoring, a proven tool to accelerate learning and set students up for long-term success. Recently, the Biden administration announced an initiative led by AmeriCorps and the U.S. Department of Education to bring 250,000 tutors to American schools and new resources for local governments launching tutoring programs. As school administrators consider how to combat learning loss — and use available federal funds to support their efforts — they should put tutoring programs at the top of their list.
Teach For America, the organization I lead, launched a tutoring initiative in fall 2020 following research that shows that high-dose, high-quality tutoring is one of the most effective ways to combat learning loss. One study that looked at the impact of having a well-trained tutor meet three times a week with a group of up to four students found it came close to providing the equivalent of nearly five months of learning. A 2021 meta-analysis from researchers at Brown University concluded tutoring has a more significant effect on student achievement than smaller class sizes, vacation or summer classes and longer school days or years.
Critically, tutoring helps the students who are struggling the most. More than 60% of first- and second-graders in a Milwaukee tutoring program who started the program failing to meet benchmarks achieved those standards after receiving additional academic support. The same study showed students in the tutoring program had six fewer absences a year compared to their peers. With absenteeism rates nearly triple their pre-pandemic levels, this is a benefit that schools cannot overlook.
TFA's virtual tutoring program, Ignite, is a community-based initiative designed to meet the needs expressed by parents and school leaders to accelerate learning and foster connection and belonging. Last year, we recruited 728 college students to partner with 2,300 kids in seven states. This coming school year, we will have more than 1,500 tutors partnering with more than 4,500 kids across 14 states. Tutors work with three students virtually during the school day, at least three times per week.
Veteran educators from each school oversee groups of tutors, in partnership with Teach For America staff, ensuring that what students are learning follows the school's curriculum. All tutors receive intensive training based on best practices as defined by The Annenberg Institute's National Student Support Accelerator at Brown University. To ensure students are learning and the tutors are continually building their skills,the college students receive regular feedback from their trainers. The early results are promising, showing both the students and the tutors benefited from Ignite.
At the end of this school year, 99% of schools with an Ignite program reported that students grew in academic learning and engagement. More than 95% of students said their tutor taught them the way they learned best. At one Phoenix middle school, 79% of participants this fall met or exceeded their individualized growth goals, as measured by Star Math, an assessment tool. A Louisiana elementary school reported similar successes in reading.
More than half of the college seniors who worked as tutors applied to join Teach For America after graduation. Given the group's demographics — 61% are people of color and 52% come from a low-income background — the program is helping to build a more diverse teacher pipeline.
These successes help explain why tutoring is an idea with rare bipartisan support. Programs have earned praise from President Joe Biden, who before launching the initiative had extolled tutoring in his State of the Union address, and from governors — Republicans and Democrats alike — who are establishing tutoring programs in their states.
In March 2021, Congress and the Biden administration provided $123 billion in emergency federal aid to schools nationwide, with at least 20% dedicated to identifying and reversing academic losses. These funds offer a rare opportunity to invest in a more equitable system of learning that school districts must take.
Students are facing a once-in-a-century challenge. To meet the moment, it is time to take bold action and rethink the traditional education system. Doing anything less risks leaving a generation behind.
Get stories like these delivered straight to your inbox. Sign up for The 74 Newsletter