Ed Dept. Announces New Push to Expand Afterschool and Summer Programs
Pandemic recovery efforts are at a 'pivotal point,' said Education Secretary Miguel Cardona, but some accuse feds of 'fiddling while Rome burns'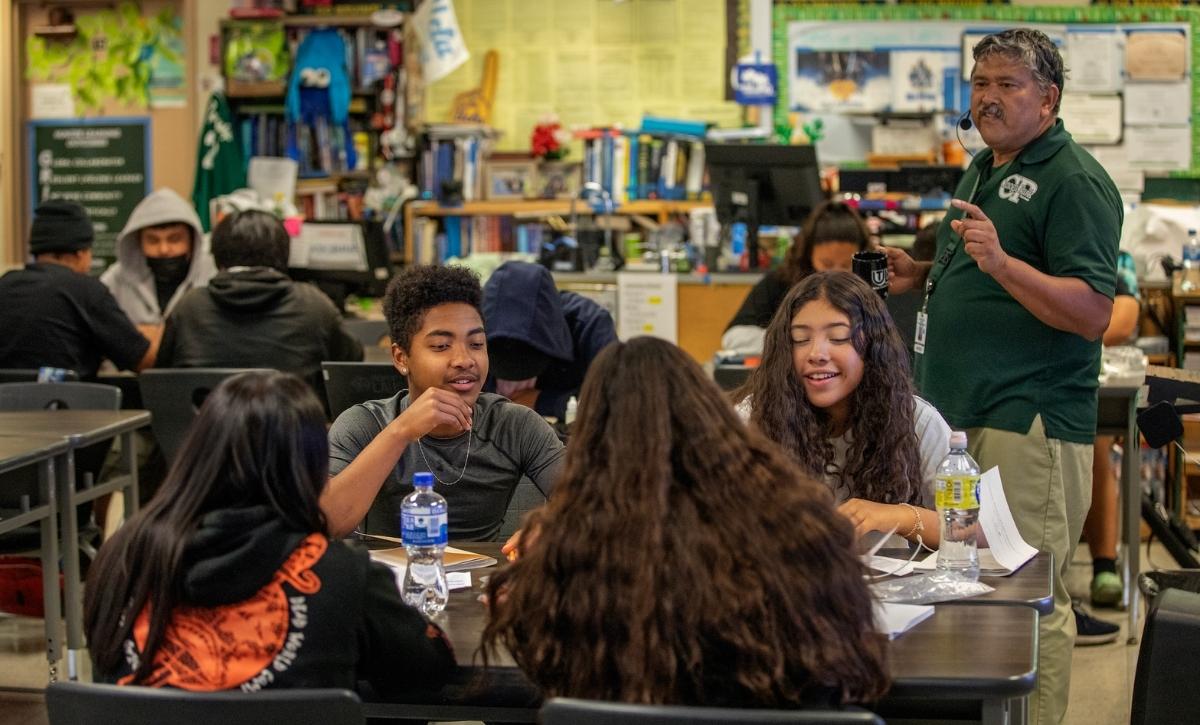 Get stories like these delivered straight to your inbox. Sign up for The 74 Newsletter
The U.S. Department of Education wants to make it easier for families to find high-quality summer and afterschool programs and for schools and local governments to use federal relief funds to pay for them.
Education Secretary Miguel Cardona on Thursday announced Engage Every Student — a partnership with five leading organizations to bring information and research about out-of-school-time programs together into one "centralized, readily available location." The department will seek applications from an outside organization for a $3-$4 million contract in next year's budget to run the initiative.
"We're at a pivotal point In America's recovery," Cardona said during an event in Washington D.C. involving students, education officials and advocates. "If we can reopen school during a pandemic, we can make sure students have access to quality programs."
The event coincided with National Summer Learning Week, but Cardona didn't offer specific details on how districts already running this year's summer programs can benefit.
Coming a week after Cardona joined with White House officials to announce a new effort to recruit 250,000 tutors and mentors, the announcement is the latest from the administration to emphasize urgency in addressing learning loss and students' disconnection from school during the pandemic. According to the department's release, the effort builds on two decades of funding for afterschool and summer learning programs in low-income schools through the 21st Century Community Learning Centers grants.The department seeks $1.3 billion in the fiscal year 2023 budget for 21st Century funding, an increase of $50 million over 2021 and 2022.
"We know that our young people have lost contact with friends, teachers and mentors over the past two years," Daniel Domenech, executive director of AASA, the School Superintendents Association, said in a statement. The organization is part of the effort, along with the Afterschool Alliance, the National Comprehensive Center, the National League of Cities and the National Summer Learning Association.
The new initiative can be helpful if it advises states how to use existing federal grant programs to pay for summer and afterschool when American Rescue Plan funding dries up, said Nicholas Munyan-Penney, a senior policy analyst at Education Reform Now. This week, the think tank released a report on how states are already using relief funds for summer school.
Experts could also help states and districts evaluate which programs improve students' academic performance and mental health outcomes so they can "phase out less effective programming," he said.
But Robin Lake, director of the Center on Reinventing Public Education, a think tank that has tracked districts' responses to the pandemic, said the additional funding seems small compared to the need to better understand what works. And it comes when the Institute for Education Sciences, the department's research arm, already doesn't have enough funding to meet the demand.
"It feels a bit like a 'fiddling while Rome burns' moment for the feds," she said. "Our students are facing extraordinary needs. Now is the time for a serious and strategic commitment of resources from the federal government for research and development."
The Center's research also suggests districts are doing less this year, not more. Its June analysis showed a drop in districts planning summer programming, except for students with disabilities. And in June, the Afterschool Alliance released a survey showing that just one in five afterschool providers has received relief funds.
Last summer, many districts also struggled to hire enough staff to meet the demand, despite pay incentives. And the Afterschool Alliance survey showed two-thirds of program leaders were worried they wouldn't have enough staff this year.
Even when districts plan to serve students with disabilities, they often end up cutting back. A Buffalo, New York-area district reduced extended-year services for special education students because of staff shortages, and the Montgomery County Public Schools in Maryland shifted its program online for about 175 students because of a lack of staff.
Some parents also question whether districts have done enough outside of the school year to move students back up to grade level. Alicia Aleman, who has three children in California's Fresno Unified School District, enrolled them in last year's summer program.
"They offer programs for math or science, but they're only making cookies. They're watching movies," she said, adding that low-income families don't have choices because they are working and "need someone to take care of the kids during the summer."
This year, she tried to sign up for a program through the city, but "all the spots are taken by the time the flyers go to the community."
Fresno Unified, however, has significantly expanded summer programs with $40 million in state funding, boosting enrollment from about 4,000 at a limited number of sites last year to roughly 15,000 this year at every elementary school and middle school. The district is contracting with a range of nonprofit organizations and colleges to offer sports and arts camps, with tutoring built in.
The funding "allows us to remove historical barriers [like] making kids get on the bus and go across town," said Jeremy Ward, the district's assistant superintendent for college and career readiness. "My biggest fear is that we consider this work as a flash in the pan — we influse money for a year or two and then we pull back."
Get stories like these delivered straight to your inbox. Sign up for The 74 Newsletter