Lessons From a Global Reckoning: Students' Racial Backgrounds Largely Misrepresented on NYC Summer Reading Lists, Exclusive Analysis Reveals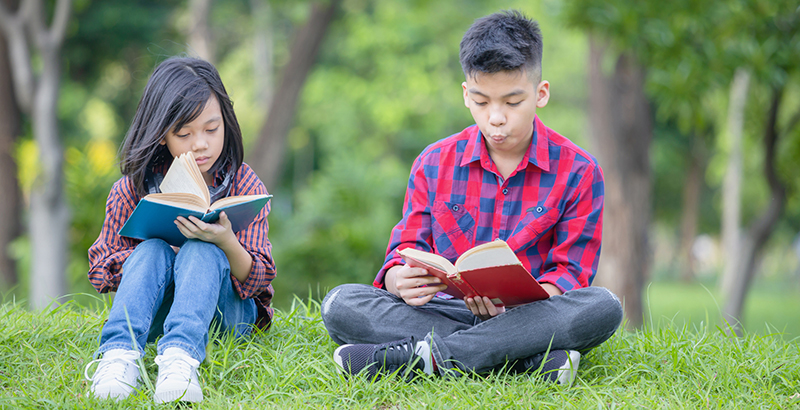 This is the final story in a six-part series, "Lessons From a Global Reckoning," in which The 74 examines how issues of race are taught — or ignored — in America's classrooms. As the pandemic continues and after nationwide protests following the death of George Floyd, this series seeks to take a hard look at how educators are tackling these painful but important issues. Read the rest of the pieces as they are published here.
This summer, incoming ninth-graders at New Dorp High School on Staten Island are reading The 7 Habits of Highly Effective Teens by Sean Covey.
The rest of the school's 3,051 students will choose from three options. Rising 10th-graders can pick from Fever 1793, The Pigman and A Wrinkle in Time. Choices for 11th-graders are I Know Why the Caged Bird Sings, The Book Thief and Orphan Train. Seniors-to-be will read The Call of the Wild, The Picture of Dorian Gray or The Diary of Anne Frank.
All of the books, with the exception of I Know Why the Caged Bird Sings by Maya Angelou, were written by white authors. That means most of New Dorp's non-white population — nearly half of teens at the school — won't read any assigned authors of color this summer.
New Dorp isn't the only New York City high school offering students similar options this summer. An analysis by The 74 found that 11 of the city's 26 largest high schools — those with more than 2,000 students — offer summer reading lists that are overrepresented with white authors.
The 74's analysis of the 11 lists — schools with book lists online — found that on average, 46 percent of authors were white, while an average of 28 percent of students were white.
The 74 also found that, among the schools reviewed:
An average of 11 percent of authors were Asian, while an average of 32 percent of students are Asian.
An average of 6 percent of authors were Latino, while an average of 24 percent of students share that identity.
An average of 30 percent of authors were Black, while 14 percent of students are Black.
"It's embarrassing," said Tanji Reed Marshall, a curriculum expert at The Education Trust. "What we have is this real, serious identity imbalance. It boils down to whose story is being told and whose story is not being told. Students are tired of a one-sided approach to the American identity."
The problem of author underrepresentation in content hasn't gone unnoticed at the city's elementary and middle schools, with the NYC Coalition for Educational Justice calling for a more diverse ELA curriculum and book vendors that reflect student demographics.
In 2019, New York City Schools Chancellor Richard Carranza declared culturally responsive curricula a matter of "life and death." The NYC Reads 365 book list was updated, with an uptick in Black authorship from 9 percent in 2018-19 to 25 percent this year, among other more inclusive changes to the 254-book resource.
"Our students should see themselves reflected in the books they read and the lessons they learn," said DOE spokesperson Danielle Filson, who added that the department revised the 365 options again in February to encompass more non-white authors. "This list was compiled based on recommendations from students, parents/guardians, educators and community members and is more diverse and reflective of our city."
But the city's largest high schools are still falling short.
At New Dorp, 90 percent of the summer reading list is white. The student body, in contrast, is 52 percent white, 27 percent Latino, 10 percent Black and 10 percent Asian. At Curtis High School, also on Staten Island, 41 percent of students are Latino, while only 7 percent of authors on the list identify as such.
At Forest Hills High School in Queens, 71 percent of the summer reading list was written by white authors, compared to a white student population of 29 percent. Although 1 in 4 students is Asian and 35 percent of students identify as Latino, those groups saw themselves reflected in just 7 percent of assigned authors.
Even the school with the most representationally balanced list, Edward R. Murrow in Brooklyn, indicated the same trend. While the student population is nearly a quarter Asian and a fifth Latino, authors with those backgrounds constituted just 13 percent of the school's book roster each.
The other schools reviewed by The 74 were the Bronx High School of Science, Brooklyn Technical High School, Benjamin N. Cardozo High School, Fort Hamilton High School, Franklin Delano Roosevelt High School, Midwood High School and Susan E. Wagner High School.
The NYC Department of Education declined to comment on the findings.
Lindsey Foster, a research associate at NYU's Metropolitan Center for Research on Equity and the Transformation of Schools, said that the trend reflects a troubling gap between what educators know about the benefits of representational learning materials and what's actually being taught.
"In a city like New York that's incredibly racially, ethnically and linguistically diverse, to have a lack of representation is very harmful to students," said Foster, who contributed to "Chronically Absent," a demographic breakdown of books in curricula commonly used across local elementary schools."You've got an overwhelmingly racially diverse student population, and book lists that simply don't match that."
Research shows that "culturally responsive" education — teaching that centers the student experience, so that kids can see themselves in instruction and the way it's delivered — benefits white students and students of color alike. In San Francisco, for instance, the average freshman who took an ethnic studies class improved their GPA by 1.4 grade points and attendance by 21 percent. In Tucson, Arizona, students who enrolled in Mexican-American Studies courses performed better in math, reading and writing — and were more likely to graduate.
Foster explained that giving students representational texts is just the beginning of culturally responsive teaching. "I want to be clear that the lists are simply an entry point," she said. "They're a foundational precondition for culturally responsive sustaining education."
The 74 also showed the lists to Gloria Ladson-Billings, a teacher educator who coined the term "culturally relevant" learning — culturally responsive learning's cousin — in the 1990s.
She noticed some dated titles, like To Kill a Mockingbird and The Joy Luck Club. "That is a pretty old book," she said of the latter, adding that teachers might consider other options written by East Asian authors, like The Latehomecomer: A Hmong Family Memoir, instead.
Ultimately, Ladson-Billings said, students benefit from reading more than just one book about a moment in time or a particular culture. For instance, a teacher might assign Heart of Darkness, a book that highlights the colonial experience and disparages the African continent, alongside a work like Chinua Achebe's Things Fall Apart.
"The question then becomes, 'How can two people write about the same place and have their stories be so different?'" she elaborated. "The role of the teacher shouldn't be to get rid of Heart of Darkness. It's to think about what book should be paired with it."
Marshall, the curriculum expert, wasn't surprised to see the dramatic underrepresentation of Asian and Latino authors in The 74's data. In fact, she said, she's seen worse in other districts.
"The numbers cut through," she added. "Are the lists giving readers a wide sense of identity possibilities? You want to give kids as many as you can. We can do more. We can do better."
Correction: This story has been updated to reflect the correct title for The Latehomecomer: A Hmong Family Memoir.
Get stories like these delivered straight to your inbox. Sign up for The 74 Newsletter