LeBron's School Has Everything We're Told Students Need. It's Still Failing Them
Not one I Promise 8th grader has ever passed Ohio's math test, and English and science scores are dismal. The question is, why?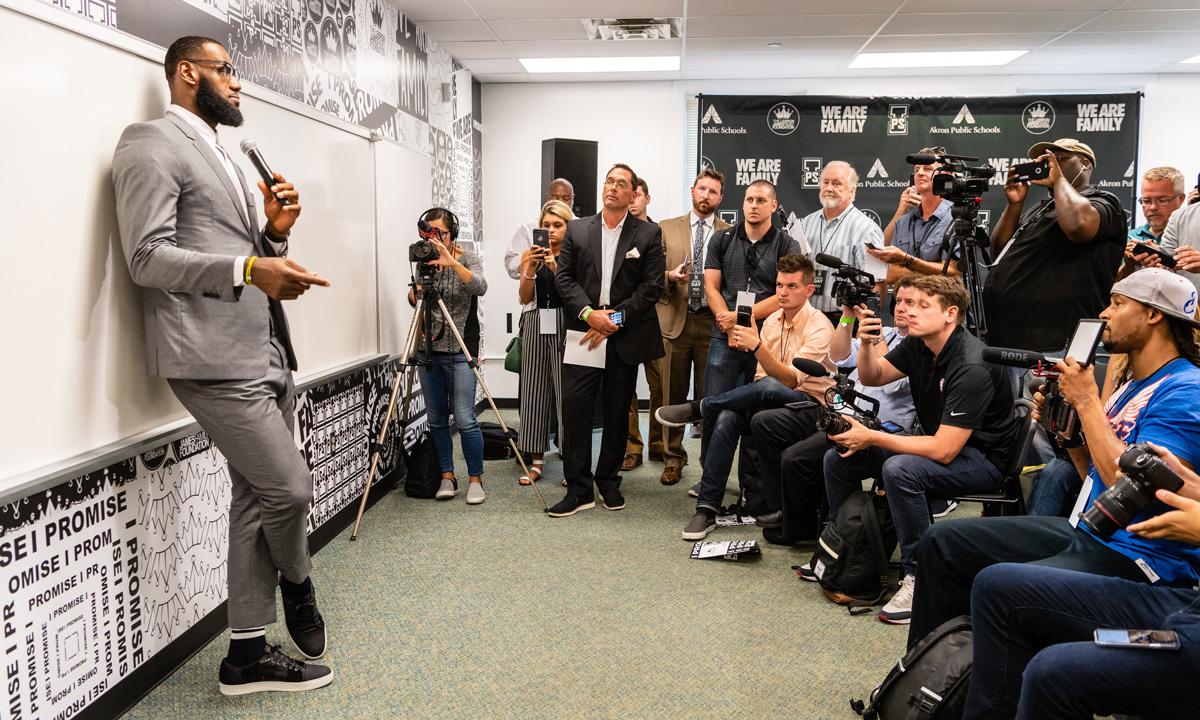 No paywall. No pop-up ads.
Basketball superstar LeBron James has more to worry about this summer than whether the Lakers will make the playoffs. The I Promise school he launched with much fanfare in 2018 made headlines last week for all the wrong reasons.
Data presented to the Akron, Ohio, school board revealed not a single student from the school's inaugural third-grade class — now entering eighth grade — has ever passed the state's math test.
"It is discouraging," said Keith Liechty-Clifford, the district's director of school improvement, in a model of understatement.
State test scores in English and science are nearly as bad, and Black students at I Promise test in the bottom 5% of all Black students in Ohio.
Expectations for the school were much greater in 2018. Liberals loved the idea because it wasn't a charter school, it featured smaller class sizes, it included a host of wraparound services, it incorporated many "community school" concepts and its staff was unionized. Conservatives loved it for its STEM curriculum, its extended school day and year, and its emphasis on students taking responsibility for homework, paying attention to teachers and being respectful.
Even I was hopeful, but not because of any of those things. I found the spirit of cooperation unique among school reform efforts. The local union, the Akron Education Association, is not affiliated with either the National Education Association or the American Federation of Teachers. It showed uncommon flexibility in seeing to it that the I Promise school got off the ground.
The school receives the same taxpayer funding as other district schools, but the LeBron James Family Foundation put up funding for building renovation, free school uniforms, free bicycles and helmets, free breakfast, lunch and snacks, a food pantry, GED and job placement services for parents, and guaranteed admittance to the University of Akron. The foundation raised funds from philanthropists to ensure free tuition as well.
With this entire wish list of public school advocates in place, why aren't the results better?
Unfortunately, the school may be unique, but the explanations were unimaginative.
"We believe our students are more than a test score," said Victoria McGee, the foundation's senior director.
"If I could take kids who are two and three years behind and get them on level in one year, I'd probably resign and take my show on the road," said district Director Keith Liechty-Clifford.
"The type of growth that is important to us is not made overnight. It takes time," said Stephanie Davis, the new principal at I Promise.
Members of the school board were not so sanguine.
"For me as a board member, I just think about all the resources that we're providing," said President Derek Hall. "I'm just disappointed that … it doesn't appear like we're seeing the kind of change that we would expect to see."
Even the union is having doubts.
"I think that the red flags that are being thrown up about the [I Promise School] are concerning," said Pat Shipe, president of the Akron Education Association. "I think there have to be much deeper conversations and more data looked at before we can really address some of the issues that we're seeing."
Shipe's worries may have been prompted by the fact that 15 of the school's 50 teachers have resigned in the past two years.
All these reasons are legitimate. Schools shouldn't be judged on a single test score. The I Promise kids were already behind. It does take time to turn things around. High levels of teacher churn is a problem.
But the resources and programs committed to I Promise were supposed to be the solutions to those types of difficulties. It's correct to be skeptical that test scores can give a complete picture of a school's worth. But they also give reason to be skeptical of a school's self-evaluations. The I Promise students who do attend the University of Akron may be required to take a math placement exam; it's counterproductive to institute a STEM curriculum and then have your school's graduates enrolled in remedial math in college.
If LeBron had scored 5 points a game last year instead of 29, the entire sports world would question his basketball performance. The stakes are much higher for the students at his school.
Get stories like these delivered straight to your inbox. Sign up for The 74 Newsletter