Landmark 1983 Report Faced Backlash but Changed U.S. History by 'Changing the Way We Look at Education and Putting It Back on the American Agenda'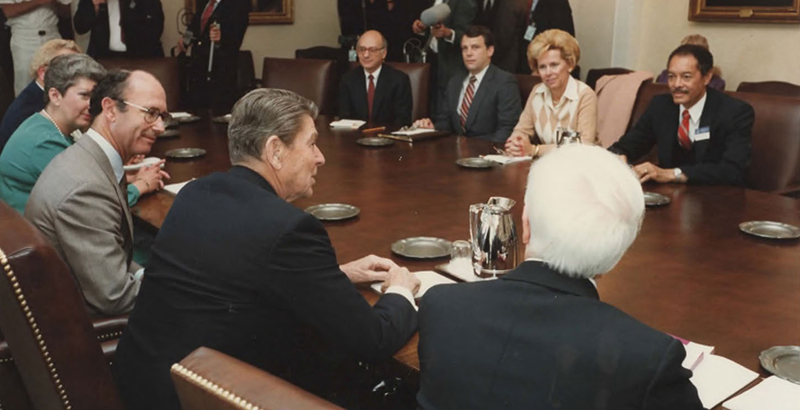 Ahead of the Reagan Institute's Summit on Education commemorating the 35th anniversary of the release of "A Nation at Risk," The 74 is publishing a special series of articles, essays, and retrospectives about the release and the aftermath of the famous education report. See our full series here.
In April 1983, a week before the release of "A Nation at Risk," I handed a copy to then–Secretary of Education Terrel H. Bell, and he read the report for the first time as I waited. When he finished, he said he was "surprised, elated, and apprehensive."
The report's brief 36 pages presented a stinging criticism of an American education system whose student performance was mediocre when compared to other developed countries. Bell thought the report's provocative title and contents would engender the wrath of the education community.
Bell was right, of course. There was backlash from the education establishment — some educators felt they were under attack for the condition of American education. But the overall effect of the report on educators, parents, students, politicians, business leaders, and academics was, as The New York Times wrote in June 1983, to bring education "to the forefront of debate with an urgency not felt since the Soviet satellite shook American confidence in its public schools in 1957."
Now, it seemed everyone was a stakeholder.
The report's influence was evident in the leadership of state governors. Lamar Alexander (R-TN) and Bill Clinton (D-AR) were among the governors who quickly declared their commitment to addressing the report's issues. In 1989, newly elected President George H. W. Bush convened all the governors for a summit meeting in Charlottesville, Virginia, to discuss education goals for the nation.
The report's brevity deserves special attention. As National Commission on Excellence in Education members and staff began to write the final report, we had thousands of pages of research papers, public statements, and private commission deliberations. We struggled to find the best way to craft a report out of the material the commission had absorbed over more than a year of work.
The members, with their different life experiences and points of view, were nonetheless able to reach consensus on the content and format. Their conclusions and recommendations needed to be delivered not as a research paper but as a report to the nation. The members wanted the public to respond to the central message — the imperative of education reform.
Each commission member signed this devastating critique of American education, concluding that consistent themes ran through everything that they had heard and read: Our students did not have an adequate curriculum and were not spending enough time on basic academics. Students and teachers had to meet higher standards. It was in our national interest to provide a quality education to all, regardless of race, class, or economic status.
Although naysayers questioned the length and format, it is clear that this brief report had such power and certainty that it not only survived but has become a landmark in American education history. Then and now, our nation's future economic security and our ability to flourish as a democratic society demand a generation of students with solid academic knowledge, world-class technical skills, conscientious work habits, and eager, creative, and analytical minds.
There have been positive changes in the education system since "A Nation at Risk" was published. There is now general acceptance of higher standards and expectations for student learning and achievement. We've seen new emphasis on the quality of teaching, as exemplified by the creation of the National Board for Professional Teaching Standards. The numbers of students taking the new basics curriculum defined in "A Nation at Risk" has increased exponentially. The growth of charter schools demonstrates the willingness of states and school districts to seek organizational changes for improved student performance.
But there is one issue that we sometimes forget when we focus on education reform. Ultimately, our schools must help prepare young people for life in a democracy. Students must have the attitudes and skills that enable them to contribute to the larger community. Education must foster in every student civility, respect for others, and understanding of civic responsibility.
After the report was released, Bell and President Ronald Reagan began to tour the country to speak about education reform, holding a series of public forums focused on the report's recommendations. The president and the secretary encouraged states and localities to direct their efforts toward the improvement of education in their school districts.
In 1984, Reagan told the members of the commission in a ceremony on the South Lawn of the White House, "It's not overstating things at all to say that your report changed our history by changing the way we look at education and putting it back on the American agenda."
He was right. Thirty-five years after its release, "A Nation at Risk" is still a reminder that quality education is essential to our nation's health and prosperity.
Dr. Milton Goldberg is the former executive director of the National Commission on Excellence in Education, which published "A Nation at Risk" in 1983. He will be participating as a panelist at the Reagan Institute Summit on Education.
Support The 74's year-end campaign. Make a tax-exempt donation now.