Lake: Districts v. Charters Is the Wrong Battle to Pick; Political Leaders Must Focus on the Right One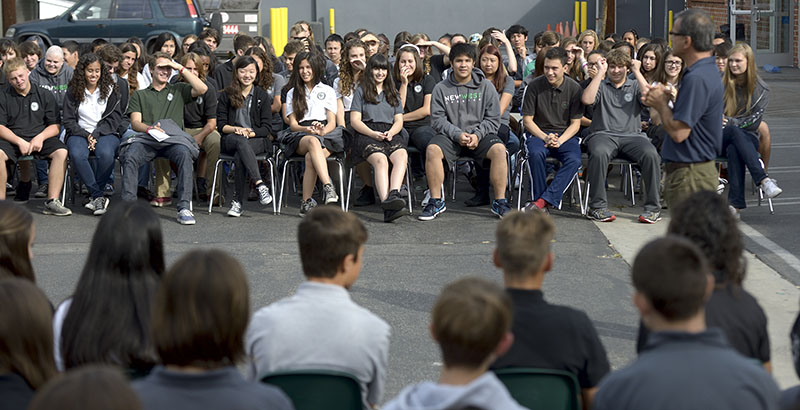 Education in California has been one battle after another. While recent legislative maneuvers blocked an effort to limit charter schools in the nation's largest state, the legislative fight continues. This war scapegoats charter schools for districts' budgetary issues and completely ignores charters' proven ability to improve student outcomes. And it's not the one policymakers should be fighting.
One Democrat-backed bill still active would limit appeals for new charters, giving school districts the ability to block new charter schools from opening in their backyard. And debates continue to rage about the impact charter schools have on school districts, like losing students from traditional district schools — and thus public funding — to charter schools.
Ensuring that school districts can adapt to the realities of enrollment loss is a worthy state concern, but these bills obscure the fundamental problems at the root of districts' fiscal distress.
Public education in California and many other states is underfunded. Pension and special education costs are spiraling. Students have more complex and expensive needs. This year's teacher walkouts, as well as achievement disparities for children of color, non-native English speakers and students with disabilities, are all symptoms of the same problem. Charter schools are not the reason district budgets are collapsing.
By focusing on charter schools, our political leaders, especially Democrats, have bought a line promoted by special interests — like teachers unions — that pits one set of public institutions responsible for educating students (charter schools) against another (school districts). This only reinforces long-standing local adult turf issues of "district schools versus charter schools," even though charter schools are public schools. It also delays needed reckoning with what students — all students — need to get a high-quality education.
This same false-dichotomy logic has now entered the national presidential debate. Assuring high-quality education for every student is why public education exists, something Democrats have historically believed.
In a bizarre twist of logic, Bernie Sanders celebrated the anniversary of the Brown v. Board of Education decision by promising to give black and brown students access to better public education, and the same day proposed a moratorium on federal funding for charter schools — institutions that help advance that very goal.
Clearly there are political reasons for this sudden rise in anti-charter rhetoric from the left. Democrats in state legislatures, presidential primaries and beyond are working to distance themselves from the polarizing policies of President Donald Trump and Secretary of Education Betsy DeVos, both of whom have embraced school choice.
But their party remains split along racial and ethnic lines. Polls show that black and Hispanic Democrats tend to support charter schools. These are voters for whom public education as a shared goal has often come up short. It makes sense that they would welcome new institutions that do a better job advancing that goal.
White members of the party, however, remain more likely to oppose charter schools. Many do so for one of the reasons Sanders does: because, they claim, charter schools have "drained funding" from school districts.
This is the focus of our center's most recent work on California, where, like Sanders, some educators and advocates blame charter schools for district financial problems. Tax money follows students into their public schools — district or charter — so a district loses money when a student leaves to go to a charter school. That's because the district is no longer educating that child. The same thing happens when students move to a neighboring district.
Data do not support the next leap in logic that charter critics often take. Our researchers found no evidence that charter enrollment increases the likelihood school districts will enter financial distress. Independent audits of California's largest districts found that financial stress stems from mismanagement, rising pension and health care costs and unaffordable spending commitments.
California has more school districts with more than 1 in 4 students attending charter schools than any other state in the country. Yet as charters have grown, the number of districts in financial distress hasn't risen. Indeed, most of the districts with financial trouble are home to few charter schools. On average, charter schools enroll just 3 percent of students in school districts with poor financial ratings, according to California school officials.
While the financial health of school districts matters, this debate needs a new frame. Charter schools, like school districts, are public agencies that support the broader goal of ensuring that every student is educated. In Los Angeles and the San Francisco Bay Area, they help increase student achievement. Pitting these institutions against each other doesn't just distract from these shared challenges. It lets elected officials off the hook for bigger questions about how public education is structured.
Confronting those problems will require transforming that system. This can include transformation from within. Across the country, district leaders are working to streamline bureaucracy and give educators more control over their schools, as Los Angeles Superintendent Austin Beutner has proposed. But it will also require new institutions — charter or otherwise — that emerge outside the existing system and rethink education in a more fundamental way.
Our public education system needs a new approach to labor relations that gives educators more say in decision-making at their schools. It needs a new approach to high school that helps students gain college credits, explore career opportunities and gain job skills, without sorting them into tracks. It needs new approaches to special education and social-emotional learning that values all students as individuals and flexes to meet their needs. Public education needs to lower the barriers between schools and communities. And it needs funding and budgeting systems that support those aims without trapping schools under burdensome debt and retirement obligations they can't afford.
The fight between school districts and charter schools is the wrong battle. Our students need political leaders willing to focus on the right one.
Robin Lake is director of the Center on Reinventing Public Education at the University of Washington Bothell. You can find her on Twitter @RbnLake.
Get stories like these delivered straight to your inbox. Sign up for The 74 Newsletter