Teachers in Los Angeles Are Borrowing the #RedForEd Hashtag and Talking Points, but Here's How Their 2019 Strike Would Differ From 2018's Red State Walkouts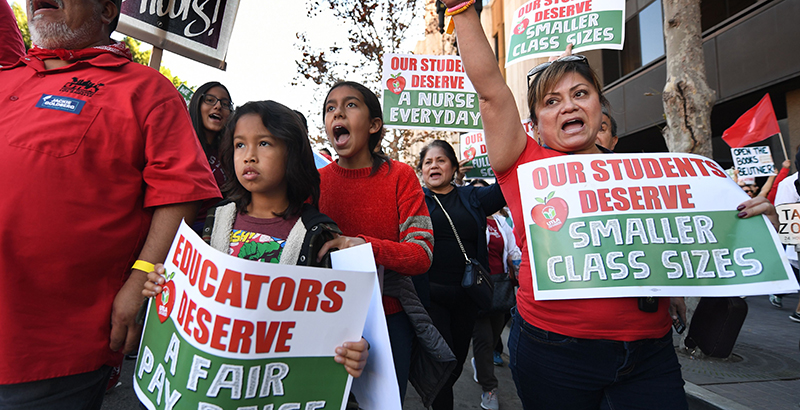 A series of massive teacher walkouts rocked six states in 2018, drawing national attention to teacher pay and working conditions. While not all of the teachers had the same concerns — West Virginia teachers mostly wanted a pay raise, while those in Kentucky wanted to reverse a change to their pensions — the Red for Ed movement captured the public imagination and created a sense of solidarity among public school teachers.
Union leaders in Los Angeles, where teachers are poised to strike Monday if last-ditch negotiations fail, have embraced the connection with the wave of strikes by adopting the Red for Ed name and some of the talking points from those movements, even though the situation in America's second-largest school district is quite different.
"Although the circumstances in different states vary, the common theme across the country is a lack of investment in public education and the threat from the aggressive privatization and charterization movement," Alex Caputo-Pearl, president of United Teachers Los Angeles, told the Los Angeles Times.
The National Education Association, America's largest teachers union, has also called UTLA's action part of the Red for Ed movement.
However, Randi Weingarten, president of the American Federation of Teachers, tweeted, "This is not about a strike wave — this is a specific fight for the kids & public schools of LA."
Whether the strategy will be effective in Los Angeles has yet to be seen. The results of the 2018 strikes, which some dubbed a "red-state revolt," were mixed. West Virginia teachers got the pay raise they were seeking, and Kentucky voters ousted one of the legislators who had introduced the plan to change public employee pensions that teachers were protesting, electing a high school teacher instead. Arizona teachers did not get everything they wanted, but they did win a significant salary increase after five days out of the classroom.
Educators in Oklahoma notched their biggest win, a salary increase, before walking off the job, but they did not accomplish much more with their nine-day strike. When calling for an end to the strike, Alicia Priest, president of the Oklahoma Education Association, urged teachers to continue their advocacy at the ballot box.
On the whole, the Red for Ed movement seemed to fizzle by Election Day, and only about a quarter of the teachers running for state legislative seats won their races, according to Education Week.
Portraying the action in Los Angeles as a continuation of the Red for Ed movement is an "advantageous strategy" for the union, said Bradley Marianno, a researcher at the University of Nevada, Las Vegas, who has studied UTLA. Additionally, the combination of the Red for Ed movement and the Supreme Court ruling last year in Janus v. AFSCME offers an avenue for UTLA to show what it can offer members, he said. The Janus decision states that public-sector unions cannot collect dues from nonmembers, a change that is expected to weaken teachers unions by reducing their income.
"The negotiation comes … on the heels of the Red for Ed movement and the Janus case, where there's a lot of political momentum for teachers unions to stand up and demand more in funding and class sizes and salaries from school districts and from state legislatures," Marianno told The 74. "It's a time for the union to showcase their benefits to their membership, and so there's certainly a bit of that at play within the UTLA negotiations."
Here's how the strikes would be similar:
● Pay and staffing levels: Teachers want pay raises, smaller class sizes, more school funding, and more school support staff in Los Angeles Unified School District. Teachers in West Virginia, Arizona, and Oklahoma had similar demands. (See UTLA's demands here.)
● Similar talking points: UTLA has used many of the talking points from the red-state walkouts to garner support from teachers and from the public, noted Michael Hansen, an education researcher at the Brookings Institution. The messages focus on the importance of public education and argue that state and local governments have failed to invest enough in schools since the 2008 recession.
● Visuals: Teachers are using the color red and the #RedForEd hashtag to show solidarity across district and state lines. Educators across California and throughout the country have used the slogan to show support for UTLA.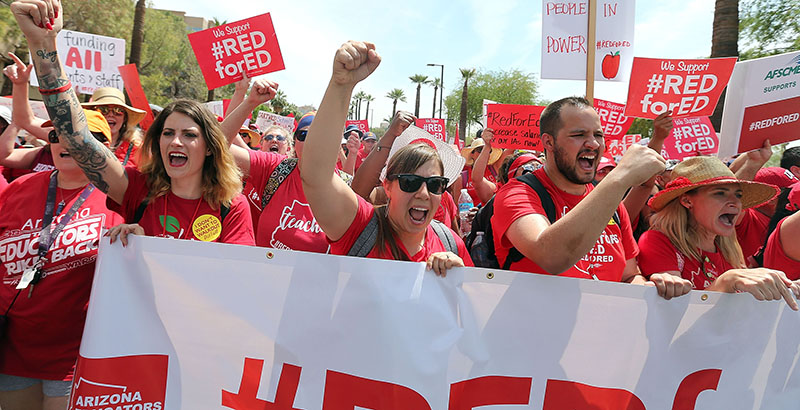 And here's how they would be different:
● State vs. local: In L.A., the union is using a strike to attempt to force the district to make concessions in their contract negotiations. The 2018 Red for Ed demonstrations were statewide walkouts intended to change state budgets and legislation.
● Union politics: Los Angeles has traditionally had a strong union and a powerful Democratic party — including newly inaugurated Gov. Gavin Newsom — aligned with the union. Arizona, Kentucky, Oklahoma, and West Virginia — which all experienced statewide multi-day walkouts in 2018 — are right-to-work states, which means the unions have less power to negotiate and collect fees from teachers.
● Differing labor laws: California workers are legally allowed to strike. In many of the red states that experienced teacher walkouts last year, teacher strikes are illegal — though the teachers there did not face any formal repercussions for their walkouts.
● Formal process followed in L.A.: UTLA and L.A. Unified have been in contract negotiations for almost two years, starting before the red-state walkouts. It was an intense process that involved multiple offers from the district, a formal fact-finding procedure, and specific demands from the union. In an August vote, UTLA members authorized their leaders to call a strike at any time. Most of the organizing in the 2018 walkouts came from teachers at the grassroots level and was directed at legislators, not district officials.
● Schools will remain open: L.A. Unified has said schools will be open throughout the strike and has hired about 400 substitute teachers to supervise students, which will put the district at just 8 percent of its usual staffing levels. Many of the states that experienced strikes last year were forced to cancel school during the walkouts, leaving parents in the lurch for as many as nine days.
● L.A. Unified could lose funding: State law says that California schools receive state funding based on daily attendance, so every day a student misses class, his or her school loses money. That means the strike hurts the district financially, adding to its existing financial woes.
● Post-Janus landscape: Because of the Janus ruling, "there's a certain degree of trying to rally membership on the part of the union, and the strike is one way to do that," Marianno, the researcher, said. The 2018 strikes happened before the ruling and affected states where unions were already weak.
Public opinion about the pending strike is difficult to gauge, but the editorial boards from the Los Angeles Daily News and the Los Angeles Times spoke out against the strike. Parent reactions are mixed. Some are worried about special needs students being neglected if schools are short-staffed, while others have said they feel stuck "in the middle" of the conflict.
In contrast, last year's teacher statewide walkouts sparked a wave of sympathetic media coverage, featuring teachers who work second jobs to make ends meet and spend hundreds of dollars out of pocket to meet their students' needs. Although UTLA is demanding a salary increase, most of its message has focused on smaller class sizes and funding for more support personnel like counselors and school nurses, as well as more oversight of independent charter schools and a cap on their numbers.
Despite having some parallel goals and similar talking points, the L.A. strike is more akin to previous district-level strikes "that we see every year" than to the large-scale Red for Ed walkouts of 2018, which included teachers from multiple districts in states with weaker unions, said Hansen, the Brookings researcher.
"It's those distinctions make the Los Angeles case feel like much more like a return to the status quo prior to the strikes rather than a continuation of the strikes," he told The 74.
Support The 74's year-end campaign. Make a tax-exempt donation now.