Kimball: Working Together, Universities and Charter Schools Can Achieve More for Students Than They Could Ever on Their Own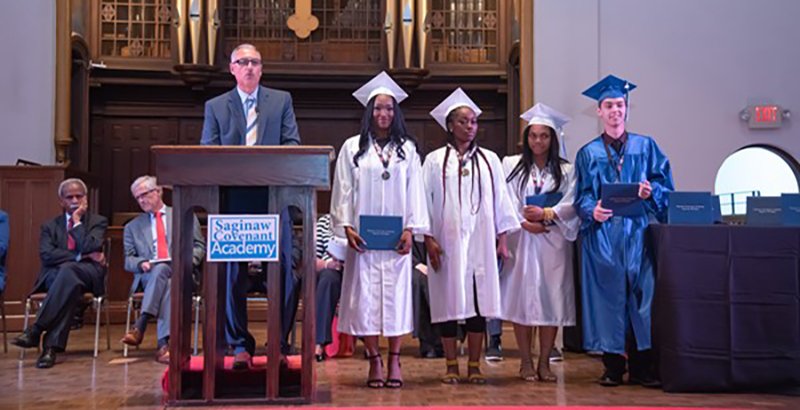 In June, five students graduated from Saginaw Covenant Academy in the heart of Saginaw, Michigan. Saginaw Covenant Academy is a newly formed public charter school chartered by Grand Valley State University, serving young adults who've experienced severe life challenges that few others have encountered. Before finding Saginaw Covenant Academy, these students had collectively enrolled in 22 other schools and lost 17 of their family members to gun violence. Now, thanks to this school, each student has gone on to college.
These students' accomplishments are remarkable, not solely because of the adversity they have faced, but also because they occur in the face of increasingly contentious political battles over whether public charters like Saginaw Covenant Academy should even exist.
Stories abound about charter opposition. For example, districts have tried to block the sale of buildings to charters, a large district board tried to stop food service providers from offering school lunch programs to charters, and districts have threatened to exclude vendors if they previously worked with charters. In May, Michigan's State Board of Education tried to bottle up $47 million in federal grant funds to replicate and expand high-performing charter schools. Most Democratic presidential candidates are either softening their support or struggling to take a clear position on charters. And one candidate, Bernie Sanders, has gone so far as to call for a moratorium to quash charter growth.
The turf wars that many of us tried to leave back in the 1990s still continue on the campaign trail, in boardrooms and in too many school district front offices.
What charter opponents fail to see is a simple truth: Public education is too complex for there to be one "solution" to the challenges our schools face in educating kids. Students' needs are simply too diverse and changing, and their success is simply too important to depend on a single answer to meet each student's needs.
Public charter schools are one way, but certainly not the only way, to solve problems in public education. Public charter schools offer opportunities to innovate outside the traditional structure, both in the classroom and in how schools are organized. They create a space for schools to access more talent and resources through partnerships with philanthropists, the private sector and others in the public sector. Schools that haven't been created in traditional systems, like Saginaw Covenant Academy, result from these partnerships.
Some pioneering colleges and universities are at the forefront of this work by supporting and regulating a portfolio of public charter schools. Ranging from higher education institutions that authorize one or two public charter schools to a large system that charters hundreds, these universities are uniquely positioned at the nexus of K-12 and postsecondary education.
At Grand Valley State University, a public university in Michigan, for example, chartering is an extension of our core values. We put the collective talents of our university to work to improve K-12 teaching and learning. Everybody wins in this situation: Faculty research improves teaching and learning in the schools, teacher training sites are connected and coordinated with university schools of education, college students access real-world internship and training sites, and college-going cultures develop for public charter school students.
In short, the connection helps each public charter school and our universities achieve more than they could on their own. And it helps us, as a university, have a deeper understanding of challenges in public education and how to solve them. This makes all of us better and increases our collective capacity to do more for kids.
It's a model of what can be done in public education once we set aside '90s-style turf wars and get to work, together, for students like those at Saginaw Covenant Academy and others who need a new approach toward public education.
Robert Kimball, Ed.D., is associate vice president for charter schools at Grand Valley State University in Allendale, Michigan.
Get stories like these delivered straight to your inbox. Sign up for The 74 Newsletter