Kerr & Richie: Want to Solve the K-12 Staffing Crisis? Offer Higher-Quality Jobs, Better Career Pathways and Stronger Supports for Workers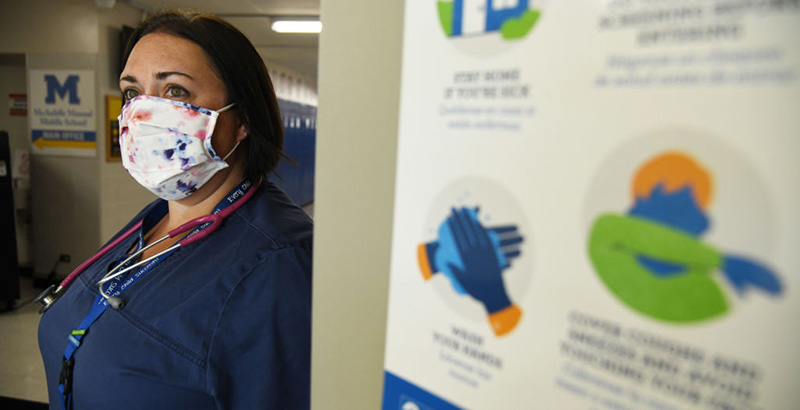 Support The 74's year-end campaign. Make a tax-exempt donation now.
The majority of public schools are back to offering full-time in-person instruction. But in districts across the country, persistent and unprecedented staff shortages are creating new kinds of uncertainty as the pandemic drags on — especially in high-poverty districts.
It's not just classroom teachers: In many schools, lower-paid roles such as substitute teachers, bus drivers, paraprofessionals, nurses and cafeteria workers are the hardest to fill. Lost instructional time, fewer nutritious meals and unreliable transportation, among other K-12 staffing-related problems, mean this school year is far from normal for millions of students (and their parents).
Why all the hiring challenges? To some extent, schools' workforce challenges mirror the broader labor market, now severely strained by what's been dubbed the Great Resignation. But while staffing shortages in education have undoubtedly been exacerbated by COVID-19, they are not new. The current crisis has shined a light on the root causes of longstanding K-12 workforce challenges: low wages and poor benefits, unclear career pathways and a lack of worker support. In short, many currently unfilled jobs are low-quality.
For a long time, education leaders have pointed to a lack of money as the reason schools can't make progress on hiring and retaining staff. But with the American Rescue Plan Act sending aid to districts across the country, funding is no longer the insurmountable obstacle it once was. Leaders now have an unprecedented opportunity to invest in evidence-based solutions that address staff shortages, which many education experts and administrators now see as one of the biggest threats to school systems in the coming years.
Research by leading workforce and education experts suggests there are concrete ways state and local education leaders could boost job quality and help fix broken (or nonexistent) talent pipelines. The evidence points the way to both short- and long-term solutions, which could particularly help address substitute teacher and bus driver shortages.
Most districts have underpaid these workers for many years. In today's extremely tight labor market, schools should be raising wages — and that is happening in parts of the country. Signing and retention bonuses are also in the mix in some places, such as Anne Arundel County in Maryland, which is leveraging rescue plan funds. Ontario, Canada, recently extended its School Bus Driver Retention Program, which provides $2,000 bonuses to bus drivers who stay throughout the school year and could benefit 18,000 workers.
This is great — all workers deserve to be paid a living wage. But it would be a mistake to raise pay and simply expect substitute teachers and bus driver shortages to disappear. Rather, establishing better career pathways and better worker supports holds the promise of boosting the quality of these roles, reducing burnout and turnover, longer-term.
School bus drivers often work part-time but cannot take another job because of spread-out morning and afternoon shifts. What if schools offered them paid midday apprenticeships, to learn skills required for operations and maintenance work at schools? In Volusia County, Florida, bus drivers can move into maintenance or climb a career ladder within transportation; they receive salary bumps for each certification earned, and classes are offered in between bus runs.
In Bozeman, Montana, drivers are permitted to bring young children with them on their routes, in an attempt to create more supportive conditions for parents.
For substitute teachers, schools could tap existing teacher training pipelines and partner with schools of education to provide credit for in-class instruction hours while subbing. In this way, substitute teaching could be a useful step on the way to becoming a full-fledged educator — and the quantity (and quality) of available subs could well go up. In Central Falls, Rhode Island, district leaders created a fellowship program, similar to a teacher residency, in which participants commit to a full-time substitute position in a school for one year. This leads to better working conditions for subs, who get to know fellow faculty members, and better outcomes for students, who build stronger relationships with substitutes. Just down the road from Central Falls, in Providence, district leaders launched a "TA to BA" fellowship, through which paraprofessionals receive financial support and specialized training to accelerate the path to becoming classroom teachers. The same approach could work for subs.
Substitutes could also benefit from the same proven strategies, such as committing to social justice and prioritizing teacher learning, that support the well-being of full-time teachers. This could boost retention — especially teachers of color, who are more likely to stay in schools committed to equity and anti-racism.
Of course, specific workforce challenges vary district by district; what constitutes an effective career pathway or support will be different across geographies. That's why any proposed workforce solution should let data lead the way. One good starting point is to ask school employees (or those who have quit) what would increase the quality of their jobs and ensure they stay. The Aspen Institute offers great resources on how to conduct worker surveys and focus groups.
Districts can also partner with workforce development leaders to create short- and long-term solutions. Some schools and workforce agencies already work together to develop career education programs; they could also collaborate to improve the quality of jobs and fill talent pipelines.
While money is part of the solution to today's school staffing crisis, quality jobs involve more than just living wages and good benefits. It's time for schools to rethink and recast the jobs of people who have always kept them going in the background. They've been overlooked and undervalued for far too long.
Sara Kerr is vice president of education policy implementation and Celeste Richie is vice president of workforce development at Results for America, a national nonprofit that promotes evidence-based policymaking.
Support The 74's year-end campaign. Make a tax-exempt donation now.