Keleher: As Puerto Rico's Education Secretary, I Fought for the Island's Students. Now, My Successors Must Take Up the Battle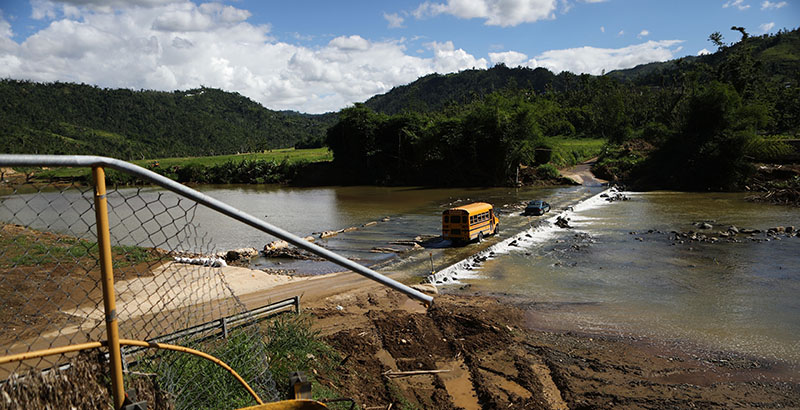 On Jan. 25, 2017, I was confirmed as Puerto Rico's secretary of education. Never once, in the previous 10 years of working on the island, had I imagined I would be asked to lead its largest government agency. From 2007 to 2013, I had collaborated with three administrations and six secretaries, all of them committed in their own way to making improvements to the island's schools. Now that the responsibility was mine, what was I going to do with it?
I set two objectives upon taking office. The first was to assess the system's functioning, identifying strengths and failures; the second was to determine how the education reform agenda Gov. Ricardo Rosselló had presented during his 2016 campaign would be implemented. In short, define the basic operating capacities and figure out how to build upon them.
What I found left me saddened, shocked, disillusioned and appalled. Just two months into the job, it became clear that Puerto Rico's nearly 1,300 schools had limited, inconsistent or nonexistent access to:
● standards-aligned curricular materials and instructional planning resources
● textbooks, workbooks and other learning supports
● internet, computers and instructional technology
● nursing and health-related services
● social-emotional supports and access to counselors, psychologists and social workers
● professional development programming for each content area and training in specific instructional practices
● supervision, support and guidance for principals
● systems, processes and practices that increased opportunities for special education students to participate in the general education program
The Education Department also lacked effective financial management and did not have data systems that could easily communicate with one another, further complicating daily operations and hobbling effective administration. Educator salaries were among the lowest in the nation, and teachers and principals had not received a pay raise in 10 years. Schools and classrooms were unsafe and unhealthy, reflecting unchecked deterioration due to insufficient maintenance. For years, widespread teacher shortages had caused students to miss core courses for an entire year.
Even before Hurricane Maria struck in September 2017, conditions for teaching and learning were subpar, bordering on negligent. Though one might have thought that things could not get worse, the storm destroyed the few books, instructional resources, technology and extracurricular equipment that had been available to teachers and students.
Shocked and embarrassed by the department's failure to provide basic educational services, my team and I set out to address the root causes of these systemwide failures by setting an aggressive agenda to change how it operated. We established four goals: 1) improve the return on investment and demonstrate better outcomes for students in terms of academic achievement and entry into the workforce; 2) address the needs of the whole child, including health, socio-emotional and related factors; 3) implement strategies to recruit, develop and retain outstanding educators; and 4) increase transparency and alignment of budgetary resources.
We criticized the status quo. We disrupted existing practices and created new processes. We scrapped outdated policies and drafted new ones that reflected current best practices. We reorganized the Central Office to ensure that responsibility for each goal was clearly assigned. We created seven new regions, each headed by a regional superintendent supervising approximately 140 schools. We demanded reallocation of existing resources. We procured modern data systems and found ways to leverage new technologies. We canceled some contracts and awarded some new ones. We pushed people out of their comfort zones and asked them to stop doing what they had been doing the way they had been doing it for at least two decades.
Our mission was to stop those practices, actions and routines that had systematically denied Puerto Rican youth an adequate educational experience.
Although there was general consensus among parents and community leaders that the island needed a better public education system, many others did not want their daily routines disrupted. Many were incensed by the audacity of an outsider who struggled to communicate in Spanish yet criticized the department, its culture and its way of doing business. Some hurled criticisms of new policies and programs, while others engaged in personal attacks and publicly questioned my ability to lead the system because I was not Puerto Rican. There were threats and protests. Offices were stormed and arrests were made. Describing the reaction as resistance to change would be an understatement; it seemed more like a full-on battle to protect the status quo.
If not us, then who?
Robert Kennedy, Mitt Romney and Ronald Reagan have all made use of a quote attributed to Rabbi Hillel: If not us, then who? If not now, then when? These are key questions for anyone who cares about public education, is committed to the recovery of Puerto Rico in the wake of Hurricane Maria and of the current fiscal crisis, and believes in equity, fairness and equality.
Over the course of 2½ years, we laid the groundwork by disrupting the system with more effective practices, a new education law, local autonomy, policy-based budgeting, a clearer picture of the basic investments needed in every public school and a comprehensive strategy to professionalize the workforce. But Puerto Rico and the new team leading the department still have a long way to go to create a school system where students are thriving cognitively, socially, emotionally and physically; teachers perform and are treated as professionals; principals are supported; learning is individualized, relevant and engaging; and technology facilitates access to and exploration of the world.
The Puerto Rican government must confront its chronic underinvestment in public education. At least double the current amount of state funding is necessary to ensure Puerto Rican youth have access to learning opportunities that will enable them to compete with graduates from other school systems. However, the department's fiscal management must be closely supervised to ensure its budget is not used to reward political favors and make campaign contributions, as it has been in the past. Historically, the department has relied on contractors to outsource work that could be done by employees, which effectively prevented the creation of strong middle management and delayed the creation of accountability frameworks — perpetuating the organizational dysfunction and failure to ensure professional responsibility for student outcomes. There needs to be a clear set of performance outcomes for all contracts, and the department must demonstrate how it is achieving a return on each investment. The entire budget should be linked to goals and performance objectives, and middle management needs to be held accountable for funding requests, vendor recommendations and performance outcomes.
Political leaders, appointed officials, unions, teachers and those who do business with the department must put the interests of the next generation ahead of their own. For the recently planted seeds of change to take root and systematic changes to flourish, there needs to be a critical mass of people who are willing to declare an end to business as usual. Everyone who has a relationship with the public school system must embrace a shared responsibility for creating better and more effective ways of leading and managing; demonstrate a willingness to collaborate around a shared goal; reject the continued politicizing of the agency's decision-making; and, most importantly, be strong in the face of attacks, build networks of allies and expand the coalition of supporters.
The public needs to hold the department accountable for delivering on the promises of the governor's education reform law. Puerto Rico desperately needs alternatives to traditional schools and more choices for parents and students. The island must continue to improve its instructional programming and ensure all students are fully bilingual in English and Spanish. It is paramount that students have access to courses that teach computational thinking and real-world applications of STEM. In order for the public education system to play a central role in Puerto Rico's economic recovery, parents, business leaders and community members must have a voice in shaping vocational programs and demand that the department teach skills that ensure students are ready to enter the workforce and/or become entrepreneurs. The public should demand the use of online performance reporting tools that demonstrate what progress is being made in implementing the education law.
A matter of urgency
Urgency can be defined as: 1) importance requiring swift action, and 2) an earnest and persistent quality; insistence. Was it right for me to have had a sense of urgency in leading change in Puerto Rico's public education system? Did the conditions really warrant swift action? Was it necessary for me to be earnest and persistent?
My answer to each of those questions is yes. It is not OK for a public education system and its leadership to turn a blind eye to its failures. Elected and appointed leaders, teachers, principals, parents and community members cannot continue to deny the deleterious effects this failed public education system has had on youth, their futures, the economy and the future of the island.
I spent 27 months of my life challenging the status quo, breaking paradigms, creating new models, demanding data and analytics, championing the use of best practices, making room for new ideas and approaches, and demanding professionalism and accountability. I canceled contracts, reduced the number of political positions, and created new performance expectations for teachers and administrators. I made tough decisions despite political risks and retaliation. I stepped on numerous land mines and made thousands of enemies, some known and some unknown. I was loathed by those who had benefited from the influence of politics in public education. But I did what was necessary based on what was fair and just for the students.
I paid a price for that bold action, but I would do it all again. Driven by a sense of urgency, ownership and commitment, I would make every effort to disrupt business as usual because it was undoubtedly the right thing to do.
Though in hindsight, I can identify things that I could have done differently, what I don't think I could have done was go more slowly. Had I tried to win over people benefiting from the status quo by using logic and reason to persuade and convince, two more years would have slipped by. For me, delaying doing the right thing is not an option when the fate and future of students who have lived their entire educational experience without a real opportunity to learn rests on my shoulders.
Julia Keleher is a consultant and a member of the National Assessment Governing Board. She served as Puerto Rico's secretary of education from January 2017 to April 2019.
Support The 74's year-end campaign. Make a tax-exempt donation now.