Johnson: To Prepare for 21st Century Jobs, States Must Make Early Literacy a Top Priority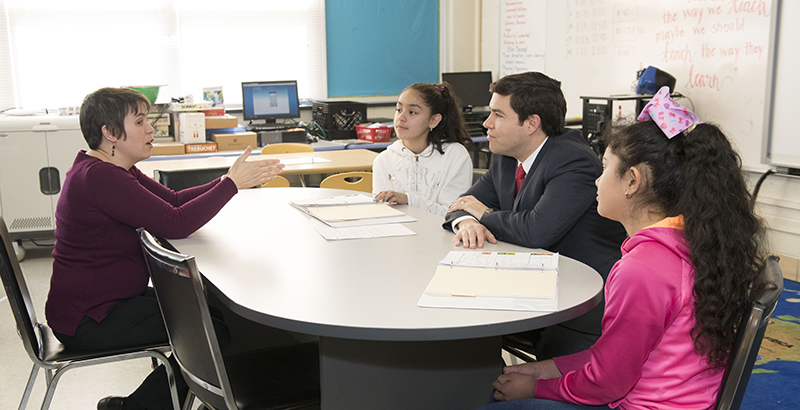 I am North Carolina's public schools superintendent — I'm also the father of a 5-year-old about to enter kindergarten. My wife and I work with her so that she can recognize her letters and numbers, hold a pencil, and know how to behave in class to learn best from her teacher. I don't just preach the importance of early childhood literacy, I practice it every day.
Unfortunately, many students, often depending on their backgrounds, are not where educators need them to be when they start the school year. This is especially true for students who come from poverty. Impoverished parents, like their children, face many additional challenges that can make helping their young ones overcome the achievement gap even more difficult. Less than half of our fourth graders in North Carolina have the reading skills they need, according to 2015 results on the National Assessment of Educational Progress, commonly known as the Nation's Report Card. This trend is sadly consistent across our nation.
So it's incumbent on us at the state level, particularly in the new Every Student Succeeds Act era, to enable and empower educators and parents to build a strong foundation on which all students can stand to ensure that they are reading proficiently by the end of the third grade. All states must make early childhood education a priority not only to benefit the future of each student, but for the future of our nation. If we aren't preparing all students for success, the United States will fail to connect students with the careers and opportunities waiting for them in our 21st century economy.
Teachers are working hard in the classroom. Education leaders can help by emphasizing early-learning programs, launching initiatives that support early literacy, and strengthening engagement tactics for parents — so that they, themselves, have the resources and knowledge to make informed decisions about their children's intellectual development.
Here in North Carolina, the legislature recently dedicated $3.5 million to provide books to preschoolers for free to encourage literacy practice before kindergarten. Lawmakers have supported more pre-K and smaller class sizes in the K-3 years to enhance literacy support for our youngest scholars. Additionally, the Read to Achieve program provides funding for expert literacy training for K-3 teachers, reading diagnostics for their classrooms, and even summer camps for students who need extra literacy support.
The transparency and accountability of how state education agencies spend education funds are just as important as the investments legislators make. Unfortunately, in the past, not all of the funding for North Carolina's Read to Achieve programs made it to classrooms. Last year, my team and I found that millions of dollars intended to benefit our youngest learners got held up in state-level bureaucracy instead of going to classrooms.
Accountability and transparency are now our values at the North Carolina Department of Public Instruction, and we hope that's also the case at state education agencies across the country. This money will go directly toward supporting teachers and students. For starters, we have distributed $5 million of that previously unused money to students: every K-3 reading teacher is getting $200 worth of school supplies and books — both for the classroom and for students to take home for the summer. And we will soon announce even more supports for teachers.
But this load is too heavy for teachers and lawmakers to hoist alone. We must empower all to play a part in shaping young learners. Education leaders must create authentic engagements to enlist the help of parents, caretakers, and volunteers to make this a reality.
In North Carolina, we launched NC Reads to do just that. Soon, we will be deploying parental engagement aids that empower parents with the steps they can take to make sure their students are ready for the next grade level: Reading with their children just 20 minutes a day. Writing grocery lists, letters, journal entries, or creative stories helps children connect written words to spoken words.
Education leaders must rally lawmakers, teachers, parents, and community members to act on making early literacy a policy and economic priority. Together, we can all play a role in creating a generation of strong readers and future leaders.
Mark Johnson is North Carolina's state superintendent of public instruction. His career in education began at West Charlotte High School where he taught through Teach for America before attending law school at the University of North Carolina at Chapel Hill.
Support The 74's year-end campaign. Make a tax-exempt donation now.